(NOTE: This was the very last post to appear on my Livejournal before it got nuked – it was up for a grand total of perhaps four hours, so I feel perfectly justified in reproducing it here.)
I'm not planning to do another thirty days of I Should Write The Legion any time soon, but I had this idea last week and it is simply too good not to add to the list, so: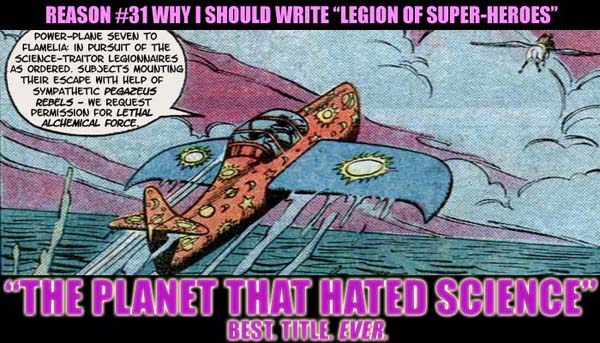 Some background.Once upon a time, there was an exceptionally obscure Golden Age JSA villain called Professor Zobar Zodiak. (See, with a name like "Zobar Zodiak" you are of course seeing the inherent awesomeness of this idea already.) He was so obscure that, prior to a resurrection along with a few other very minor Golden Age villains in an arc of All-Star Squadron in the early 80s, his only appearance was in a single issue of More Fun Comics, in a story entitled "The Man Who Hated Science!" See, Professor Zobar Zodiak was an alchemist, specifically an evil one who found somebody else who had discovered the Four Wonders of Alchemy – the Philosopher's Stone, the Universal Solvent, the Elixir of Youth and the Secret of Perpetual Motion – and killed him to get said secrets for himself. Also, and I cannot stress this point enough, he was The Man Who Hated Science.Now, the mentioning of the Elixir of Youth should be explanation enough as to how Professor Zobar Zodiak would still be kicking around in the 31st century, but I figure the only thing better than a man who hates science is an entire planet that hates science: a fringeworld on the borders of the United Planets, ruled by the Alchemical Council (with ol' Zobar in the back, pulling strings), home to many a neo-Luddite and those who never quite got the respond-to-science-with-pitchforks-and-torches gene out of their systems.
I'm not talking about the Sorcerer's World – that's something else entirely, and the sorcerers there probably have no problem with spaceships and coffeemakers and the like, because hey, space travel and coffee. I'm talking a dictatorial world ruled by alchemically-inspired fear of the unknown. Somewhere Brainiac Five would be less welcome than anywhere else. (Which of course means when a Legion cruiser crash-lands there, he will be on it.)
It's good for two or three issues of story. And come on – it really is a fantastic title, you have to admit…