From JLA/Hitman: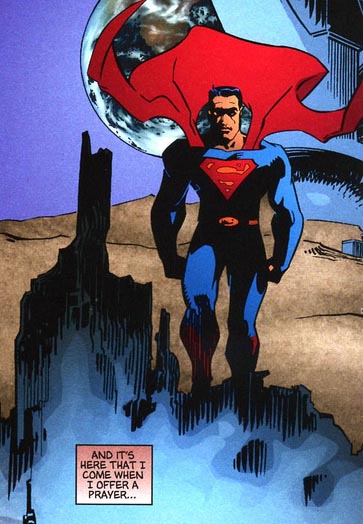 One of the things I like about Garth Ennis is that, as a writer, he steadfastly refuses to write slow, lazy arcs around potentially offensive subtopics. What we have here is a fairly subtle and just simply well-written example of this.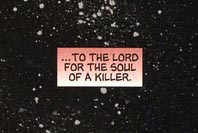 The subtopic in question here is "Superman is a Christian." (And, given that he was raised in Kansas, the odds are pretty good that he's a Methodist. Although, given his emphasis on deeds over words, he might make a good Catholic as well. Really, this sort of thing is fun!)
Now, there's a long and proud history of the stupidly fake Kryptonian religion in DC Comics, based around Rao, the godly personification of Krypton's sun, and all of it exists for one reason: people weren't comfortable writing Superman as a Christian. This is understandable, considering that Superman was created by a couple of Jews in the first place, and that we often recognize that comics history is a gradual, accumulated thing. One of the biggest reasons for this? It wasn't until the first Superman movie that Smallville was finally and definitively located in Kansas. Prior to that, it was in Generic Rural Location, U.S.A., although occasionally comic writers would hint at its location being in rural Maryland. (Mostly because they wanted it to be somewhat close to Metropolis, which for a very long time was supposedly in Delaware – although, with Smallville unapologetically placing Metropolis in Kansas as well, this might change over the next few years.)
But nowadays, we're coming up on thirty solid years of Superman being raised in small-town Kansas. It's become an accepted part of the canon, unthinkable to ditch. Much as in Batman continuity, Arkham Asylum only dates back to the mid-70s, and Alfred Pennyworth being a coolly competent English butler rather than a comic prop only to the mid-80s – these are all relatively recent additions to comics canon, but sometimes, things just stick. Harley Quinn, along with the other minor story tweaks introduced by the animated Batman cartoon, is probably the best and most recent example of something just glomming onto canon in this manner.
In Superman canon, Lex Luthor has only been a ruthless business genius for about twenty years, but it's stuck just as firmly as Kansas did, and this in spite of the fact that a lot of top-name writers obviously wish he could just be a boring old mad scientist again. (Sorry, but Tycoon Luthor is just an endlessly more interesting variation on the character, guys. Deal with it.)
Now, with that greater detail of geographic certainty placing Smallville more definitively (and if you're a detail nut, you can not only place Smallville in Kansas, but even give a good geographic guess as to which county it's supposed to be in), this narrows down the demographics of the Kents. Having Superman exclaim "Great Rao!" as a euphemism for a mild religious blasphemy is cute, but it also served as as a signal that, in previous modes of storytelling, Superman was a generic stand-in. Maybe Smallville was a small town filled with Lutherans. Or Quakers. Or Seventh-Day Adventists. Or Jews. (Okay, Siegel and Shuster aside, Smallville probably wasn't Jewish.) When Smallville was just an idea rather than a fictionalized location, this was more possible…
…but nowadays, with continuity being what it is, it's kind of dumb. Superman was raised by a prototypical small-town couple in Kansas. Jonathan and Martha Kent are supposed to exemplify small-town America in every way except for being truly virtuous people, all the better to serve as example for young Clark. On balance of probabilities, the exceptional likelihood is that the Kents are practicing Christians, and given Superman's personal belief system before you attach a religion to it, that goes for him as well. Besides which, religious belief tends to be inertious, and a conversion to Raoism (or whatever you call it) would require a pretty serious life event for Superman to realistically do such a thing.
(On the other hand, it makes perfect sense for Supergirl to swear in Rao's name, what with her having been raised in the faith and all.)
So, Superman's a Christian. Now, a shitty writer would make a big deal out of this. I can just see twenty-two pages from some drama-producer about how Superman's Christianity makes him a hypocrite, for example. Or, worse, a crossover with Zauriel WHERE ONLY SUPERMAN'S RELIGIOUS BELIEF CAN blah blah blah Armageddon-cakes.
Garth Ennis, on the other hand, plays it as it lays. He doesn't need to write some dramatic toss about Superman's angst or anger with God or whatever. He just ends his comic with Superman flying up to the moon to pray for Tommy Monoghan, because Ennis understands that prayer, like all human activity, is ultimately an expression of the self, and doesn't have to be especially noteworthy. It's not something you overlook; it's just something you add, another level to understand the character on. It doesn't have to be a story hook. It just has to be there.
And that's why Ennis can write rings around most comic superhero writers when he feels like it.