Very quietly, just before Thanksgiving so nobody would notice, Marvel and DC sent cease-and-desist letters to zcultfm.com. For those of you who do not know, zcultfm is – or, rather, was – the comic book torrents site, with an immense library of torrents, many of which even worked.
It is also how I have first read most of the new comics published over the last three years. Every single comic parody I've done had its origins in DCP scans. (I have a scanner, but it's not a very good one.) For those wondering, I generally delete most of my downloaded comics after a single read. With the exception of Legion of Super-Heroes, I have not purchased a single issue of a comic book since about 2002 or so.
So I must be a downloading leech, only costing DC and Marvel money. Right?
Well, let me put it this way. This is most of my collection of trade paperbacks and comic hardcovers.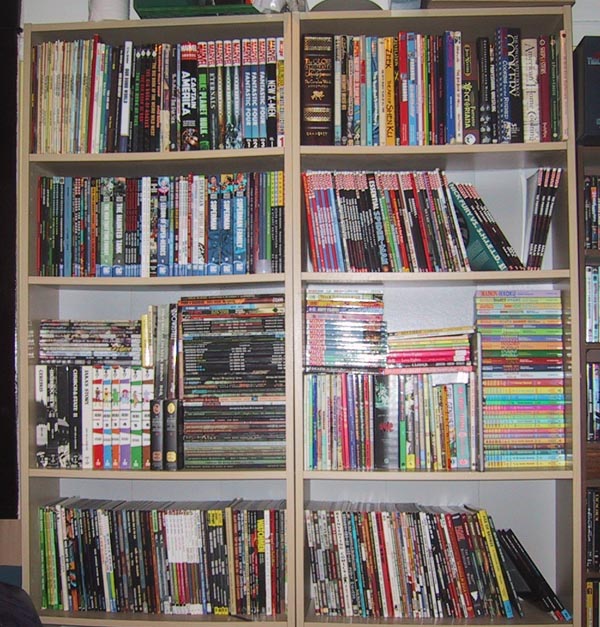 Now, the top right shelf actually doesn't really have any comics on it, it's just books that mostly fit in that space nicely, so ignore that shelf, but the rest, pretty much all trade collections of comics and the occasional original hardcover.Now
here
is my collection again, except that this time, everything I've bought as a result of reading the issues first after downloading them (almost always from zcult) and giving them a try? Is highlighted.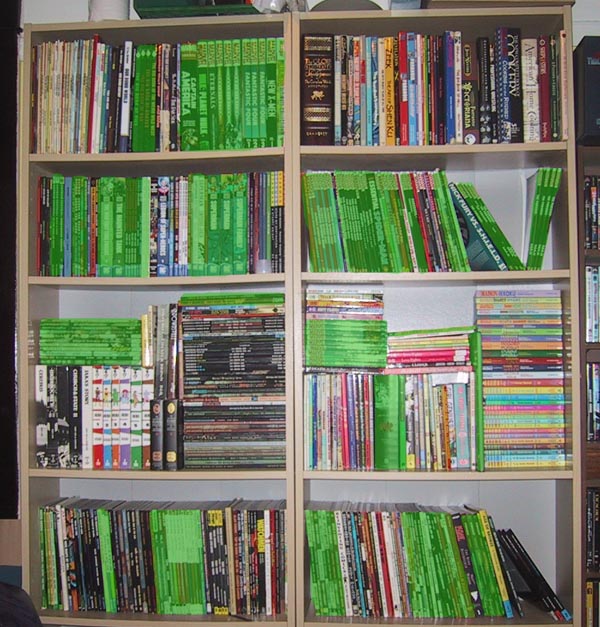 My, that's a lot of highlighting. And since the resolution is a little low, let me just point out that the
vast, vast majority
of the highlighted content gets published by – wait for it – DC and Marvel.zcultfm – along with
scans_daily
, which more or less exists as a fan community for the downloads propogated mainly by zcult and Demonoid (also recently shut down) is responsible for me buying the hardcover of
The Immortal Iron Fist
. It's responsible for me buying
NextWave
and the Garth Ennis
Punisher
and the JMS/JRJr
Amazing Spider-Man
and the Milligan/Allred
X-Force
(and then
X-Statix
) and
Runaways
and the Brubaker
Captain America
and getting me finally turned on to the Fantastic Four.
DC? It's responsible for me buying All Star Superman and Seven Soldiers of Victory and Fables (all of it) and Y The Last Man (all of it) and The Losers (all of it) and Pride of Baghdad and War Stories (which I never would have even known existed were it not for a Garth Ennis megatorrent I downloaded mostly to reread the issues of Hitman I sold in anticipation of collecting the trade paperbacks which were halted mid-run – and incidentally, DC, fuck you very much for that) and Light Brigade and Formerly Known As The Justice League and Gotham Central.
Oh, and if any smaller/indie publisher feels like getting in a snit, I'll tack on Queen and Country and .303 and the Busiek Conan and The Five Fists Of Science and… well, I could go on.
Comic downloads transformed me from being a guy who bought one comic book per month and the very occasional graphic novel or trade collection, and into a guy who buys two to four trades a month (and sometimes more). I wasn't going to go back to investing in single issues, because single issues are a terrible value for money and a horrible pain in the ass to store and I can't lend them out easily when I tell somebody "hey, you should totally read this." And if you go to zcult and read the postings from the fanboys there, it's quite obvious that I represent the norm for comic downloaders, despite the fact that our doing so irritates Dan Slott terribly. (PS: Dan Slott, She-Hulk is on my trade to-buy list, although right now I'm steadily working my way through the Bendis/Maleev Daredevil books.)
And the important thing to note here is that DC and Marvel, unlike the incredibly backward music companies they're trying to imitate here with their painfully stupid legal action, do not have a realistic competing model to offer. Marvel's pay-for-comic service, despite my kind words previously, has a clunky interface, is slow, doesn't display the comic work as well as a basic .cbr or .cbz file, doesn't have a good selection… with a lot of improvements it could be a realistic model, but since I wrote my approving post, everything I've heard indicates that Marvel considers their currently mediocre-at-best offering to be a finished, final-stage product, which only earns them a "what the fuck?"
I mean, at least the record companies, when they shut down Oink, could point to iTunes and say "look, we offer mp3s for sale for money, please use that." And despite the fact that iTunes is kind of a ripoff, at least it's an option. DC and Marvel don't even have that. If I want to read the old Roy Thomas Infinity, Inc. run, or the original Speedball ongoing, I have three options: 1.) Wait around for them to collect it in trade, 2.) Spend a small fortune on back issues I don't want to store in the first place, or 3.) Download the comics torrents. Quick, which one do you think I'm going to pick?
How sad is this?
What's worse is that they're just antagonizing people to no good end, because everybody knows how torrent filesharing works now. Here's the short version:
MAJOR MEDIA COMPANY: Hey, you! You're downloading the product I made without paying money! Stop that at once!
INDIVIDUAL DOWNLOADERS: Uh, no.
COMPANY: Oh, that's how it is, is it? Well, I'm going to shut down your torrent-sharing website!
DOWNLOADERS: Fine. We'll just go over to a different site which will take you three to six months to find out about and shut down.
(Repeat until heat-death of universe or The Rapture, whichever comes first.)
I simply can't stress enough how shortsighted, how ignorant, how goddamned lunkheaded DC and Marvel are being right now. They aren't just shooting themselves in the foot like other media companies; they're shooting themselves in the head. Internet downloading and the word-of-mouth generated by it has been quietly driving their business for the last couple of years now and they want to kill it. It's just staggering.