From the most recent round of DC Comics cover solicits: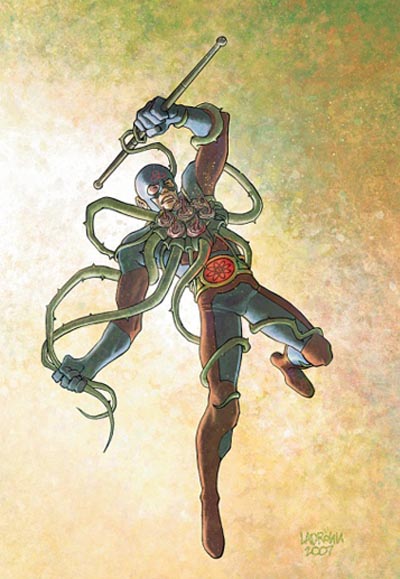 Hoo boy.
If I have one great criticism of DC Comics in the last couple of years (well, I could go for more than one if I felt like it, but let's prioritize), it's that everything has to reflect backwards – seemingly everything is a retelling or a revamp of existing properties and stories. (If you want proof of this, go read Arena, where they desperately try to suggest that Apollo from the Authority is an analogue of the Ray. Look, I like the Ray, but he's not exactly totemic, you see, and suggesting that he should be is kind of dumb.) It's usually written off by fans as "well, DC has a tradition of…" and then they kind of tail off, because it's still stupid.
The Black Mercy is just another symptom of this. For those who don't know, the Black Mercy is a story element from a classic Superman story by Alan Moore and Dave Gibbons, "For The Man Who Has Everything" – it's considered a modern classic. The idea is, the Black Mercy is a sort of telepathic flower that feeds off people's happiness, so what it does is it attaches onto you, and then you hallucinate that you are in the happiest world possible and the plant goes "yum yum." Except, of course, in the original Superman story, Superman hallucinates that Krypton never blew up and he has a wife and kid there – but the problem with that is that such an instance directly conflicts with the survivor's guilt that's part of the core of Superman's personality, so his subconscious starts making Krypton really suck, and he manages to fight off the Black Mercy that way.
And there's nothing wrong with that – it's a classic story for a reason. However, this is the second time in the last couple years that the Black Mercy has shown up in other titles. (Possibly more. I lose track.) Firstly it was a pretty bad issue of Green Lantern, and now it's going to show up in an issue of All-New Atom. Which is ridiculous, because the All-New Atom hasn't been around long enough yet to merit this kind of "what's in the core of the personality" story – before you really start delving into the inner layers, it's a good idea to establish outer layers first so you have something to contrast against, and Ryan Choi just isn't there yet.
But this is just a symptom, isn't it? Everything DC produces lately seems to be an homage or a pastiche or a retelling. This isn't to say that it can't be good – witness Grant Morrison's "Club of Heroes" arc on Batman, for example – but all the same, it's just remixes and mashups of what's come before.
(Of course, DC is notoriously unable to strike the proper balance between using its past elements exclusively and creating hordes of new characters nobody cares about – consider the mid-90s, when the pendulum was tilted the other way. The Bloodlines event, Extreme Justice, Aztek, Takion, Resurrection Man, Hitman… I could go on. DC during that period was almost ignoring its rich and dense history in favor of new kewl characters, many of whom (other than Tommy Monoghan, of course) were kind of, like, not good.)
And yet another Black Mercy story – and they're all the same, really, because every Black Mercy story is "hero gets hit with Black Mercy, then figures out he's too happy in the dreamworld and fights it off" – is just another case of the DC story iPod on endless repeat. It might be entertaining, it might not, but more and more it's leaving me dissatisfied, and judging by DC's rapidly declining readership I'm not the only one.