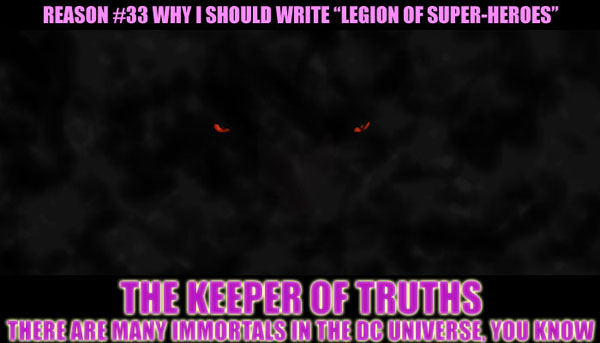 Longtime readers will by this point know that one of the things that interests me most about the Legion of Super-Heroes, from a storytelling standpoint, is the thousand-year gap between the present day DC universe and the Legion setting – essentially using the Legion as a way to play proxy psychohistorian for the DCU in some respects, using it to replay Indiana Jones plots in a sci-fi revisioning in other respects.This one is somewhere in between.
The Keeper of Truths is a very simple concept that can go any number of ways, and it keys off the simple fact that in the DCU, there are at least a few characters present in the 21st century who could show up in the 31st just by having lived that long. When history is uncertain – and after a thousand years with a couple of interstellar cataclysmic wars in the interim, it's going to be uncertain – having a first-person perspective on things gives you an advantage, if you care to use it. The Keeper of Truths doesn't particularly; whoever he is, he or she has entered into a solitary existence. But if you can find him or her, they're willing to chat. (Just because one chooses to be a hermit doesn't mean one loses sight of basic manners.)
There are a few story ideas I have as regards the actual identity of the Keeper of Truths which I don't want to give away, so let me just tell you a few people that he or she isn't:
It's not J'onn J'onnz.
It's not Vandal Savage.
It's not the Shade. (Although I think there's a really good story to be told involving the Shade and Shadow Lass. Are the shadow powers of the Talokians related to the Shade? I mean, Mikaal Tomas was a Talokian, and a contemporary of the shadowy man. There's already a potential connection. And are Shadow Lass's shadow powers like the Shade's, even if they differ in origin? Is Shadow Lass sort-of-immortal like the Shade is? The more I think about it, the more I think somebody has to write this story, if only because the Starman character base needs to be dug out of obscurity again.)
Heck, maybe it doesn't have to be an immortal at all. Maybe it's a stranded time traveler – an elderly Rip Hunter (long, long past the events of Booster Gold). Maybe it's Extant. No, I'm kidding, I wouldn't bring back Extant. Or Waverider.
Maybe it's Hawkman in his latest reincarnation, remembering a thousand years of previous lives, stuck in a life cycle which Hawkgirl accidentally (or not) skipped. This theory's awfully workable, not least because unlike a lot of the other characters, it doesn't matter if DC editorial decides to kill off Hawkman as a sales stunt. Reincarnation, bitches!
(Or maybe R.J. Brande is an much older version of Hawkman. R.J. Brande has to be somebody, I think. Or maybe he doesn't. Heh.)
Maybe it's a clone with copied brain patterns of the original, remembering everything that happened to the original right up until his death. Maybe it's Batman. Maybe it's Ben Reilly! Okay, it's not Ben Reilly.
Maybe by this point I've illustrated the fun that can be had with uncertain history and a ton of origin possibilities for potentially significant figures, and that was the point of this whole exercise to begin with, and maybe there isn't a definite identity for the Keeper of Truths.
(I'm lying. There really, really is.)