I have a few more of these stored up but I think resuming the campaign would be… just kind of wrong, honestly. So they'll come when I am at a loss for content, or I am bored, or I feel like it. I was planning to let them sit for a while, but then this week's Legion came out. And don't get me wrong, it is mostly good, in the Jim Shooter sense of "mostly good" (the plot and pacing are excellent, and the dialogue… less so). But it commits one of the cardinal sins of Legion writing, in my book.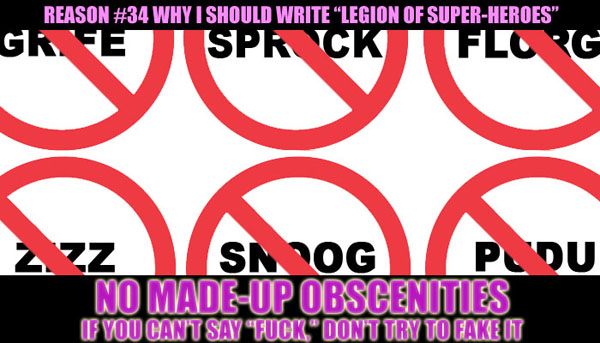 These have been commonplace in Legion comics for nearly twenty years now – I'm pretty sure mock-swearing was introduced in the first few issues of v4, the "five years later" era, which was grim and gritty (in the non-mockworthy sense, at least for me), and it's been a constant presence ever since, right down to Jim Shooter introducing "florg", "zizz," and "snoog" in the most recent issue (substitutes for "fuck," "piss" and "shit," respectively). "Grife," one of the earliest, was probably the best, as it's similar to "grief," and frequently used in the context where somebody might say "good grief," but it's the rare exception to a rule that most of these are kind of silly.I look at made-up swearing as a failure on two levels.
Firstly, from a realism perspective, it just doesn't work. "Fuck" – in a form recognizable to anybody hearing it today – dates back anywhere from one thousand to thirteen hundred years. "Shit" can be dated back to at least William the Conqueror; "cunt" to Chaucer. Obscenities in other tongues date back similarly long or even longer ("merde", the French version of "shit", goes back around fourteen hundred years). Obscenities, more than any other words in any language, tend to linger almost entirely unchanged because they're so basic and, let us admit it, useful in their way.
Why would this change in the Legion's time? "Interlac," you say, but Interlac is a lingua franca, a common tongue, and common tongues almost universally become parasite languages – English right now, French in the Dark and Middle Ages, Mandarin and Cantonese evolving out of a thousand different village dialects coming together. These are languages that steal useful words and use them forever, especially when a major subsection of their userbase used them before adopting said common tongue – like, for example, humans. You know, the race which seeded subraces on all those other planets? Rimborians, Naltorians, Braalians, Imskians – get down to it and they're all just humans with different genetic heritages, and they all spoke English at their cultural base. We can maybe argue they'd be speaking Chinese instead, but the Legion's cultural history and background is, let's face it, pretty damn Anglo.
(Indeed, I see 31st-century Interlac being in relation to 21st-century English as 21st-century English is to Middle English – one speaking the older tongue would probably be unable to understand one speaking the newer, but the person speaking the newer would occasionally understand snatches of what the older-speaker might be saying.)
The second reason I don't like made-up swears is because they detract from the narrative. Yes, I understand the Legion is speaking Interlac, but I'm reading English. Unless the obscenities are entirely new – and using them as obvious placeholders for familiar cusses makes it pretty clear they aren't – there's no logical reason that the "translation" should be inconsistent, beyond the demands of the publisher and editorial standards –
– and the reader knows this, because it's obvious, and it just ruins the suspension of disbelief. It stops being a story and becomes words on paper. "Florg? What the fuck is florg?"
And this comes from someone, as you are well aware, who likes to write characters that swear. But if you can't write the real thing, then don't fake it. Garth Ennis did it deftly in Hitman by having his characters use very mild swears ("motherloving", "friggin'," et cetera) stand in for the more serious ones the characters would obviously be using instead were it not for publication standards, but even if you don't want to go that route (and I'd argue that Legion probably shouldn't), there's a very simple alternative: just write without using obscenities, be they real or no.
People do it all the time. Really.