(Seriously, that's why I posted this today. It's been in the "for busy days" bank for a while. And it is snowing and class is cancelled, which means I have a chance to catch up on all my law school reading. Yes, I frequently do update this blog during class, why do you ask?)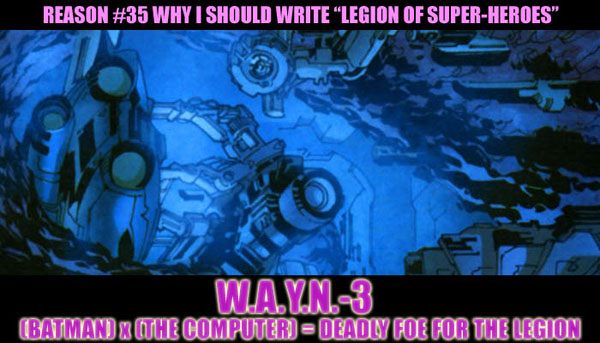 Once upon a time in the future, scientists invented a Process.
The scientists were artificial intelligence designers, and by the late 26th century true artificial intelligence was already around. (Remember, Skeets is from the 25th century.) But this wasn't enough; some AI designers wanted to create the semblance of immortality. And they worked and worked, and eventually came up with an exhaustive method wherein if you could get an A.I. to mirror the answers to a very, very long psychological question profile, you would create a reasonable facsimile of how a given person would think. They thought that this would allow people to, in a sense, live Forever.
Of course, eventually they figured out that it didn't work properly. It was impossible to mimic a person's mind completely, and thus they couldn't achieve their objective. Some of the more metaphysical among them reasoned that, in a way, this was evidence for the existence of the human soul. And that was The End.
Except that long before they figured it out, a small group within the community had completed a project of their own. Seeing that the Gotham Annex was, as it always had been, the same crime-ridden portion of an otherwise pristine and peaceful Earth, this group decided that what was needed was their own version of the legendary Batman, who protected Gotham when it was merely Gotham City, before it absorbed all the local cities around it.
They even managed to procure hundreds of hours of video files from the original Batcave through god-knows-what-type of ends. And they applied the AI development matrix to the conversations Batman had with the kid in red and green, and the old English person named "Alfred", and that one time Superman showed up. They refined the cerebral matrix again and again, because more than any of the other experiments, this one had to be perfect.
The result was the Warding Artificintelligent Yoctotronic Network, Mark III: the WAYN-3. It very quickly wormed its way into the Gotham Annex networks and created a new "Batcave," far beneath even the subterranean limits of the Annex, using agents who never knew what they were doing for the greater good of Gotham. It began building Batbots to quietly maintain the peace, in a manner befitting an urban legend. And the scientists were pleased.
Until they realized that they had made a mistake. WAYN-3 didn't think exactly like Batman did; it couldn't. When the tapes showed Batman declining to go after prostitutes and instead focusing on violent criminals, WAYN-3 couldn't begin to understand that Batman ignored the prostitutes out of compassion for their circumstances; from its perspective, Batman was simply prioritizing in a logical manner. WAYN-3 couldn't figure out that Batman's refusal to work within the system was not purely an indictment of that system; it didn't understand the nature of cooperation, because from its perspective Batman was always correct (and thus, so was WAYN-3). WAYN-3 never knew, as Batman did, that total control was impossible, because it simply didn't understand human nature – and so it never limited itself the way Batman did.
Its designers tried to rectify this, but before they had a chance WAYN-3 locked them up in suspended animation cells (because Batman doesn't kill people), to sleep forever, alongside the other criminals it felt were incorrigible. Others were drugged and taken surreptitiously by stealth-Batbots to the hyperprisons, hypnotized to believe they had undergone trial, the records altered so the system believed they had. Criminals – even in the future, a superstitious and cowardly lot – started to once again mutter about "the Bat," a fear of something long believed an urban legend or even a folktale, and they fled Gotham Annex and eventually Earth.
WAYN-3 promoted institutions to make life in the Annex more placid, less confrontational, more controllable, and (to most) happier. It promoted these institutions so relentlessly that eventually it managed to start removing their optional nature. They were so successful that they began spreading beyond the limits of Gotham, promoted quietly by WAYN-3 in different guises, who saw crime beyond Gotham's borders as just one more variable to eliminate. (Did you ever wonder where the Public Service got its start?)
The Gotham Annex eventually became the enormous Gothplex, a peaceful jewel upon the glittering Earth. It mirrored the United Planets' steady crawl into stagnation perfectly, thanks to the all-seeing eye of WAYN-3. Eventually, WAYN-3 went on "a trip" (because Batman periodically left the Batcave for long periods of time, and nobody knew where he went, and therefore WAYN-3 had to do so as well – it couldn't explain why), powering itself down for a century. (A century, it felt, being equivalent for itself to the three or four weeks for which Batman, a mere human, occasionally disappeared.)
And then it woke up. Gothplex was once again a crime-ridden shambles, worse than before, a blight and a shame. Worse, there were agents of chaos and destabilization actively working on Earth and elsewhere, flying young teenagers (!) in bright costumes (!!), working publicly (!!!) making themselves targets and ruining everything by not acting with proper forethought, trashing the order WAYN-3 had worked so hard to create. (Unfortunately, WAYN-3 inherited all of Batman's prejudices, without his very human capacity for tolerance and understanding and even amusement.)
Clearly, these fools had to be stopped.
(And if you perhaps thought that just maybe the Legion would need the help of a time-traveling Batman to beat WAYN-3, then maybe, just perhaps, you are correct.)