Previously, Tintin showed up in America and then there were racist depictions of Native Americans.
With those wacky Injuns out of the way, Tintin turns his head back to a powerful conundrum.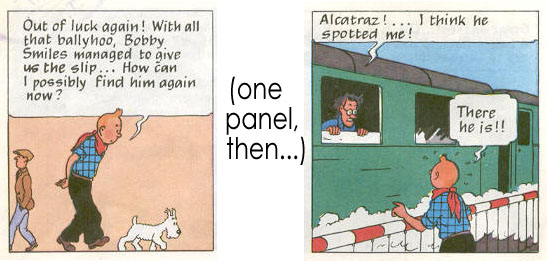 As we have previously mentioned: Tintin? Is lucky.
So Tintin gives chase to Bobby Smiles! And how does he gives chase? Why, only in the most logical and rational manner possible…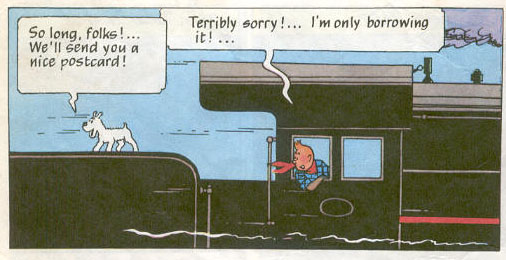 …by hijacking a train.
Unfortunately, Tintin has stolen a broken train without working brakes. (This is because he is an idiot.) And… well.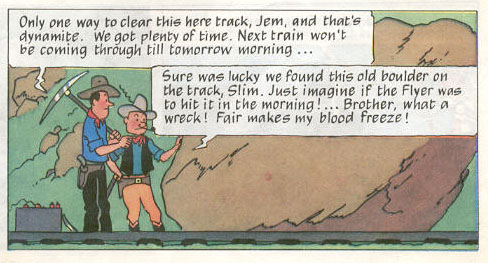 OH NOES! How will Tintin get out of this one? Well, those nice cowboy miner people will see him coming and save his ass by blowing up the rock with dynamite. Tintin is so lucky!
Oh, but maybe he is NOT lucky!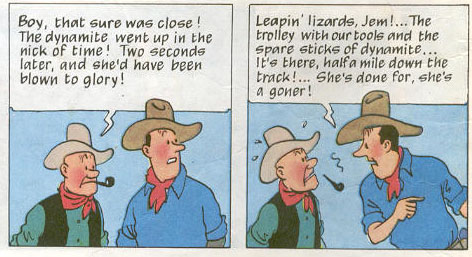 In any case, Tintin survives the explosion (of course), and he wanders off into the badlands, because there's nothing quite as intelligent as wandering into the wilderness in pursuit of a notorious criminal while unarmed and without so much as a bottle of water.
Tintin takes a nap, and a horrible bandit who is on the run from the law happens past. It so happens that this bandit has very distinctive boot-tracks due to his particular spurs. So he switches his boots with Tintin, to more effectively run from the law.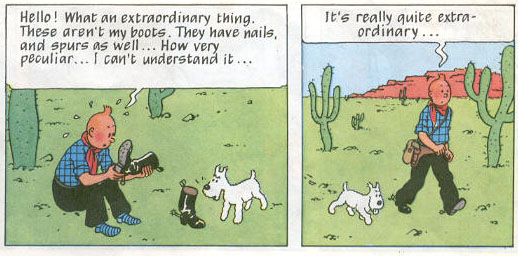 In Tintin's world, boots sometimes simply magically switch themselves. Perhaps the Boot Fairy is involved.
Anyway, the law catches up with Tintin, and mistakenly they take him back to town to lynch him.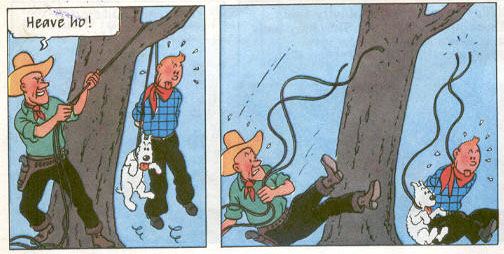 This is actually the second of multiple failed lynching attempts. Because Tintin is lucky.
Eventually, Tintin escapes, and he finds the notorious Bobby Smiles. Guess what happens!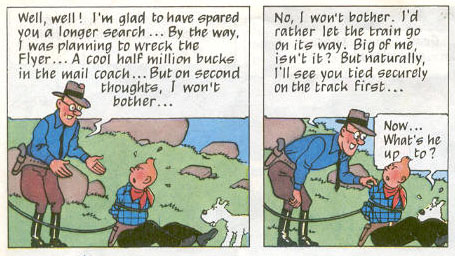 You knew it was coming.
How will Tintin escape this situation?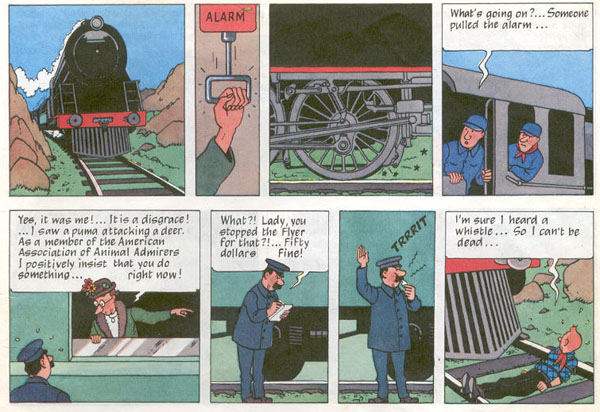 Yes, Tintin this time was saved not by resourceful cowboy men or armed police, but indeed by a whining big-city liberal animal rights activist.
THRILLING CLIFFHANGER TIME!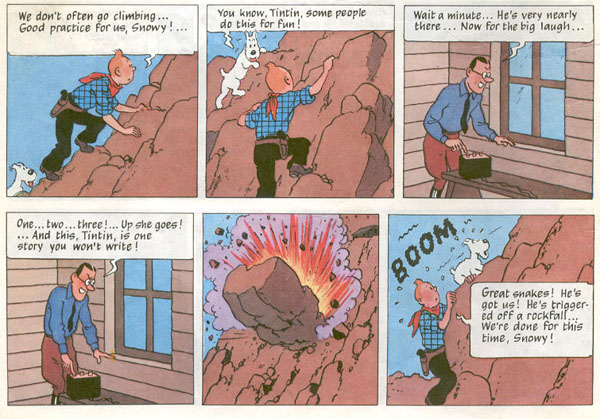 Who will save Tintin this time? FIND OUT REAL SOON NOW!