Way back when I was a young me, one of the first comics-related things I ever read was a hardcover compendium of Superman stories at the library. This was a genuinely great collection, filled with Golden, Silver and Bronze Age Superman stories, and readers were spoilt for choice of some of the best classic Big Blue stories around: the first one with Titano, the introduction of Mon-El, "The Two Lives Of Jonathan Kent" (easily one of the best Super-stories ever printed, and not just because the villain was an evil hippie with magical wish powers), a classic imaginary death story…
…and my personal favorite, the one where Superman teamed up with Orson Welles (seriously) to fight evil Martian space Nazis.
Now, I probably can't get away with Orson Welles. But…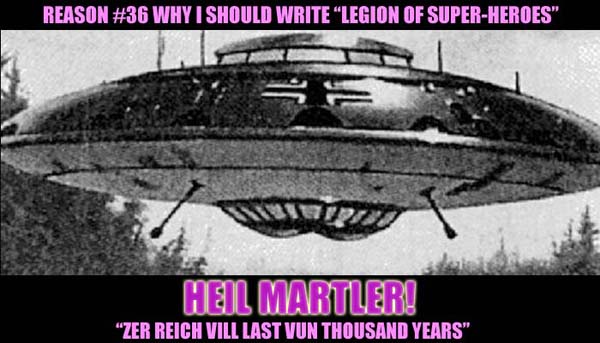 Okay, let's work this thing out.
Right. Alien space Nazis. Shouldn't be too hard, do the "they receive signals" trick. Whoops, turns out, though, that that means that you've only got an effective radius of one thousand light years from Earth – that's practically next door in spatial terms. Hm. We need this to be a fairly backwater world, so that when the Legion encounters the evil alien space Nazis they're totally unheard of and new.
Okay, no problem. What happens is that in the far distant future, the Nazi radio waves hit a gravitic anomaly sort of a thing, yes? And the gravitic anomaly slingshots the Nazi radio waves in a totally different direction and speeds them up to much much faster than the speed of light, and the theory of relativity does the rest of the work, shoving the radio waves backwards through time so they hit the planet that will create the alien space Nazi civilization and accompanying war machine in, oh, let's say about 2950, giving the Xgrylth Reich about 150 years and change to build up a truly fearsome armada.
From there, it's cake: you have your explanation for the evil alien space Nazi armada, it sounds even semi-plausible, and all you need to do is tell the artist to draw the shit out of some planet-stomping giant Nazi war robots and some awesome-looking space Messerchmitts and some wicked-cool space SS troopers (to laugh in the Legion's faces when some of them get captured and thrown in the Space Gulag of Ropticon 7, you see) and oh oh oh don't forget the Turbo-Star-Panzer Brigade, armed to the teeth with death rays and alien fascist self-importance.
Bluntly: if the Legion of Super-Heroes fighting evil alien space Nazis is wrong, then I don't wanna be right.