I wanted to wrap up my exciting summary of Tintin In America with a flourish, but the problem with the book is that Herge's plotting – such a strength of the series in the later books, when he neatly worked multiple subplots together into 64-page maxi-comics with ridiculous skill – here is total ass. Immediately after the rockfall which Tintin of course survives, he captures Bobby Smiles.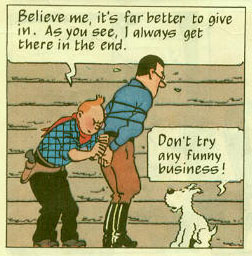 You of course see the problem: Tintin has already beaten up Al Capone and spent most of the book chasing down Bobby Smiles, the other evil-est gangster in Chicago. And then, two-thirds of the way through the book, Tintin catches him. Leaving another third of the book where Tintin essentially has nothing to do, so Herge goes into his stockpile of stupid as gangster after gangster concocts a horrible death trap for Tintin, which he always blithely escapes in the most retardedly lucky way possible.
In case I'm not making myself clear, consider these two examples. Firstly, Tintin is tricked by a gangster into visiting a sausage factory. "Hey," says the gangster, "let's go up over the giant meat grinder and take a look!"
Seriously.

Now, you might be wondering what incredibly insane stroke of luck Tintin might have to get out of this one. The answer is terribly depressing.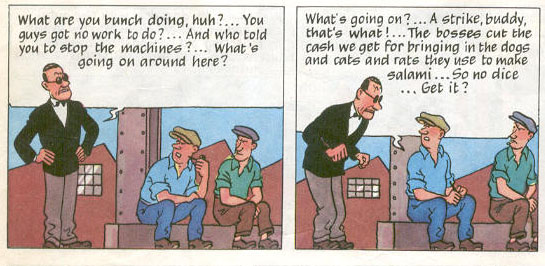 Tintin owes his life to a union, the members of whom stop working (and shut down the grinder) at the exact instant that Tintin and Snowy fall into the giant whirling metal blades of death. It was probably a corrupt union, too.
Leaving aside the question of why Tintin would be rescued, even unintentionally, by agents of the same social forces he's fighting –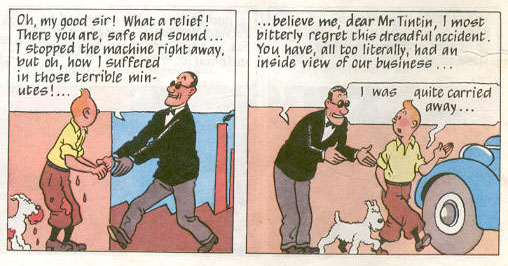 – he then meets up with the gangster, who takes credit for shutting off the blades and saving Tintin's life. Tintin accepts this unconditionally. Whirling metal blades of death? Everyday occurrence for Tintin! It just sort of happens, you see. Nothing suspicious about whirling metal blades of death. Or for that matter the tricked-out guardrails which conveniently gave way.
But it gets even stupider!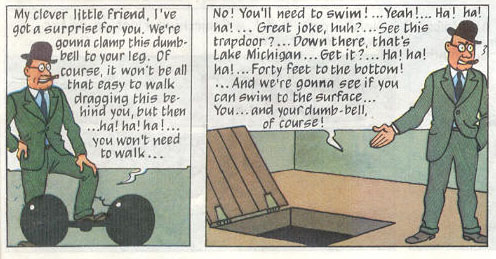 You'd think this would be a powerfully simple deathtrap Tintin is in this time, right? Take him out onto the lake, tie a weight to his feet, then toss him overboard. (Or through a trapdoor, which is not quite how non-pressurized environments work on boats, but whatever. We have already established that Herge loves himself some trapdoors.)
Guess what?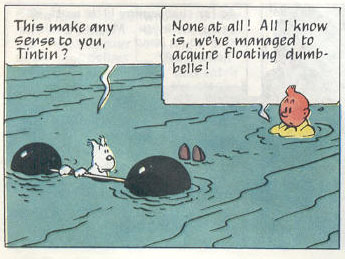 But how can this be?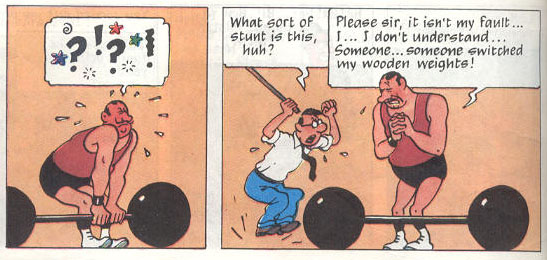 It is worth noting at this point that Herge took no pains whatsoever to set up this switch. In fact, this scene is the first (and only) time you see the circus strongman and/or his trainer in the entire book.
So, in order for this to work:
1.) The gangsters have to have the opportunity to accidentally switch their gigantic real "dumbbell" (well, actually it's probably a barbell, but whatever) for the fake wooden one. How often does this happen in real life? How often do the paths of two people with massive novelty dumbbells coincide, anyhow?
2.) They also have to fail to notice that the fake wooden dumbbell weighs a lot less than the massive metal dumbbell.
3.) They have to perform task #2 repeatedly.
And remember, these gangsters are the terrors of all Chicago.
To sum up: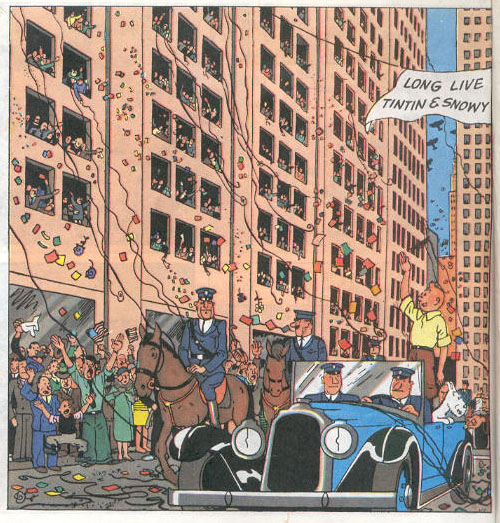 Tintin, you lucky fucking bastard.