This is Firestorm.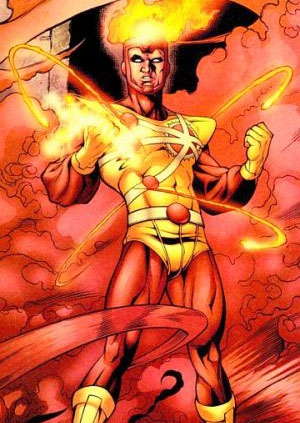 For those of you who do not know such things, Firestorm is a superhero with the power to transmute nonliving matter from one type of matter to another. So, for example, he can turn oxygen into iron, or lead into gold, or helium into plutonium, and so forth. Note that his power is not limited only to base elements, but indeed to more complex molecules. He's not really limited in terms of scale when it comes to this power. (As an afterthought, he can also fly and shoot "nuclear blasts" at his enemies.)
Now, the more cunning among you may have noticed that this makes Firestorm, at the very least, a ridiculously powerful demigod, one of the most powerful superheroes imaginable. So you would think that his rogues' gallery would compose some of the most fearsome villains ever created. Right? Right?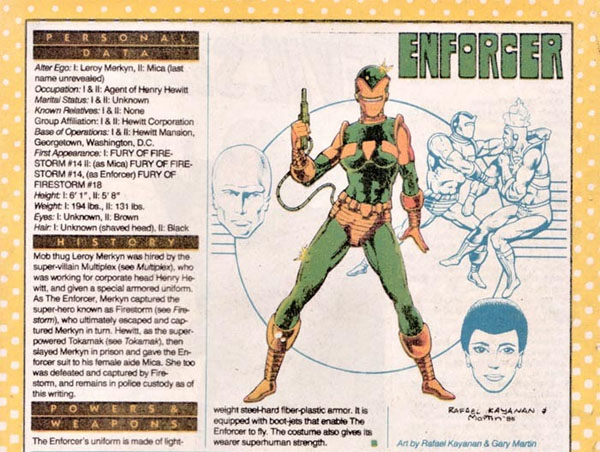 First up, let us consider the Enforcer – a character which is actually two characters, each wearing the exact same suit of armor. (This despite the fact that the first one is a big, brawny guy, and the other is a slender woman.) Apparently it's a very form-fitting suit of armor. So, let's see – it's got boot-jets, and a laser gun, and super-strength. It's maybe a bit generic, but as super-suits of armor go, it's not bad.
But Firestorm can turn it into talcum powder with a thought whenever he feels like it.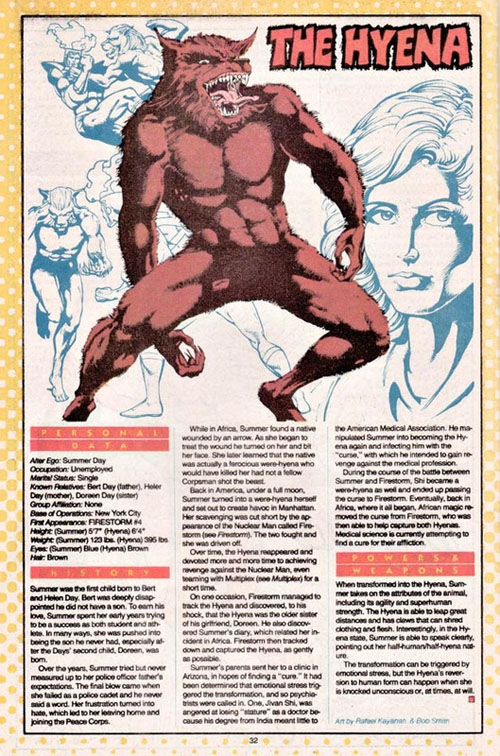 Now the Hyena is just kind of depressing. First off, the Hyena is a woman who turns into a
male
hyena monster, which is, well, definitely a new spin on the were-monster stereotype, to say the least. And note that even though this naked were-monster is male, we're still not allowed to see so much as a nipple. And yes, the Hyena is of course completely outmatched by Firestorm in every possible way.
But what's really depressing now is that the Hyena has become DC's token Villain You Can Kill Off. The Hyena has died, by my count, three times in the last decade. I have no idea if any of them were this particular Hyena. Maybe the whole Hyena curse or disease or whatever it is nowadays is transmissible, and when you get bitten by a Hyena, you become a Hyena (and thus a third-rate supervillain, good enough to be killed by Jason Todd or Deadshot, probably not so good to appear as a threat in The All-New Atom).
Also: he/she/it is presenting. And that is just wrong.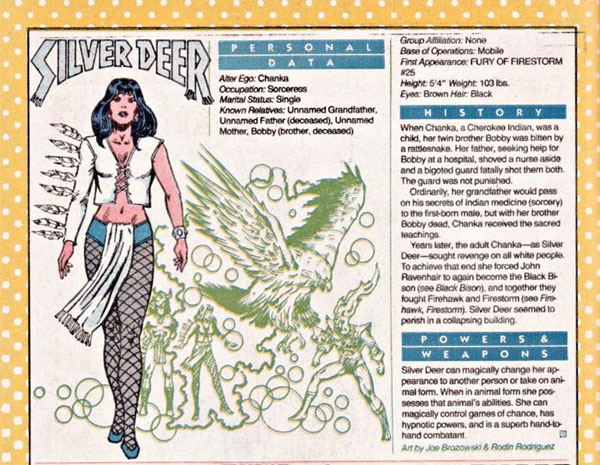 So, let me get this straight: Her name is Silver Deer. She is a Native American supervillainess. Her powers are turning into spirit animals and super-gambling?
If her weakness turns out to be liquor, how wrong would that be?
And again: turning into spirit animals and magically affecting games of chance versus "I can convert the air above you into giant rocks" is not a good matchup.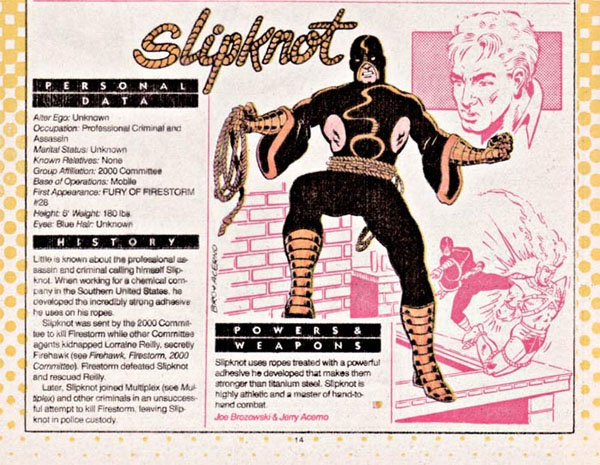 Now, Slipknot is interesting, because I mostly like the costume (that noose motif on the mask is cool, admit it) and the gimmick. He'd probably make a good Batman villain, the sort who shows up for one issue of
Detective Comics
when Alan Grant was writing and get his ass handed to him after a decent fight drawn by Jim Aparo.
But he is going up against Firestorm. Firestorm's handle is "the Nuclear Man." Slipknot's handle is "the guy who's really good with rope." I don't care if it's fancy super-rope that Slipknot treated with fancy super-chemicals; Firestorm can still turn it into a puff of nitrogen at will.
Later, Slipknot got his arm blown off in an issue of Suicide Squad, but managed to survive. We know this because he showed up (with one arm) in Identity Crisis, as a prisoner who had taken up the worship of Kobra, DC's very own third-rate cult leader supervillain with world-conquering ambitions. Understand that becoming the sworn follower of a lame-ass dictator wannabe with delusions of adequacy was just about the best Slipknot could manage.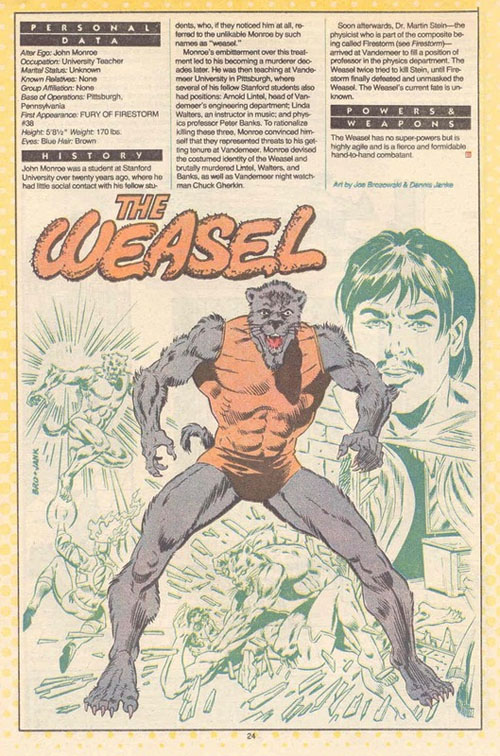 His superpower is:
he is a fucking furry.
Why on earth is he appearing in a Firestorm comic? Ever? Dear god, somebody tell me that Weasel died in an issue of
Suicide Squad
or something. Weasel is the sort of pathetic supervillain that you actively wish Geoff Johns would kill off. That's how bad he is.