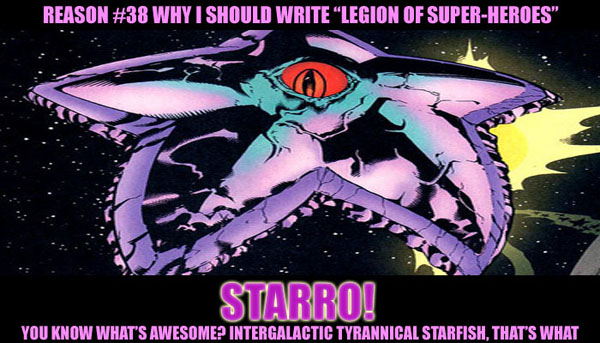 Blame Greg Morrow for this one, and I'll just quote him in the email he sent me:
You should write a "Why I should write LSH" about Starro. Pro or con. The Star Conqueror lies at the heart of DC Comics' appeal, viz., it's an adorably goofy idea that you can't explain to a non-comics-reading adult without apologizing, but at the same time is amazingly effective and terrifying when played straight. (I've argued the same about Modok.)
What attracts me to the idea is that Starro is an alien invader. He's intrinsically more SFnal than the usual run of supervillain, and the LSH should be more SFnal than the usual run of superhero comic. He's also not a bumpy-forehead alien like the Khunds or the Skrulls, and, as Grant Morrison exploited, that makes him potentially a lot more alien, harder to understand and come to grips with as an antagonist, and therefore just plain scarier.
Greg is dead on with all of this, and until he mentioned something else in his email – namely, that we have no idea where Starro(s) come from – well. I'll tell you the truth.
I'd considered Starro previously as an LSH villain, and dismissed him.
Not because I don't love Starro. Starro is awesome. He is an evil space-traveling starfish. You don't get more comics than that. But the problem with Starro is that the single most primal story from a comics standpoint that involves Starro – namely, that he takes over some of the superheroes and then the superheroes have to fight each other, Starro-controlled hero against still-independent hero – has been done quite a lot, and a new take on it has to be really brilliant, and I couldn't think of one. Brad Meltzer did the "miniature Starros as mind-control agents" bit in his year on Justice League, so that's out too.
And then Greg pointed out that we don't know where Starro comes from, and that's when I got the idea.
Why does Starro want to conquer, anyway? I mean, Starro is most terrifying when he's so utterly fucking alien in motivation that he doesn't bother explaining why he's mind-controlling everybody with his starfish spawnlings. He just does it. Why would he do that?
Maybe it's a biological imperative. Maybe Starro and/or his race feed off psychic emanations. A Starro creates the starfish spawn to serve much like tiny little suction cups. The mind-control evolved over time. First it was just a defense mechanism to keep people from tearing off the spawn, but it got finer and more astute over time, and then one day the Starros started getting smarter, and smarter, and smarter as they kept absorbing all that brain-juice, until they achieved sentience, and they realized that this was only the beginning.
Of course, Starro isn't stupid, and probably after his nth asskicking at the hands of Earth superheroes he realized that straight-up conquest just wasn't going to work. But here's the thing about essentially immortal starfish: they can afford to play the long game.
Imagine a world, way off in a quiet corner of space, where Starro lives peaceably with an intelligent humanoid population. It's a symbiotic relationship, much like the Trills in Star Trek. Starro gets to eat brain-energy, but in return he makes his hosts stronger, faster, healthier (and not everybody on the planet gets to be a host – the race considers it a privilege to carry a spawnling). A plain, quiet, orderly little world, polite and friendly – except over time Starro has become the absolute leader, and worse, he doesn't have to force anybody this time around to let him be in charge. Think how goddamned creepy it would be.
A world where dissidents are punished – for their own good, of course, your loved ones will drag you to a faceful of starfish themselves if they have to, because they know it's the best thing for you – with aggressive Starro therapy. (Dissidents tend to have more agitated brains. Nothing like a little Starro to sort that out and calm them down.) A world where every policeman has a starfish on his face that shoots a stun-ray from its central eye. A world where people compete for Starro's attention.
This is a Starro who thinks beyond simple tactics like "take over everything in sight, then take over more things, then more, then more." This is a Starro that's figured out how to achieve his ultimate objective – soft tactics rather than hard force. The ultimate face of starfish fascism, brought about the way all good fascism is – entirely voluntarily.
And what is Starro's ultimate objective? Why does he want to conquer everything, anyway?
Well, I can't give it away for free, you know? 🙂