I might have mentioned this one before in passing, but since today is my Property exam I'm going to cheat a bit and use it.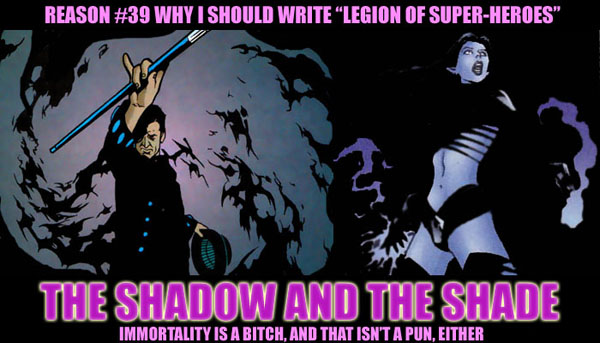 There was a bit of a minor fan kerfuffle (nothing along the lines of the recent "that's not how Dr. Doom talks" kerfuffle, you understand – this is the piddling, smallish sort of kerfuffle) recently regarding Shadow Lass in the most recent issue of Legion chopping an alien monster baddie thing to death with a giant poleaxe. You know, the "wait, Legionnaires aren't supposed to kill" sort of kerfuffle.
And it's fair that generally speaking, Legionnaires should not kill, even if they are the mean type of badass Legionnaire, and that generally killing in the pages of Legion should be reserved for extreme circumstances, like when Projectra needs to take care of Nemesis Kid in an old-school manner.
But Shadow Lass interests me, because Shadow Lass is from Talok VI, which is generally recognized in Legion lore – throughout pretty much all the reboots – as a semi-barbaric warrior culture. They're not the Klingons of the DC Universe (we all know that the Khund are the Klingons of the DC Universe). But the Talokians are pretty direct when it comes to dealing with people they consider enemies. So, although I'm sure Shady isn't going to go around executing people willy-nilly or even busting out the deadly weapons in a tougher than average fight, I can understand where her response to "oh shit a giant killer monster" is to go all Ripley on its ass.
And Talok is a warrior culture, and every Shadow Champion of the Talokians has died in glorious battle, and…
…wait, all of them died in glorious battle? How's that again?
Well, it's simple. See, the Shadow Champion has the shadow powers bestowed upon him or her when they're selected. And then they have them until they die. (That thing a while back where other Talokians were challenging Tasmia for the shadow powers? Yeah, that's kind of a ritual. The Talokian elders all know the real deal – that's why the Shadow Champion never loses to the putzes who weren't good enough to qualify.) And they have to die in battle –
– because that's the only way they can die.
See, shadow powers in the DC Universe have a proud pedigree. There's the Shade, and his evil opposite Culp. And Obsidian. And the thing about shadow powers is this: for some reason – maybe it's their tie to the entropic forces gradually tearing apart the universe – if you've got them, you don't age. And you're definitely tough to kill. You tend to heal up from most wounds, although not exactly at Wolverine speed or anything like that.
Now, Talok's a warrior culture. Warrior cultures tend to have Valhalla-type afterlife beliefs. You get to go to the good afterlife by dying in battle (or by ritualistic "battle", no doubt, for the aged warriors on their deathbeds). But the shadow powers (which, needless to say, Shady and the other champions have never used to their full potential – the Shade is terrifyingly powerful, you know) make it essentially impossible to die normally in the course of battle, as is well and proper. Which is why most Shadow Champions grow progressively more suicidal as they figure out what they've become, flinging themselves into more and more dangerous attacks.
Now, this in and of itself is quite interesting (to me, anyway). But I'll add on something else: Shady's going to be needed for an adventure at the literal End of the Universe, temporally speaking. She has to learn to be the last Shadow Champion. She has to come to grips with living forever – something her culture, her entire upbringing, deems abhorrent. Something fundamentally opposite to who she is.
This is where one Richard Swift, Esq. steps in – because when life deals you a bum hand, often the best possible friend you can have is someone who's already used to it, and who can help you deal with it, get used to it. Possibly also pass on his exceptional sartorial taste. (Well, that last probably won't happen, much to the Shade's chagrin.)
NEXT TIME: The biggest badass in the Legion.