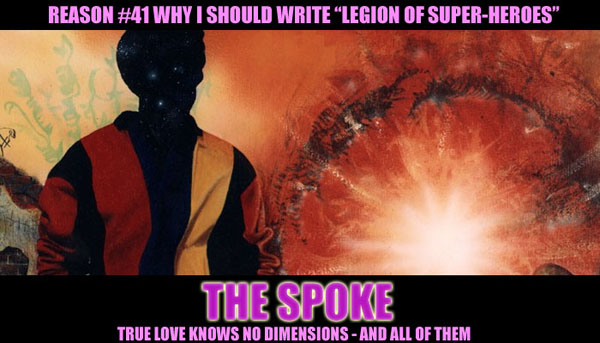 The multiverse moves. It moves around itself. Think of it as an enormous wheel – you can most easily travel to any point on the wheel by traveling to and from the center. Which just means you need a way to get to the center. That's why I called my ship the Spoke. Of course, my metaphor is actually in reality completely inaccurate, and in retrospect, I should called it "the Axle." But you get the gist.
Dr. Jonathan Dhir is a genius; a master of transdimensional physics, one of the very few to ever take that knowledge out of the realm of theory and into the practical. He's likewise a good man, brave and smart. Maybe a bit obsessive, as some scientists tend to be. But not a bad man by any stretch.
His only problem is that his wife is dead.
Some have said there are fifty-two universes; this is thinking small. The megaverse roams in clusters of fifty-two universes at a time. Some are completely barren of all life. Some do not entirely conform to our concept of physics. One is made entirely out of jelly. No, I'm not joking about that last one. It's really made out of jelly. Not edible jelly, mind you. But jelly.
Dhir and his wife – it was true love, the kind you only ever read about in storyscrolls. (They never really went to books in his universe, although they've long since computerized the process.) And Dhir was a genius, but not a universal one; he couldn't cure the comaegulanara his wife contracted.
Ordinary people grieve and move on. But Dhir had other options most people don't, and a certain sort of persistent quality that's greatly magnified when you're a brilliant scientist.
If anything can exist somewhere, that means it does. And that means if anyone can exist somewhere, that means they do.
He wasn't sure if humans could safely traverse the boundaries of the multiverse, let alone the megaverse. When he launched the Spoke out of its orbit he calculated that there was a .7 percent chance it would blink into nothingness, and him along with it. He was willing to take the risk.
It took him a very long time, and he had many, many adventures along the way, becoming something of a hero in the process. He found universes where he and his wife both died as children, never even meeting. He found universes where his wife was alive, but unfortunately so was that universe's version of himself, and he wasn't the sort to intrude. He found universes where his wife was alive and he was dead, but unfortunately he was a dead woman and his wife and he were both gay. (That universe was awkward, but not so awkward as the universe where he and his wife were both arthropods.)
Of course it's a moral act. Somewhere, there is a place where she is alone. She isn't supposed to be alone.
Finally he found it, a universe where his wife was human (more or less), and not dead, and that universe's version of himself died young in a war some time previous, never even meeting her. And she was lonely, and she couldn't quite figure out how not to be lonely. She'd even joined this team of young heroes wearing gaudy costumes, trying to make the universe a better place, and he was amazed – if his wife had ever had superpowers, she would have done exactly that. He was sure of it.
Of course, now he'd have to convince her he wasn't insane or psychotic – not to mention make her fall in love with him – and yes, that would probably be difficult. But Dr. Dhir is, if anything, a remarkably methodical and patient man.
I've seen the birth of species, the death of galaxies and the universe from the outside looking in. I'd trade all of those memories away for five minutes of her time – because to me, she is the universe. And I think I could be hers.