Let's talk about a core character.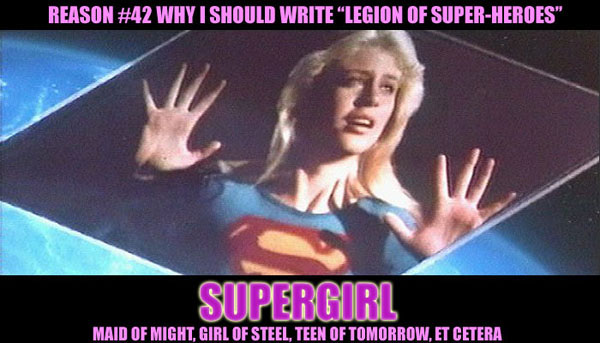 A lot of Legion purists think that the Legion is not the Legion without Superboy. Needless to say, I am not one of them.
Don't get me wrong, I love all the old Superboy and the Legion comics from back in the day, and the premise is sound, but sometimes you just have to point at something and say, "no, not now." Superboy in the Legion is a "no, not now," because the comics market has shifted in terms of what readers expect – and this isn't just a "cater to the hardcores" move either, because the one thing old comics readers and new share alike is the desire to sense that the comics they are reading "matter."
Now, of course, the comics themselves can't "matter," because we all know the drill – it's a sequential, serial art form. Illusion of change. And so forth. But "mattering" isn't about the end result, but rather the suspension of disbelief. It doesn't matter that at the end of the day, deaths are frequently written away and reversed, that character positions remain static by corporate design. What matters is that we can forget about that and indulge ourselves in a story that has the illusion of real change.
Well, guess what: Superboy sucks at that. It's really hard to suspend disbelief in static continuity when one of the stars of your comic magazine for certain is going to be fine, because he has to grow up to be Superman like we all know he does. It's not a coincidence that the Legion's most universally acclaimed creative period (Paul Levitz's run) as well as its most creatively experimental (Keith Giffen's v4) happened mostly or entirely without Superboy.
When people accept this, their first instinct is to turn to a replacement Superboy. Bring Kon-El back from the dead! Have Chris Kent grow up and become the future Superboy! These have the wonderful ability to be lose-lose situations, because the hardcores are going to bitch and whine about a replacement Superboy who isn't "the real one" and everybody else is going to look at the poor writer desperately shoehorning in some total nobody replacement Superboy and say "oh, they're just catering to the hardcores."
However, Supergirl, on the other hand, has absolutely none of that baggage. And indeed, I'm going to argue that the Legion is not only a good place for her to be, comics-wise, but indeed the best place to be.
For starters: quick, name Supergirl's place in the modern-day DC Universe. Trick question: she doesn't have one. She's been shuffled around from team to team (the Outsiders? the Teen Titans? the new Justice League comic James Robinson is writing?) and been given half a dozen characterizations (none of which have really worked that well). From a functional standpoint it makes sense to put her in the future, because in the future there won't be a dozen writers all trying to put together her personality from scratch at once.
But it also works from a literary standpoint as well. Supergirl can fill the role that Superboy used to fill: the inspiration of the Legion made flesh. (Okay, so she's not Superman, but so what? She's not exactly no big deal, you know.) But in addition to that she works as a character in the Legion in her own right. Given that I've previously mentioned how much I love the concept of Alexis Luthor, a natural rivalry is right there: the heir of Luthor versus a timelost survivor of the El family. And of course, using Supergirl offers one the chance to finally explore her relationship with Brainiac Five properly, and truthfully I think there's a story there that could simply be epic.
But mostly I like it because in the Legion, Supergirl isn't redundant (as she so painfully is in the modern day DCU, a marketing gimmick roughly transformed into a character with her own, frequently unreadable comic). In the Legion, Supergirl is the big gun. She's the living reminder of why the Legion exists in the first place. She's in the one place where she can finally live up to her own potential without having her cousin outshine her constantly.
Oh, and one more thing.
She arrives in the future – once again – by accident. And while she's there, she learns something: less than a day after her return to the past, she'll die. In a manner befitting a superhero, saving an entire galaxy, to be sure. But she'll die, you can be sure of that. She can't stay in the future forever – sooner or later the timestream will start to stress and fracture if she doesn't go fulfill her destiny. She is marked.
So while she's in the future, she decides to help as many people as possible. That's what a superhero does, and Supergirl is a superhero – and in the future, she'll finally get the chance to be a legendary one.
EDIT TO ADD: Hoo boy.
Well, now that "women in refrigerators" comments have started to show up along with the flame mail, let me re-emphasize a paragraph:
It doesn't matter that at the end of the day, deaths are frequently written away and reversed, that character positions remain static by corporate design. What matters is that we can forget about that and indulge ourselves in a story that has the illusion of real change.
Let me further add that characters being fated to die is not precisely the same as killing them off. Even if it is part of history, it's not carved in stone. I seem to remember this season of Doctor Who promising the death of a companion and weaseling out of it. (Not particularly well, if we're being honest, but that doesn't mean there aren't ways to do it and have it be satisfying.)
Supergirl in the Legion means she's on one of the most (and maybe the most) powerful superteams in comic history. Do you seriously think they wouldn't have something to say about that? Do you seriously think Brainy, the smartest person in history, wouldn't stretch his intellect to the breaking point to find an escape hatch?
Superhero comics are fundamentally about doing the impossible in the name of the greater good, six times before breakfast. This is just the most extreme iteration of that. I'm not going to say whether or not the Legion would succeed at finding a way to prevent Supergirl's death. (Suspension of disbelief. Also, not giving away the cow. Et cetera.) But they would try. And that's the important thing.