(I had been working on this for a while, but until Chris Sims wrote his excellent piece on the Joker, I had been having a lot of problems structuring it the way I wanted it to flow. His piece provided a helpful baseline for me to work from, and for that I give him kudos and praise.)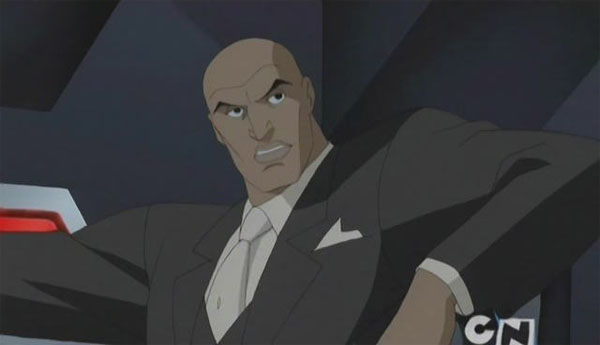 Lex Luthor is, as many know, far and away my favorite of all supervillains. I would argue that he is undeniably one of the great ones. – but, unlike the Joker, who at this point has more or less been boiled down to a hard consensus as regards his personality and how he functions (so much so that Grant Morrison's "rework" of the Joker, which really isn't much of a rework at all, is deemed somewhat controversial), Lex Luthor's modus operandi and personality are still the source of great debate.
For starters, why does Lex Luthor do what he does? Most major supervillains have a pretty narrow consensus for why they do what they do. Dr. Doom does what he does because he has a gnawing all-consuming inferiority complex and has, in his own mind, illogically determined that when he defeats Reed Richards once and for all, he will finally be complete. (He would never admit this, but let's be honest: it's pretty obvious.) Magneto does what he does because when he was little the Nazis killed everybody he cared about and he's decided that the same will happen to mutants if he doesn't take steps. [1]The Joker does what he does because he's goddamned crazy and will do anything that suits him, especially if it fucks with Batman.
But Lex Luthor – nobody agrees. Grant Morrison's Lex Luthor in All Star Superman is a sterling example of the "he's just a bastard" school [2] – he doesn't care much about anything except killing Superman, because he hates him and That Is That. (Even when Superman offers Lex a chance to be well remembered, both of them knowing that Lex has already killed him, Lex spits in Superman's face.) This is the prototypical Lex of the Golden and Silver Ages, when he was mostly just a fat, evil scientist who got his ass frequently kicked, and it's a popular raison d'etre for the character. (The Lex in Justice League Unlimited mostly falls into this category as well, although his singleminded desire to kill Superman was eventually supplanted by his singleminded desire to reunite with Brainiac.) This is the Lex who, in an "imaginary story," cured cancer just to get Superman to trust him enough so he could kill him.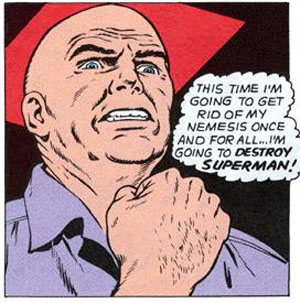 That's the hot-blooded Lex. But there's the cold-blooded Lex as well, the rationalist. It's an Elseworld, but Superman: Red Son is an excellent example of the pragmatic Luthor. Yes, he gets angry when he loses to Superman – but he also first saves America and then the world, because he's a genius. And when Superman isn't around to bother him, Luthor turns Earth into a utopia – not because he's a good person (he obviously isn't) but because this idea of Luthor is, more often than not, right about most things. He's too smart not to be. We've seen this Luthor as early as the late Silver and early Bronze Ages, in the Lexor stories – the only planet in the universe where Lex Luthor was a great superhero, and that mostly because there, there was no Superman to ruin things for him. This is Luthor as rationalist. [3]
And on top of that, there's Lex Number Three – the paragon. This Lex hates Superman, but it's not out of a misplaced grudge from days spent in Smallville or because Superman humiliated him in the Metropolis news Lex previously dominated. This Lex almost views Superman as an obstacle rather than an enemy – this is the Lex focused on self-improvement, on striving to be the best, to always be the best at everything. This is the Lex that always refers to Superman as "the alien" whenever possible because he doesn't want to dignify his opponent with the use of a proper name.
Which of these interpretations of Lex Luthor is the right one? All of them and none of them. Without the nasty bastard Luthor, you don't really have Luthor at all – you've got Batman. Without the egotistical paragon, Lex doesn't have the proper amount of menace. Without the pragmatist, Luthor loses a lot of his edge and that delightful hint of moral ambiguity that allows Superman to question himself every once in a while (and if there's ever a hero who should do that, it's Superman).
Why is Luthor so complicated when compared to other supervillains? I'm not kidding when I say you can sum up Dr. Doom's innermost character motivation in one sentence (more importantly, in one sentence and accurately). Lex is a book where most supervillains are a sentence. Why is that?
The answer's pretty obvious and wears a big red cape. Lex is going to be more complex because his enemy, the battle he fights, is more mythic by far than any other. If you look at the ranks of great comic villains – and I'm talking the true greats here – they're generally either on some level either the equal of the hero(es) they loathe (the Joker, the Green Goblin, Dr. Doom, Sinestro) or their superior (Galactus, Dormammu, Magneto on the high end of the power scale, the Anti-Monitor).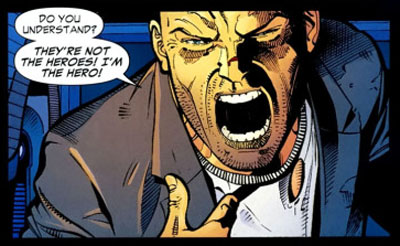 But Luthor is unique – definitively the only great villain who is, by any reasonable standard, weaker than his archenemy. Remember, Superman isn't just powerful – he's also smart, and wise, and personable, and generally possessed of a huge number of admirable quality traits, and he has a ton of friends who are also for the most part more powerful than Luthor is (and who all hate Luthor too), and he has alien technology nobody else does, and a secret fortress, and a super-cousin, and a super-dog. Luthor doesn't have any of that. Luthor has brains, determination and cojones, and that's it. Sometimes he has a corporation, sometimes a secret science fortress, but that's all ephemeral stuff.
Other villains fight men. Luthor is, when you get down to brass tacks, a man trying to fight God.
It should come as no surprise, then, that Luthor shares a number of personality traits with Satan in John Milton's Paradise Lost. Able to inspire/charismatic? Check. Proud? Big check there. Narcissistic? Check. Selfish? Check. Unwilling to dignify his opponent by speaking of him plainly? Oh, check. (In Paradise Lost, Milton uses Satan's arrogance to avoid the trap of having to describe God – Satan defines God in loose, etheral terms rather than speak in the plain specifics of which he's capable. Sound like anybody? Hint: "the alien.") Utterly self-confident? Check. Said self-confidence (mostly) justified? Again, check. Utterly obsessed with his enemy, who is only his enemy by choice? Oh my check.
Of course, these character elements have filtered in through time. Any reasonable assessment of Lex Luthor's enduring power as a character has to begin with the fact that he was Superman's only serious enemy for nearly twenty years, from his first appearance through to the introduction of Bizarro and Brainiac in 1958. (And really, calling Bizarro a "serious enemy" is kind of pushing it, given his frequent comic relief status.) For that first chunk of the Golden Age, there were hordes of anonymous gangsters, aliens and monsters, the occasional appearance by the Toyman [4] or Prankster (neither of whom were even remotely threatening for most of their careers), occasionally a Mr. Mxyzptlk gag story… and there was Luthor.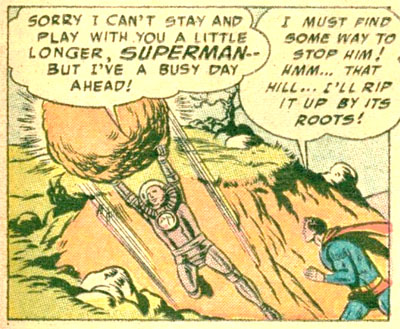 Even then, Luthor was dismissive of Superman and simultaneously envious of him -the maniacal hatred didn't really show up until the mid-50s. This Luthor would invent a super-suit not as a weapon with which to battle Superman, but instead simply to rob banks more effectively and negate Superman's powers. Can you imagine the Luthor of today, with a super-suit giving him power to equal Big Blue's, doing anything other than going for the alien's throat?
As the Golden Age became Silver and then Bronze, Luthor's evolution began in earnest. He gradually lost weight and de-aged – the paunchy scientific con man in his 50s became a rugged mad scientist in his mid-40s and then gradually became an exceptionally fit man only a few years older than Superman. (John Byrne, in his revamp, tried to take Luthor back to the older, heavyset motif, and although the idea of Luthor as corporate raider took, the fat-older Luthor didn't – one of the few elements of the Byrne revamp that just didn't feel right. Which of course led to Clone Australian Luthor, which honestly wasn't that bad a plot idea for a while.) After all, if Superman was going to have an enemy – a real enemy, worthy of being Superman's greatest foe – then that man had to be completely bad-ass. He had to be Batman, but evil.
With the Crisis revamp, Byrne made the mistake of making Luthor old and fat (which lasted a little more than five years), but improved on Luthor's motivation. No longer did Luthor hate Superman because Superman made Luthor lose all his hair when he was young. (While adorable in a comic-booky sort of way, face it: it's kind of silly.) Now Luthor hated Superman because Superman came along and made Luthor look like small potatoes. Envy and jealousy supplanted revenge as motivation, and for a man destined to fight a god, it was perfect. (I don't know when Lex's eyes officially became green, but I wouldn't be surprised to find out that his eye color was solidified around this time.) Lex wants Superman's power. Depending on the writer he might hate to admit this or he might do so gleefully, he might want it to spite his foe or he might want it in and of itself – but he wants it.
Byrne also revamped Lex's origin at the same time, giving him a ridiculously hard-luck origin story: brutal parents (whom Luthor kills), then brutal foster parents (who force their daughter to seduce Lex for the insurance money he got from killing his parents – and when she refuses, they beat her to death), and then creating the world's largest corporation out of nothing. As Luthor has evolved from Byrne's original corporate model to incorporate the original scientific genius as well – and really, if Batman can do it, there's no reason Lex can't – the origin has mutated somewhat, but in all versions of it the idea that Luthor created LexCorp more or less on his own (like Bill Gates on steroids) has remained prominent. Luthor is self-made.
And that self-making ultimately informs all aspects of Luthor's character. Luthor drives to better himself because it's what he's always done. Luthor is a rationalist because faith in a greater power would only diminish his achievements. Luthor ultimately hates Superman for no real reason other than he chooses to hate Superman. (He himself knows this – and at times it introduces a tiny element of self-loathing.)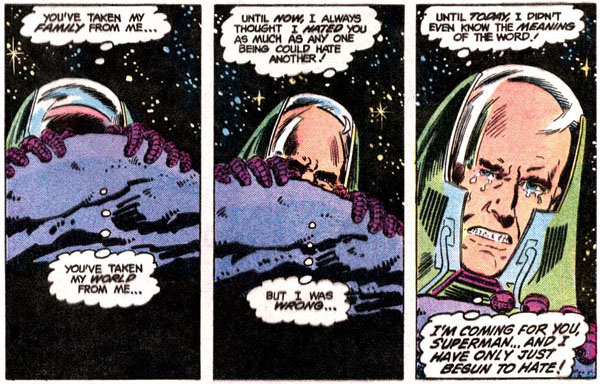 The criminals of the DC universe might all be scared of the Joker, but they're in awe of Luthor, and rightly so because Luthor is a cut above all of them and they know it. [5] It's no accident that of all the villains in the DC Universe, it's Lex Luthor who resists Libra's promise of Apokoliptian evil power in exchange for servitude in Final Crisis (and you just know at a crucial moment, Lex is going to stab Libra and Darkseid in the back, and say something like "Luthor worships no god!", and the good guys will only at that moment get their chance to save the day).
And that's why Lex Luthor is the greatest supervillain ever. Join us next time for the first part of my 12-part lecture, "Deep Down, We Are All Metallo, Even If Some Of Us Only Appear To Be Kite-Man."
[1] Although this reminds me that they're likely going to have to reinvent his origin and soon, considering that right now a Magneto who could remember the concentration camps would be well into his seventies at least, and magical cloned bodies as a handwave explanation are kind of lame.
[2] In fairness, Morrison does allude to other popular motivations for the character in All-Star Superman #5, but let's be honest: his Luthor is coming up with justifications, not explanations.
[3] Although, of course, the obsessive eventually won out over the rationalist in that story, as Luthor's fight with Superman eventually destroyed Lexor.
[4] Hey, what Superman comic was it where Winslow Schott was revealed to be "the only real Toyman," where all the other Toymen were just robots? I know Geoff Johns wrote it but I don't know what issue it was, and I want to go back and read it.
[5] Well, the Joker isn't in awe of Luthor, but that's because the Joker is, as mentioned, fucking crazy.