Honestly, I had been planning to stop doing these at #50, because there's a limit, even for me, but although the whole exercise is just a fun one, the depressing possibility that Geoff Johns' "I Can't Believe It's Not The Paul Levitz LSH" will become the de facto Legion kills a lot of that fun, much in the way that watching people squander vast storytelling potential in order to appeal to a cadre of steadily shrinking, impossible to satisfy, aging bitter fans can… hey, wait, that's exactly what would happen if they went with the Johns Legion as the "primary" Legion!
Anyway. Soapbox mode: off. Hope that they stop constantly rebooting the Legion to save it: on.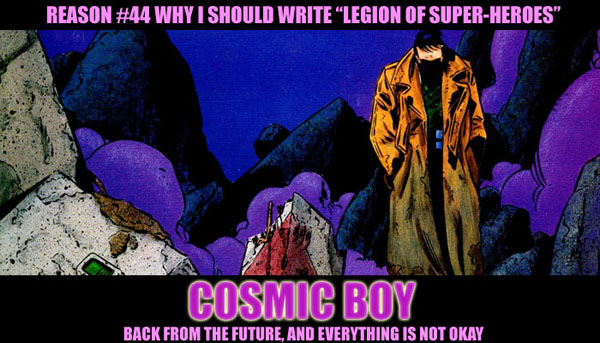 I've said before that you can't have the Legion without Cosmic Boy. He's their Captain America. He's always The Leader, regardless of whether he's actually leading or not. And this is fine and good.
However, currently in the Legion, there is no Cosmic Boy. He went to the future with the "Knights of the Galaxy" in a thinly veiled homage to the original Superboy-meets-the-Legion story, which depending on your point of view was either brilliant or hokey. (There hasn't been a lot of middle ground there.) So let's bring him back! But I don't want him to be the leader. Surely there's more interesting things to do with Cosmic Boy than just have him be inspirational and leader-ish all the time, right?
So here's what happens: he comes back from the future, and he doesn't remember a-ny-thing. Nada. Zip. Zilch. The big donut. He knows he went, but everything after he stepped through that time portal? Blank. He has no idea what happened, and really, when you think about it, doesn't that make sense? To protect the timestream and all.
…except sometimes he has flashbacks. Sometimes they're weird. Usually they're scary. Often they're violent. Sometimes they're painful. And he hasn't got any idea why he's having them.
Maybe a 41st-century Saturn Girl equivalent stored memories he would need in his head, allowing him access only when she felt he needed to have them. (41st-century telepathic techniques are, unsurprisingly, vastly more advanced than 31st-century telepathic techniques, so the actual Saturn Girl can't get to the memories in question. "It's like trying to derez a forcefield with a squirt gun.") Maybe those memories are a guidebook for him, meant to unlock only when the time is right and the knowledge stored within can help the Legion.
Or maybe, nobody's fault, he saw things in the 41st century he Wasn't Supposed To Know. (Time travel. It's a bitch like that.) And for the good of everybody, he agreed to have parts of his memories locked off so he couldn't endanger anybody. Except memory locks aren't perfect; they need regular maintenance, especially for an intelligent and strongwilled person like Cos. Maybe that stuff He Wasn't Supposed To Know is bleeding through, infecting his real memories, combining and swirling…
Or maybe it is somebody's fault. Maybe the flashbacks aren't bleeding through by accident. Maybe a nefarious being (take your pick) is mining his head for tactical advantage, and the flashbacks are spillage as the nefarious memory thief digs deeper and deeper.
Or maybe the stuff he saw wasn't stuff He Wasn't Supposed To Know in the affecting-the-modern-day sense. Maybe the Knights of the Galaxy weren't a 41st-century equivalent of the Legion, but instead a psychotic fascist government which pulled him to the future seeking ancient knowledge, except they screwed up and got him too early. But they tortured him anyway, because heck, maybe he'd know something helpful. He barely escaped, but now he's suppressed everything he saw and experienced – because that's how bad the future is. (Maybe the 41st century version of the Legion, a desperate but heroic band of rebels, were the ones who set his escape in motion.)
Or maybe it's a combination of all of the above, sorta, with the Knights of the Galaxy still evil, but instead of tricking Cosmic Boy for the purposes of mining his brain, they snagged him to turn him into a living weapon against the past itself. The flashbacks are a combination of instructions and post-traumatic stress disorder, with the former hidden deep within the latter.
Whatever happened, the one thing that doesn't change is that Cosmic Boy can't trust himself to lead the Legion, can't allow himself to put lives on the line when he's in such a state. So he sits back in the membership, acting as a role player rather than a commander. Practically the whole team defers to him naturally (because he's Cosmic Boy), but he doesn't allow them to do it if he can help it (again, because he's Cosmic Boy). He needs to figure out what happened to him before he can assume his proper place.
Oh, and here's one more possibility for you:
Maybe he never went to the future at all.