The Legion has a time machine.
So why is it that the only place they ever go, ever, is the present day DC Universe? Surely there are all sorts of other places they can go?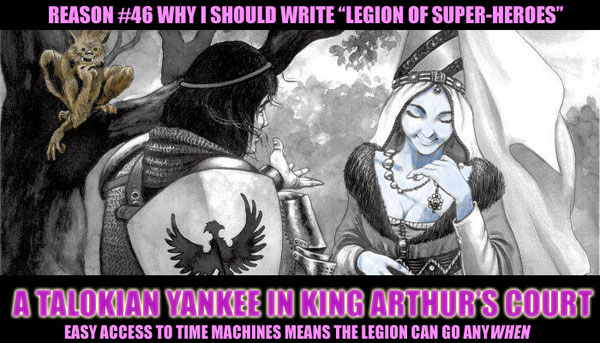 It doesn't have to be Shadow Lass, of course. "Talokian" just sounds kind of like "Connecticut," and I like bad wordplay sometimes. And it doesn't have to be Camelot, either. (Although more opportunities for the Legion to meet up with Etrigan are, in my book, always to be wanted. Mostly because Etrigan is bad-ass, and rest assured I am fully on board with Etrigan being an evil bastard rather than a heroic demon, because the former is awesome and the latter is kind of dorky.)
But there are options aplenty. Anybody who has ever watched an episode of Doctor Who knows this to be true. Pick an interesting historical setting. For style points, make it one with some strange thing that has never been explained, and explain that strange thing (preferably in a convoluted manner involving Brainiac Five blowing something up in the name of Science). The Tunguska Event, for example, is suitably mysterious (we think it was a meteorite, but we can't be sure), and involves a large explosion, so there's one right there that comes pre-suitable.
But wait! How about "how did the Aborigines get to Australia?" (Nobody knows.) Or "where's the Ark of the Covenant?" (Nobody knows that either, except possibly for a few people and they aren't telling if they do.) Did the Legion get involved in the quiet, subtle feud between Belisarius and Justinian? Did they at some point run into the Comte de St. Germain? (Actually, he probably made it to the 31st century. Seeing as how he is the Comte de St. Germain and all. Hey, maybe he's R.J. Brande!) Do they know what happened to Judge Crater? Maybe he was a monster of some sort. Maybe they were responsible.
All of this should not be taken to transplant the Doctor's storytelling model onto the Legion – nor, for that matter, Booster Gold's, considering that Booster has the "hero who travels through time and fixes things" niche and I don't think anybody should mess with it or make it redundant. No, the Legion doesn't travel through time and do heroic things proactively. For them, it is entirely reactive – the Legion just has a knack for getting shoved to the ass end of time by some horrendous cosmic force and having to deal with that. (I mean, come on, their greatest foe is called the "Time Trapper." That is kind of a hint.)
And of course, time travel doesn't have to be limited just to Earth, and the Legion knows about the dangers of time travel and not altering the flow of history and blah blah blah responsibility-cakes. Imagine shoving them back to the Dominion homeworld just before the invasion of Earth (the one with the Khund and the Thanagarians and the Gil'Dishpan, not the one just recently in the 31st century with the robo-virus). They've got a front row seat at a decimating event in Earth's history, but a necessary one. Think there might be conflict?