Personally, I think the moment everybody realized this particular post would be about dinosaurs in space with lasers, that I really could have just written "Dinosaurs, in space, with lasers" once, copied it, and pasted it two hundred times and everybody would still be happy. However, I like details, so…
The idea that the dinosaurs had mastery of high technology and just left Earth, rather than going extinct because of a meteor strike or geological shift or disease or anything, is not one that is particularly revelatory in science fiction. I mean, once an idea makes it into an episode of Star Trek: Voyager, you know it's not going to be particularly original. Heck, one of my favorite sci-fi trilogies, Robert Silverberg J. Sawyer's Quintaglio series, is all about dinosaurs in space. (In fairness, Sawyer's books were about genetically modified dinosaurs transplanted through space from Earth to a different planet by super-advanced intelligence assisted by something not unlike God, and who had to undergo their own accelerated Renaissance in order to leave their planet. But, still – dinosaurs in space.)
That having been said, while the idea isn't new, it is indescribably awesome, as it combines dinosaurs with space (and lasers, of course). The trick is to integrate it into the DC Universe proper.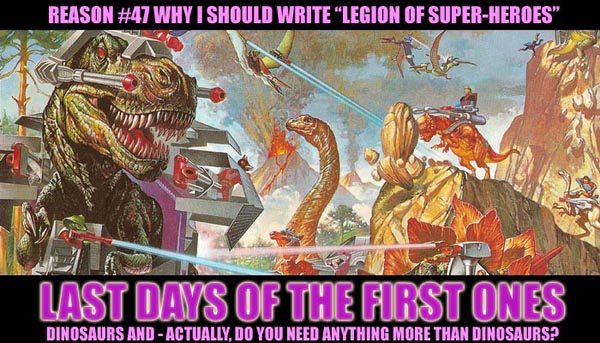 The First Ones left Earth a hundred and twenty million years ago, when just about every civilization worth mentioning that still exists was in its cradle or not even alive yet. (The Oans were only starting to consider building the Manhunters at this point – that's how old we're talking.) They were already brilliant, their natural intelligence enhanced by a primordial telepathic hive-mind, the Oneness, as they first began psychic study before even bothering to consider engineering or technology – and when they did consider those things, they advanced millennia in heartbeats as the wisdom of one hundred thousand First Ones (who, for the record, were much like Tyrannosaurus Rexes, but herbivores and with larger arms – but the same enormous size, because if you're going to have dinosaurs, I say you don't puss out and make them human-sized dinosaurs) was brought to bear upon arithmetic, algebra, calculus, physics, quantum calculation, and anything else you would care to name. Sciences fell like dominoes.
Realizing that their species would dominate the planet so greatly that they would endanger all other life upon it, the First Ones chose to segregate themselves – at first only from their home planet, but eventually deciding that the potential for interfering with other species was too great, and deciding to pursue the path of study and solitude. They built ships and went out into the stellar void – far, far outside any habitable galaxy. They collected stellar matter from white dwarves and black holes, re-engineering it into a working, everlasting ultrasun, then created a massive world to orbit it (and a moon, mostly because they wanted tidal patterns so the beaches would have waves so they wouldn't grow homesick). They cloaked their new system in a cloud of gigatonnes of dark particulate matter, and seeded it with life, and settled down, and studied.
Their science grew profound and inexplicable. If they had wanted to conquer, it would have been a simple matter, but their passions lay in simple learning (and banana leaves). They conquered aging, and took pleasure in ideas – and they never lacked for new ideas. They created observascopes to study the universe ongoing, and watched millions and millions of years of stellar history unfold.
And then, one day, about a hundred thousand years ago, one of them died. This was a tremendous surprise, for he had not died in simple accident, nor had there been any warning. He simply lay down and stopped, his bodily functions ceasing in an instant. The mental conversation within the race – now twenty-two billion strong, as they had been for fifty million years – spoke of nothing else. Truthfully, the species was energized by the sudden existence of a problem they needed to solve.
They never solved it. A species that conquered all disease could not defeat this foe. Some theorized that it was the natural reaction of a species to a lack of mortality – bodily functions filling the void created by genius. They tried to recommence breeding, but discovered – much to their surprise – that the species had become sterile, it having been eons since any of them felt the need to reproduce. Vigorous debate ensued as to the next course of action to be tried, as the deaths accelerated, but the First Ones had a new problem: although they were naturally intelligent, their survival demanded that their thought be advanced by their primordial Oneness so they could operate the insanely complex devices that kept them healthy, operated their crops, kept their very world stable.
Every time a First One died, the Oneness was weakened. Every time a First One died, every other one became just a little bit dumber.
They continued to debate and plan even as their intellects steadily shrank. By the time they were no smarter than the average Coluan, about a thousand years ago, a final plan was determined. They invented one last great work: a ship so vast it was larger than most moons. The remaining survivors – about one hundred thousand strong – got aboard it and left their world, already slowly beginning to disintegrate.
All they wanted was to see their home one last time, and to die where they were born.
Unfortunately, it was now occupied. And although the First Ones were a peaceful race, by instinct and creed… they nonetheless knew how to construct and design great weapons. They did not want to use them, you can be sure of that… but they would use them, if they felt it necessary. Because when you only have one thing left to you to do and to want, you want to do it very, very much indeed.
The Legion has to stop them. Or save them. Or both. Or save the United Planets. Or stop the United Planets from destroying them. Or both. They have to find the lost world of the First Ones. They have to make sure that the First Ones destroyed it. Or both. And Brainiac Five has to deal with the existence of an entire race who outclasses his brilliance on a bad day, which might be harder than all of the other things put together…