The idea of "hero created in response to other heroes emerging, by people feeling threatened by said heroes" is again nothing new. However, the reason it isn't new is because it's timeless; it's the classic human arms struggle (as power struggle) transposed to superheroics, which lends it a sense of immediacy, and it doesn't have a predetermined ending. Sometimes it ends well, sometimes it ends in tragedy. That's why it's a deep well.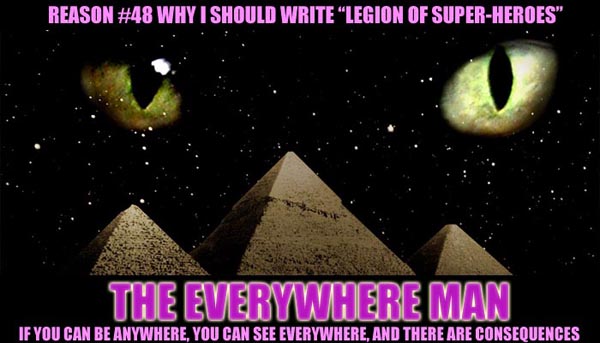 When the Legion emerged as a true force in intergalactic politics, there were of course those who felt threatened. Metahuman-level power had always been isolated, and usually culturally specific: Titanian telepathy, Braalian magnetism, Coluan intelligence, and so on. The conflux of the best and brightest from all corners of the galaxy was intimidating; many a military strategist had often wondered how a super-unit of the greatest combatants would serve the United Planets, and now that super-unit existed and was almost totally unaccountable to anybody. Every planet instantly began a new super-agent program, every last one of them in secret.
One planet had a particularly gifted biophysics researcher who thought he had cracked the secret of personal teleportation as a genetically derived superpower. They found a volunteer – an idealistic young captain, honest and compassionate and brave and extraordinarily grounded. They began preparing immediately, and readied the experimentation chamber. When the chamber blew up with the young captain inside, the government killed the program in a flash. It never happened. No evidence remained.
But soon enough, people started turning up dead. Unrelated to the experiment, understand – these were largely murderers, rapists, and the like. All of them stopped in the act. The religious spoke of an avenging angel; the secular muttered of government conspiracies. They were both, in a sense, correct.
The young captain was of course not dead. The experiment had worked perfectly;he could teleport anywhere he wanted, anytime. It was easy. He could even "look" in advance, sense where was safe to land, where he wanted to go (the scientist knew that such an ability would be necessary, lest teleportation be useless without a map of where you wanted to go, preferably with mathematical coordinates). It was flawless in every respect but one.
He couldn't stop "looking."
Every second of every moment of his life now, he sees people hurting, assaulting, enslaving, raping, killing other people. And he sees all of it, everywhere. For a given value of "everywhere" that's rapidly expanding as his ability to "see" grows. Almost anybody would be driven insane by the sheer sensory overload, but the young captain was a man (or woman, actually – gender isn't important to the character) of exceptional mental fortitude, and discovered that it was possible to retain some slight degree of sanity through action. (If the only way you could keep from going insane was by killing total bastards, what would you do?)
There isn't an armory in the universe he can't get into, not a criminal in the universe that's completely safe (that's the advantage of total surprise). He stays awake for weeks thanks to pharmacology and willpower because he can't sleep unless he's so exhausted that he passes out, not without seeing people violently dying right in front of him, tens of thousands at a time. (If you could stop someone you've never even met from being murderered, wouldn't you feel the need to do it?) He flits across the United Planets faster and faster, never anywhere longer than twenty seconds, usually less than five.
He's been lucky so far; hasn't killed anybody who only appeared to be killing someone or doing something as bad. How long before his sanity gives out entirely? (What he's going through is literally inhuman.) How long before people start blaming the wrong people for his kills? How long before he kills someone important and that fucks up interstellar politics for way more people than he can ever save? How long before some innocent guy just playing "Slaver and Property" with his girlfriend gets two in the head because the Everywhere Man didn't have enough time to properly assess the situation before heading off to the next galaxy to kill somebody else? Can he really keep his perfect record forever?
Can they stop him?
Should they?