Some forum kid over at Comic Book Resources is running a poll for "best comics dog." Their options are Krypto, Lockjaw, Bandit from We3 and "other."
Okay, let's be clear here. Lockjaw is a really dumb dog. That is not just opinion: that is canon. If it wasn't for his ability to teleport Lockjaw would be the Marvel Universe's equivalent of Marmaduke, and everybody knows that Marmaduke sucks. Also, Lockjaw has a slingshot sticking out of his forehead and everybody is too polite to tell Black Bolt "hey, you might want to take that slingshot out of your dog's forehead" because he might say "sorry" and blow up the world. So Lockjaw is clearly not the best dog in comics.
For all the jokes people make about Superman being a dick, Krypto is worse. Krypto is a psychotic little beast who is not technically even a real dog but instead some sort of alien thing. Everybody in the DC universe is kind of afraid of Krypto, because he has all of Superman's powers trapped in something with the temperament of a Rottweiler – friendly one moment, and then the next he's killing everything in sight. He will even attack his master. So clearly Krypto is not the best dog in comics.
Now, you can make a solid case for Bandit, who just wants to be a good dog even when he is a robot death machine. But he is still kind of not that impressive, because any dog can be a pretty impressive dog when they are encased in cybernetic weaponry – Spuds McKenzie, Old Yeller, that dog in the Jennifer Aniston movie, you name it. Plus I am pretty sure cyber-dogs have to cyber-poop, and I am sure nobody wants to deal with cyber-poop.
But, come now. There is only one choice as to best dog in comics. You know who it is. If Krypto is the Superman of Dogs, then this character is the Batman of Dogs (no, not Ace the Bat-Hound – Ace the Bat-Hound is a dumbass hanger-on). He is always prepared, and even with no powers will always come out ahead in any given situation. And his poop possesses a refreshing lack of nanotechnology.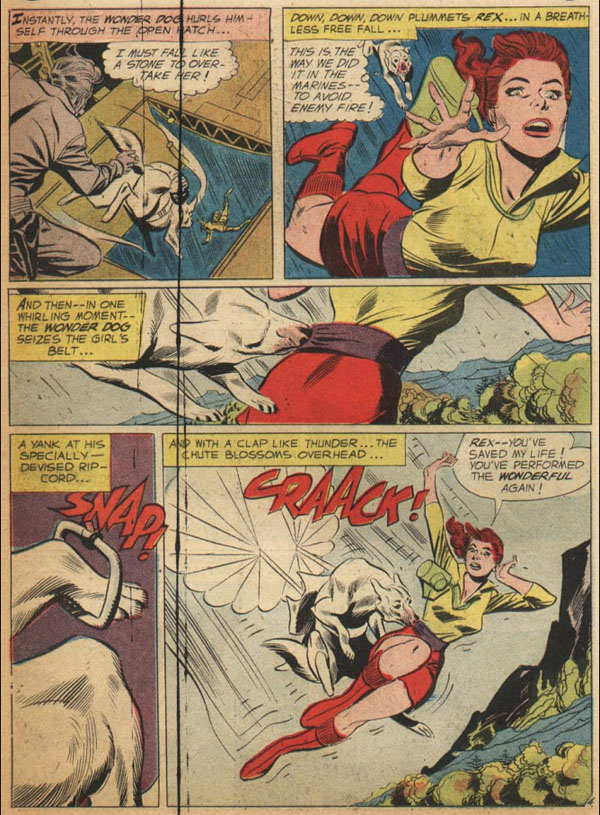 Because he is Rex the motherfucking Wonder Dog.