"War. War never changes." Which is why in order to beat it, you have to change instead.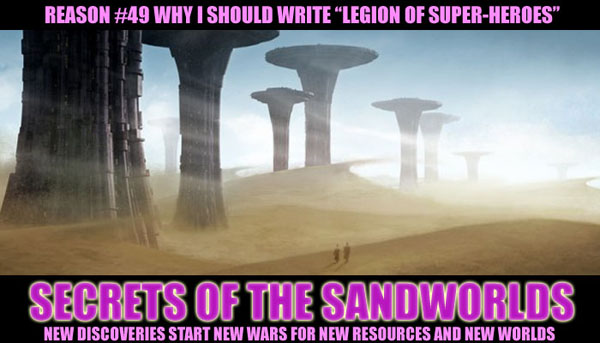 Terraforming? Doesn't work.
Well, it does. It just doesn't work at any speed that's meaningful to any civilization. Even the quickest terraforming techniques take centuries to transform dead worlds into only moderately livable ones. (There was this one set of experiments with the Speed Force in the mid-2600s – but that's a whole other story…)
Think about that for a second. Hundreds of years. Most humanoid civilizations don't have the lifespan necessary to consider terraforming on any serious emotional or mental level. Think about how hard it is to get global warming policies enacted right now, when we pretty much know that we're fucked as a species if we don't get on the horn immediately. Now let's extend the scope of action even further. That's terraforming. It's hard for a government to initiate a series of actions that have the potential to outlast the lifespan of the government itself.
So terraforming barely ever happens. Alien civilizations guard their lush systems with near-paranoia because the perception is that that's all there is – and as perceptions go, it's mostly not wrong. Dead worlds serve as mining camps and little else, because everybody learns soon enough that there's no point in stripping your own world's metals when there are perfectly good asteroids nearby.
But of course there are outliers. Fringers ekeing out an existence on rimworlds barely capable of sustaining life. The United Planets, the Khund, what used to be the Dominion, and every other small stellar empire occasionally send out a tax collector, but really, who cares? They show up every so often, sell some raw minerals, buy some food – it's money into the economy and who cares about them otherwise, right?
But there's one system, smack dab between the Khund and the United Planets – the two giant gorillas of interstellar politics. Four planets, all barely inhabitable, all desert worlds with fringertowns and rimvilles. They're called the Sandworlds, when anybody bothers to wonder what their name is. Nobody lays claim to it; the locals trade with both the Khund and the UP. And that's pretty much it.
Until a routine UP surveyor ship, using the system as a stop point to recharge jump engines, notices that one of the worlds is suddenly a lush jungle paradise. And Khund intelligence finds out soon after. And then suddenly the issue of claim is very important indeed.
Nobody quite knows how that desert world became a rich life-bearing planet. (Even if the world was transformed into fertile soil, where did all the plants come from?) But it doesn't matter, because this is the Holy Grail of interstellar colonization. (How much energy does it take to do this thing, anyway? Where do you even begin to get it?) And the fleets mobilize, and move into the Sandworlds system, because you can't let anybody else have this technology if they won't share it.
And that's why Timber Wolf in particular is positive that somebody's running a giant scam. Somebody wants the Khund to go to war with the United Planets. He doesn't know why – but he knows this stinks. And what's more, the United Planets government won't let the Legion investigate, because they want that technology for the UP so badly they can taste it and no way some bunch of punk kids are going to ruin this – so the Legion gets drafted into the UP military.
This isn't a story about battles and war – like we said, war never changes, and it's always the same story with different trappings. This is a story about spying. Because, more than most superhero teams, the Legion has a proud tradition of being willing to out-sneak the bad guys just as often as they out-fight them. This is a story where Mon-El and Ultra Boy are the distraction to let Invisible Kid and Chameleon do the real work.
In short – this is a story about the Legion Espionage Squad.