So I started doing these things almost two years ago now, and I've gotten self-righteous emails about them at times. I'd figure I've gotten maybe two for every post (not sequentially, just overall). There's the "who do you think you are" variety, of course, and the "why don't you use all this talent to make something yourself" sort (because I talk so much about the writing I do that's not for this or other sites, you see).
But one letter I got stuck with me, and that was a mail complaining that everything I was writing was setup. There wasn't any payoff. Now, there are reasons for that, of course. These are essentially pitches to readers; a series of tests to see if what I like to write about is what people want to read. And, on the off chance I ever get to use them (writing Legion, or far more likely adapting what I've presented here for my own use in other formats and settings), I don't want to give away the endings.
But let's be realistic: the odds of me getting to write the book are dramatically low, even should I get the level of success necessary for DC to take a shot with me, because the Legion is a core property. (How many years did it take for DC to let Gail Simone write Wonder Woman?)
So I figured that for this – the last one of these, and this time I mean it – I'd change things up a little and give you more than just a teaser. Something fleshier. This was one of the first ideas I had when I started doing this thing two years ago – I referenced it in both reasons 6 and 29 of the original thirty – and it's still, out of all of them, probably my favorite. So call this my 33rd birthday present from me to you. (I would've gotten you a card, but I'm cheap.)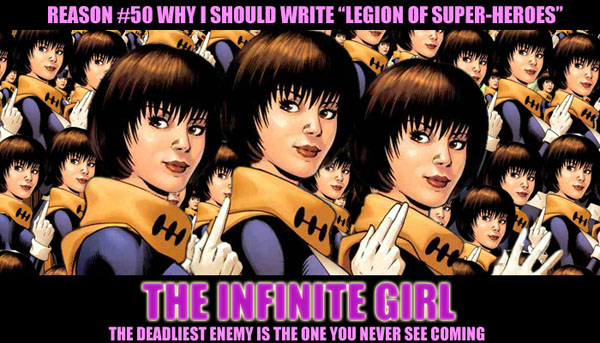 I was not a big fan of the Mark Waid reboot of the Legion when it first hit stands four years ago, and even now – having developed a better appreciation for the ideas and capabilities behind the reboot – I think he botched some things. I've discussed these elements before and don't feel the need to drag Waid through the shit all over again.
One thing I particularly disliked at first was his reimagining of Triplicate Girl. Removing the "triplicate culture" that previous versions of the Legion had had and replacing it with a hive mind sort of gestalt being? It was weird, and at the time I felt it was pointlessly showy. I missed the idea of "tri-jitsu." Worst, it was kind of creepy.
But then I started thinking about it some more, and I realized – it was kind of creepy! And this wasn't bad – it was great! Because in issue #3, Triplicate Girl's origin story? Is told entirely by Triplicate Girl herself. This immediately offers the possibility of an unreliable narrator. Unreliable narrators are one of my favorite storytelling devices because they really let you fuck with a reader's head in a way that the reader will not only not get irritated by, but will instead thank for you doing so (when it's done properly).
In issue #3, Triplicate Girl explains that she has no memory of what happened before the great disaster on Carggg that left only her; that she has no memory of how she came to be or how she got her power to self-replicate or how it works; that when she split her three-selves off to join the Legion from the rest of herself, that those three grew isolated from the rest of her self-society.
Bullshit.
All of it.
This is what really happened:
The entity now calling itself "Luornu Durgo" was created in a laboratory on Carggg, a small self-reliant, self-sustaining planet outside of the usual galactic traffic, one of the long-lost remnants of the colonization protocols initiated by President Thomas Lorenzo in the late 21st century when Earth's ecosystem was on the brink of total failure. They were looking to create a next-generation antibiotic – a living compound, something that would kill virii by absorbing their genetic material. A "virus-eater." But what they got instead was something that reflexively absorbed genetic material.
The real Luornu Durgo was a lab technician who wasn't careful putting the failed experiment into the matter disposal unit. The compund killed her quickly, in a matter of seconds. When it did so, however, it imprinted upon her genetic template, merging itself with her, gaining sentience at the same time, marrying intelligence to a natural drive to consume. The new entity quickly realized that if anybody realized what it – she? – had done it would be destroyed, and pretended to be Luornu for a period of weeks.
During that period it started absorbing other citizens of Carggg, always careful to do so in a manner that would not raise suspicion. Each time, it gained the ability to generate a new body – and more interestingly, every time it did so it created more personality within itself, gradually becoming the hive mind it would later in fact claim to be. It/she felt guilty about killing people, but the urge to absorb was of it/herself; there was nothing to be done.
Of course, eventually the Cargggites realized what was happening, almost too late to even do anything. By that point Luornu (for so they now thought of herselves) was almost a fifth of Carggg's population and growing rapidly. What happened next was a short and brutal war, which ended when the last bastion of Cargggites launched bradyonic bombs in a last-ditch, suicidal effort to destroy her before she captured the planet's only remaining spaceport. The bombs wiped out all life on Carggg…
…except for Luornu. A few of her bodies were in an underground bunker at the time, and that was how she learned that the bradyonic energy – also used in teleporter technology – had not destroyed her bodies but instead, in a sense, hyperlinked them. She could now transfer her accumulated bodymass between bodies at any range, any distance. But she couldn't teleport off the planet or anywhere else she wasn't already, so she was trapped – and always feeling the hunger. She rebuilt the planet more out of boredom than anything else, taught herself whatever books could teach her. She continued to feel conflicted and guilty for obeying her natural urges, and tried to use the isolation to teach herself restraint.
When the United Planets exploration crew finally arrived planetside, it took all her control to keep from immediately consuming them. She spun her story of destruction and mystery, and then separated three bodies from her packself to go with them.
The restraint didn't last, of course. She spun more bodies off herself the moment she landed on Earth and went hunting, never letting her primary three consume anyone even as they joined the Legion. This time she had the benefit of experience; she consumed the valueless, the ones nobody would miss, the underclass and criminals which avoided the Public Service. There were hundreds of millions on them in every system in the UP, plus the entire population of Rimbor and countless fringeworlds. When the Public Service was destroyed in the wake of the Dominator War, it got even easier.
All the time she kept rationalizing. Nobody would miss these people. They were leeches, parasites, better off gone. If the Legion knew, they'd destroy her, so she couldn't tell anybody. Saturn Girl's telepathy didn't pick up any of this – for much the same reason that somebody drinking water from a lake doesn't taste the whole lake.
Nobody should have noticed; nobody should have cared. But even criminals sometimes have an influential friend, and two of them were old gang buddies of Jo Nah. When one of them disappeared and the other called for help before disappearing herself, Ultra Boy took an interest, and started investigating. Not well, because he wasn't a natural detective by any means – but he didn't give up. It took him a long time to piece together the chain of disappearances, longer still to see the spikes wherever the Legion had had a mission.
By that point, she was one billion strong and counting. And hating herself, none moreso than her selves in the Legion – one of whom was now in a serious relationship with Element Lad. (It helped that, even though she believed she would never consume a Legionnaire, that the auras generated by the flight rings prevented her from doing so.) That self, more than any of the others, was purely restrained, never absorbing anyone. Even the other two-thirds of Triplicate Girl did so occasionally. But that one, the one dating Jan – no. Could never do it.
And that's where the story really starts – when Ultra Boy confronts her before the Legion, demanding an explanation he doesn't entirely want. That's when it's revealed that Triplicate Girl is really the Infinite Girl, as she sprouts bodies into the room faster than anybody can imagine, flooding the Legion with duplicates of herself. They may not be superpowered, but what does that matter? They can carry weapons, and they can kill any organic lifeform not wearing a flight ring – and increase their numbers at the same time. And the Legion doesn't want to kill them – not even those with more violent tendencies (like Timber Wolf or Shadow Lass) want to carve up someone they thought of as a friend.
The Legion is swiftly divided between those taken prisoner and those managing to escape, to help in the frontlines of an instantaneous war as Luornu attacks the United Planets on a dozen different worlds simultaneously, her fight-or-flight instinct kicking in on a genocidal level. The prisoners have to escape so Brainy can come up with a plan. Element Lad has to convince the sole remaining Luornu to help, and she has to find it within herself to do it.
And in the end, they find a way to beat her – and, yes, destroy her – within a matter of hours. But it costs them one of their own; there's no way around it. Who do you think goes? The last sane Luornu-self, desperate for redemption? Element Lad, determined not to let his lady die entirely? Ultra Boy, convinced he has to finish what he started? Maybe it's someone else. But not everybody gets out of this one alive.
—
And that's that. Thanks for reading it, but now I'm done.