…is the Blonde Phantom.
For those not in the know, the Blonde Phantom is a Golden Age Marvel comics character from the Timely era. (Of course, comics being comics, she eventually showed up as a middle-aged version of herself in John Byrne's She-Hulk run, and her daughter eventually became the Phantom Blonde, her successor. Of course, comics also being comics, the Blonde Phantom was eventually de-aged by science or possibly magic. I forget which it was. The point is that she became a hot babe again.)
But she is not just a comics character – she is a tool of the patriarchy. Seriously, reading this comic is like a short lesson in why the women's lib movement got started in the first place. Granted, Golden Age superheroines always had a weird sexual element to them at the best of times (insert token Wonder Woman comment here), but Blonde Phantom goes beyond that to something that isn't just "kinda kinky" but instead is just deeply, deeply wrong.
Consider.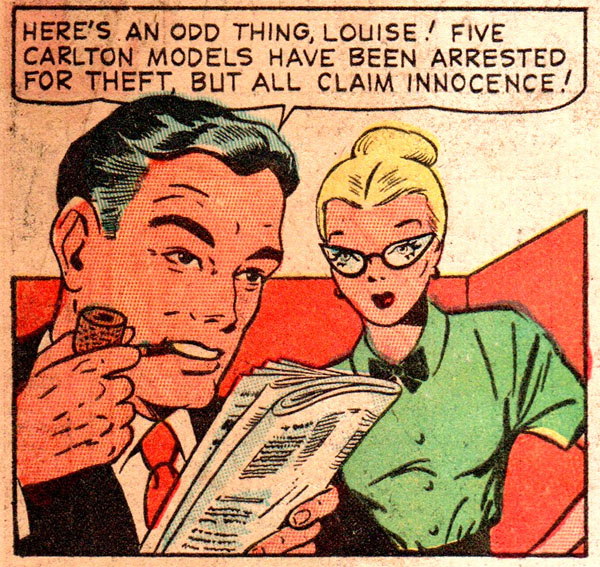 This is the Blonde Phantom in her alter ego of Louise Mason, trusty secretary to staunch private detective Mark somethingorother, although I always think of him as "Mr. Manlypipe." Note the glasses. The little smirk. The bun.1 Louise is your classic overlooked girl, so she rebels against that…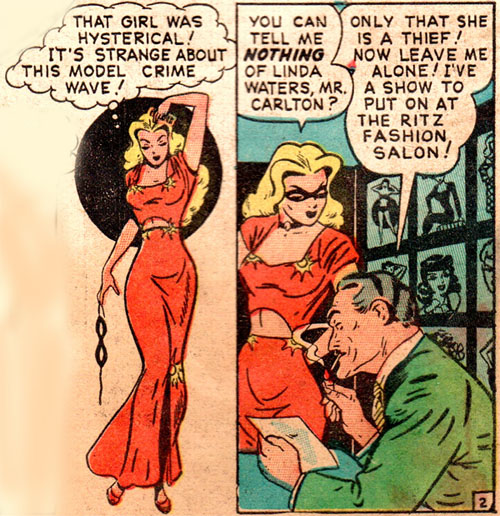 …by becoming the Blonde Phantom! This should be empowering or something!
Well, except that she doesn't actually fight anybody. What you see here is her standard M.O.: she goes around and, you know, asks people questions. They never seem to wonder "who is this chick in the evening gown and domino mask and why do I care what she thinks," because that would make sense. I mean, at least when Golden Age Batman asked you questions, there was always the implicit threat of him beating the shit out of you if you didn't talk.2
And why doesn't she fight?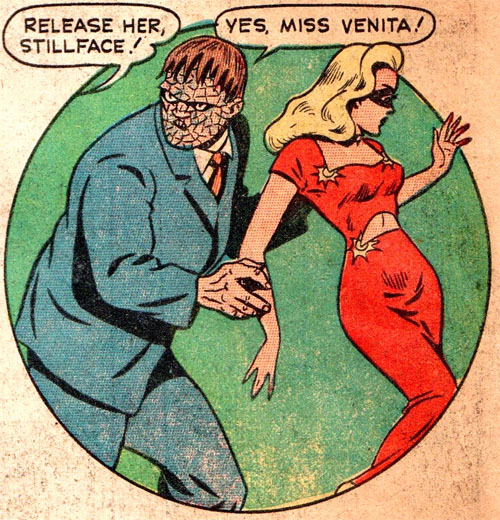 That's why. Because she is a delicate flower. Notice that the thug here is holding her with essentially one hand. This is how much of a wuss the Blonde Phantom is.
Anyhow.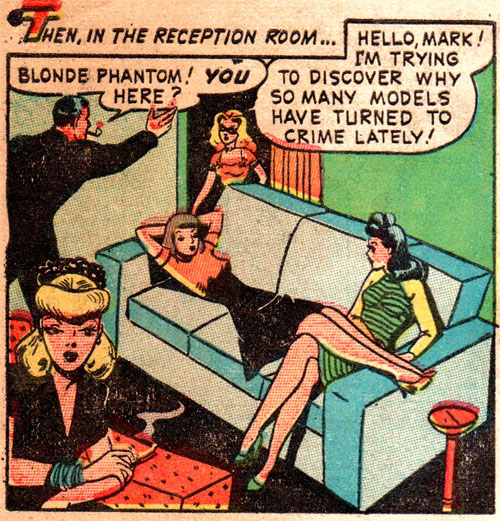 It's really worth noting how much Blonde Phantom stories revolve around Captain Manlypipe.3 The Blonde Phantom doesn't really resolve anything; even in her mask and glamour-gown she's still ultimately just Captain Manlypipe's assistant. Nothing can change her. It is her preordained place in the history of the world: servile to a pipe-smoking fellow of virile complexion. Isn't this depressing?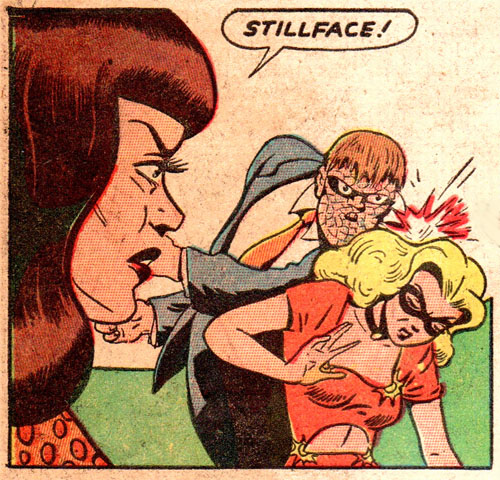 This is about as physical as she ever gets.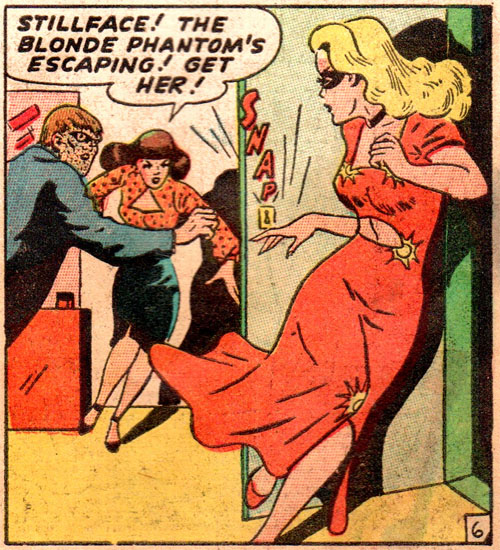 And this is how she resolves most conflicts. She runs and she hides from the bad, bad men! Or in this case, man. Singular. Who is unarmed. But who needs weapons to take on the Blonde Phantom? She is a girl, don't you know.4
This panel in particular drives me nuts. First off, it's a jar of cold cream, so it manages to be stereotypically feminine just like anything else the Blonde Phantom ever finds or tries to use. (In this particular story, for example, the key clue that tipped off the Blonde Phantom? Was that a lipstick found next to the body of a dead woman was the wrong brand.) And throwing a little jar of cold cream at the Big Strong Hulking Bad Guy is just so stereotypically girly a move – I mean, Golden Age Black Canary is just looking at this and shaking her head. "Why don't you kick him in the face? Do you need me to lend you Merry, Girl Of A Thousand Gimmicks to teach you how to slug a palooka like this? What's wrong with you?"
But what's more annoying than that is what she's thinking. Again, the Blonde Phantom's story is all about Captain Manlypipe. Why hasn't Manlypipe come to save her yet? She was counting on that!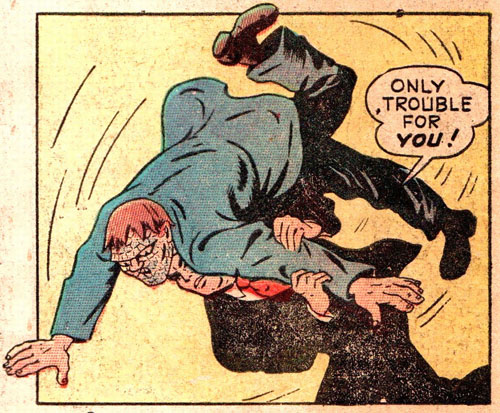 Which of course he does. Like he does every time.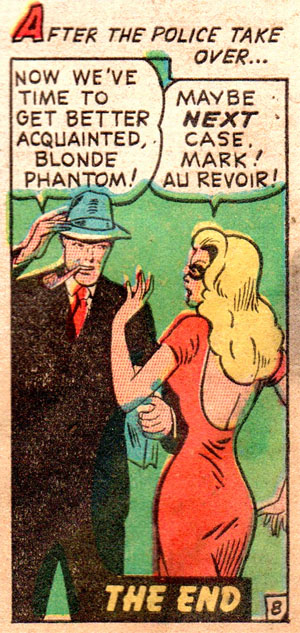 And we come to our regular Blonde Phantom denouement: her blowing off Manlypipe, who wants him some Blonde Phantom action, because secretly she wants him to fall for her, Louise Mason, and not some beautiful girl in a domino mask and evening gown who looks exactly like her. Wait, is Captain Manlypipe mentally challenged? Or possibly blind? Because who the hell could not figure out that their secretary was standing in front of them when all that's hiding her identity is a fucking domino mask? Ahh, Golden Age, you inspired so many and sucked so frequently.
P.S. In the end, Louise and Manlypipe got married, so that just goes to show you that if you rely enough on a big strong man, ladies, eventually he will do the right thing and buy you a large wedding ring and a house and a dog and give you babies!
Top comment: To be fair, the cold cream jar would have been made of glass, and would seem awfully heavy and tough to a little lady. And maybe she was secretly hoping it would shatter and a little cold cream might clear up his condition and he'd have a personality shift and become a good guy. Because, you know, most problems can be solved if you'd just try to be a little prettier. — Cookie McCool