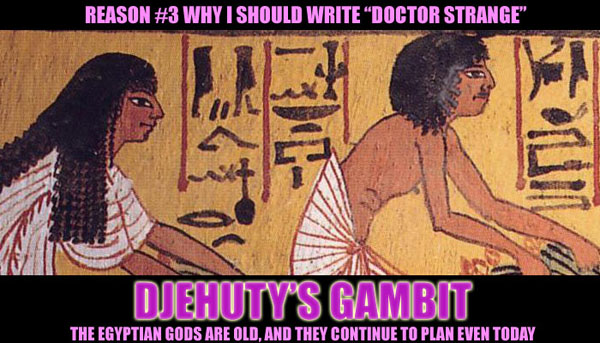 The gods of Ancient Egypt have been mostly very quiet for practically the entirety of Marvel comics history. With the exception of Seth, the Egyptian god of death, they've almost entirely been content to sit back and let the other pantheons do the heavy lifting in the Marvel universe. Which, if you think about it, is really kind of in character for gods worshipped by a civilization which largely lived in a desert. You live in a desert, you learn not to exert yourself more than necessary.
Which makes it all the odder that Djehuty – typically known to modern-day sorts as Thoth, but Djehuty was never one to be horribly impressed with Greek nomenclature – should travel to Earth and calmly begin… influencing undirected pagan worshippers to worship of the Egyptian gods. He's quite effective, in his way; choosing to engage potential worshippers one-by-one or coven-by-coven. What could have been a sales pitch instead becomes a debate or discussion with someone who comes across as the best teacher you never had when you were growing up.
He usually leaves these discussion sessions with a few new converts. The question that remains is why. After all, it's pretty conclusive that gods in the Marvel universe don't actually need worshippers in the Pratchettian "belief is the food of gods" mode. Nobody worships Thor, after all (certainly not enough people to justify his massive power levels, or else Elvis would be – wait, maybe there's a story there… no, wait again, it's a pretty bad one in this context).
If it was any other god, you would assume it was either an exercise in egotism or perhaps simply that they were taking an interest in humanity. But Djehuty isn't a self-important sort of god, and although he doesn't dislike humanity he's not exactly known for being a great advocate of it either. (Although he's always very polite about it. He's that sort of god, you see.) Djehuty is more the sort of god to take an interest – or, knowing him, telling someone else to take an interest so he doesn't have to waste the time – only when he feels it's absolutely necessary.
So why does he feel that way? What is so dire that it motivates him to do this – and why could something so seemingly inconsequential be so important to such an old god?
For one thing, he's not actually interested in worshippers either. When Strange confronts him for the first time, Djehuty is very clear about his indifference to whether people worship him or not. (Again: desert. Tends to make you laconic.) He's getting some worshippers, sure, but that's going to happen when you are a god manifesting yourself before a small segment of the teeming masses and having a nice chat. He doesn't mind the worship, but that's not the goal. Chatting with Strange, he reveals that the point of all these visits is to put information into people's heads – disguised in the form of stories, but magical implementation nonetheless. And although he doesn't admit it, Strange is pretty sure that Djehuty has a specific list of people he wants to visit.
And now it is worth remembering that the various pantheons tend to have their own individual characters. The Asgardians are mostly brawlers who like a straight-up fight. The Olympians are hedonists and partiers at heart. The Japanese pantheon is the home of many inscrutable, insincere plotters. And the Egyptians – well, the Egyptians are like those old guys sitting on storefront porches in New England, who like little more than to discuss the fastest way to McKutty or the Great Frog-Walloping of '43 or how that storm on the horizon sure resembles that squall from forty years done by, the one that trashed the Widow Simons' home, and maybe it's time to be getting home to the storm shelter, eh?
And a little more investigation shows that the other Egyptian dieties have done exactly that, metaphorically speaking. There's a storm coming. Djehuty, for reasons unknown, isn't running and hiding; presumably he has some sort of plan, executed by unknowing agents he prepares in full. Or maybe the people he's talking to aren't the ones who do anything important; maybe his influence on them influences other people differently, and he's doing the interpersonal version of a triple bank shot (with a skip) on a pool table.
Which begs the question: what is he preparing for?
Top comment: Khonshu is going to kick your ass. — PMMJ