One of the problems with Dr. Strange comics over the past few years decades is that his villains suck. They shouldn't suck, but what inevitably happens is that they get into a magic duel with Dr. Strange and, because he is the protagonist, he kicks their ass.
Well, to this I say no more.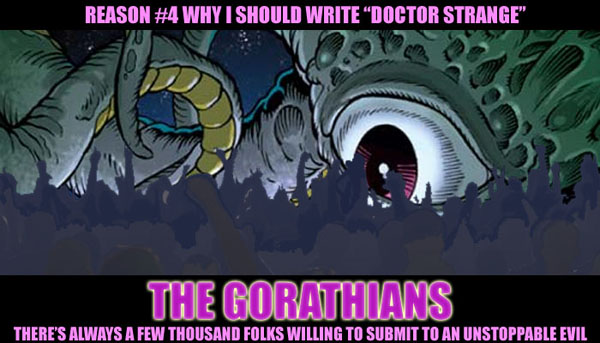 Shuma-Gorath is definitely in this category, not least because most people are familiar with him thanks to Capcom's "Marvel Super Heroes" videogame, wherein he got the strangely-cutesy animations and funny tentacle attacks. Fighting-game fans remarked often that he looked like a purple mop. And so, one of the deadliest forces in the entire goddamn Marvel Universe got shoved to the plushy-toy level.
Because Shuma-Gorath is ridiculously deadly, essentially the Marvel Universe's equivalent of Cthulhu, a dread conquerering alien intelligence trapped in another dimension with hordes of worshippers, with a tendency to corrupt his enemies with his own self-ness. When they first clashed, the only way the Ancient One and Strange were able to defeat it was by the Ancient One's trickery of allowing Shuma-Gorath to possess him and then relying on Stephen to figure out that now he had to kill the Ancient One. (And the time Dr. Strange pursued Shuma-Gorath into his home dimension and killed it, he started becoming Shuma-Gorath, and had to commit suicide to end the process, later being resurrected, in a sense, by Kaluu the Sorcerer and Enithermon the Weaver – and of course Shuma-Gorath eventually regenerated the damage anyway.)
If he actually showed up in the Marvel Universe, it would be catastrophic on so many levels as to defy description; any chance Strange would have of victory would lie in magical battle so cataclysmic entire star systems would collapse, and Strange himself would not have the slightest chance of surviving anyway. That's why Strange (and just about every other sorcerer in the Marvel Universe worth a damn) makes sure to pay attention to anything that might result in Shuma-Gorath manifesting in this dimension.
Which brings me to cultists.
Cultists are to guardian sorcerers as peer-to-peer filesharers are to enforcers of copyright; they're, in some senses, an open-source solution to the problem of "how do we get our evil god to appear before us and conquer humanity without this stupid Sorcerer Supreme ruining things?" Cultists are like ants – individually powerless and easily squashed, but there's always more of them than you can ever eradicate and you usually don't know what they're doing.
You might, with a lot of work, cast a searching spell that would alert you whenever anybody collected multiple components of the Spell of Arrival, but there's simply no way to magically track Betty when she buys the three pounds of cubic zirconia, Carl when he collects the shards of ancient Greek pottery or Felix when he drains the blood of an entire cow. There's no way to prevent Steve from evangelizing to his fellow marginalized about the glories of the Great Eye, whose benevolent vision sees all and whose great purple tentacles touch the lives of all believers for the better. And when Henry buys a gun because somebody has to take out the Sorcerer Supreme – well, maybe you've got something prepared in advance for the bullets, but the sense of paranoia that it'll create? There isn't anything for that.
They're like ants. But army ants, ceaselessly working towards one goal – your eventual destruction as an inhabitant of Earth. And you can't ever stop them; you can just slow them down.
Top comment: This isn't scary. You know who else has millions of followers?
Paris Hilton.
If Shuma-Gorath shows up, all we need to do is give him a reality tv show ("Eye on Gorath"?) and a never-ending stream of paparazzi and we'll be fine. — Bass