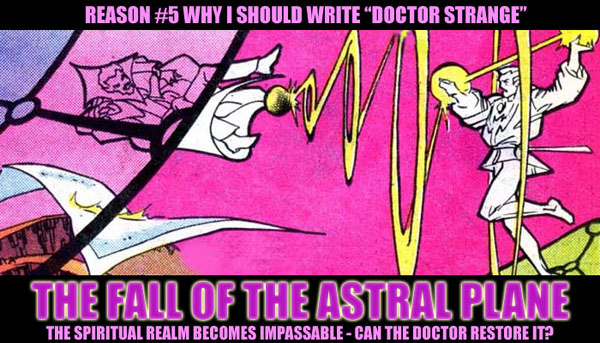 Astral traveling is Dr. Strange's Batmobile if Batman used the Batmobile to do absolutely everything.. Need to see something in a hurry? Astral travel! Need to scout a dangerous area safely? Astral travel! Need to go to the store to get some milk? Astral travel there, then teleport your body, then buy the milk! It's become a crutch.
Which is why Strange will be very surprised when he tries to access the Astral Plane one day for some mundane travel needs. For example, I have always thought that Strange, more likely than not, uses astral travel to occasionally attend Phillies games. He lives in New York, so traveling there directly is a pain. And you've got to figure that Strange appreciates baseball, the most mystical of all modern sports. Not that he admits this to anybody, of course, because come on, the Sorcerer Supreme has to have standards about what he does for recreation and filling out scorecards is not on the list. More people know the location of where Strange hid the Book of Behanna (containing no less than three spells capable of destroying humanity) than know that Strange uses the Astral Plane to make sure nobody hears him yell "battabattabattabattaSAWEEEEENGbatta, hecanthithecanthitSAWEEEEEEEENGbatta."
(Yes, of course Wong knows.)
But I digress. So one day Strange prepares to enter the Astral Plane to watch the Phillies play off against the thrice-damned Yankees, and – whoops, doesn't seem to be working. Checks his spells, his collection of mystical gewgaws, his Hello Kitty pyjamas (okay, he doesn't have Hello Kitty pyjamas, I just wanted to see if you were paying attention), tries again – nope, no dice. Now he's concerned, because he's going to miss the opening pitch the astral plane is kind of like the magical equivalent of the ocean: it's there all the time and you can swim in it whenever you like, although it might not be advisable to do so at certain times or in certain areas. The idea of the astral plane not being there is staggering.
Finally he decides to take things to the next level and, rather than spirit-travel into the Astral Plane, transport himself bodily into it, which is a bit more dangerous (as anybody who's read up on their old Dungeons and Dragons sourcebooks can tell you) but will provide him with some answers. He opens the portal…
…and the resultant explosion takes out half a city block.
Of course, thanks to preparatory magic, he (and everybody in the blast radius) comes out with only scratches and bruises, and it's easy enough to explain it away to authorities as a massive gas leak which grew concentrated until things went foom. (Authorities like easy answers.) But that's not what's actually happening. What's actually happening is that the Astral Plane has become a enormous, calamitous spirit-storm, impossible to access by normal spiritual means and almost instantly deadly to anybody who wishes to traverse it.
What could have possibly caused that? The answer is nothing good. And how can the good Doctor restore it? First he has to figure out how to survive it.
But he's on a clock. Because the Astral Plane isn't just a convenient travel route for the magically inclined; its slight, universal touch is what allows sentient beings to dream and to meditate and to escape the real, if only in their own heads. After the first night, every sentient being in the universe wakes up slightly grumpy (and a lot of people taking yoga classes ask for their money back). After the second, it gets a little worse. After a week, folks are getting seriously stressed, and it's when tempers start cracking and people start losing it. And if it goes two weeks, well – that would be very, very bad indeed.
And here's one more kicker – Nightmare. He's desperate and begging for help after the first couple of days (begging for help from Stephen Strange, for crissake), because the dream world is withering away at a ridiculous pace without dreamers to sustain it. This is, quite simply, killing him. And you have to think that Dr. Strange would really, really hate to save Nightmare's worthless parasite existence – but more than likely he won't have a choice.
Top comment: It's always a gas leak, isn't it? How about a recurring antagonist for Strange in the form of a gas main inspector so disgruntled with a public thinking he's doing a lousy job that he manages to see through Strange's glamour? Rassin' frassin' super muk muks givin' ME a bad name! — HitTheTargets