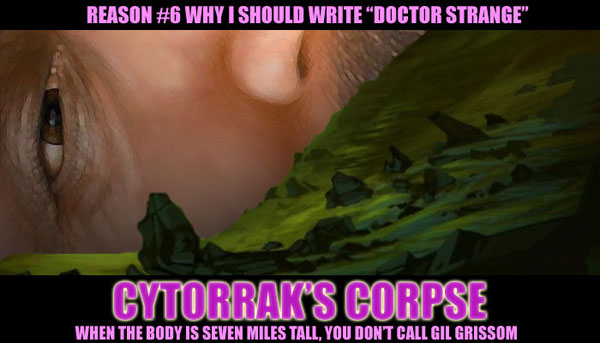 It takes the governments of the world a few days to realize it, because it's in the Mongolian province of Khovd, which is some of the emptiest land in the world (Khovd has less than a third of the population density of Canada, which is pretty damn empty). Nobody really looks there, because why would you? Nothing comes out of Khovd except yaks and watermelons. It's one of the most pleasantly boring places in the world.
Which is why it comes as such as a surprise when some minor government functionary, looking over the feed from a spy satellite that crosses over the area once every three weeks, sees the body.
It is male, and over seven miles high, or would be if it were standing straight. But this giant isn't standing up straight; it's lying on its back, sprawled out, very, very dead. There's a giant hole in its chest, bigger than a strip mine, looking like something in between a stab wound and a burn-hole. This giant was murdered, and somehow fell to Earth without anybody noticing (or, for that matter, causing a giant life-destroying earthquake of the sort when something that is big and heavy and seven miles long falls and hits the ground).
The first time Dr. Strange – or any competent mystic – sees the giant, though? They know it's Cytorrak. As in "the Crimson Bands of Cytorrak," one of the go-to defensive spells for any competent mystic. There really aren't a lot of giant bearded men wearing purple spiky body armour, you see. (Yes, the dead giant wears purple spiky body armour.)
And that causes a general panic among the mystics and mages of Earth, because Cytorrak wasn't just big – he was ridiculously powerful, not surprising since he constantly granted his own power to lesser mages on a favour-trading basis. Anything that could kill him can probably squash them like a bug. A particularly unimpressive bug, too.
And what's even more worrisome is that the Crimson Bands of Cytorrak still work. Something else is giving away that magical power now, and nobody has any idea who's doing it. Is it the Vishanti? The Seraphim? Another of the major grantors of magical power such as Ikonn, Watoomb or Satannish? Or is it somebody else altogether? What motive would they have for both murdering Cytorrak and then supplying power to his magical-lessees? (Assuming they're the same guy.)
And how do you dispose of a body that's seven miles high, anyway? Never mind that there's going to be a major territorial clash the moment every nearby government figures out that the seven-mile-high man is essentially a giant mineral deposit that just appeared out of nowhere – China will start insisting that Mongolia somehow influenced the giant to fall backward rather than forwards (into Chinese lands), and then the Americans will get involved about the time they realize that this guy wasn't human or even from this dimension and thus potentially contains chemical compounds heretofore undiscovered.
So Strange will have his hands full – not least because, for reasons that will become clear, nobody can know he's going to take care of the problem. And that's before you consider the fact that Cytorrak was traditionally invoked for spells of strength used either to hold stuff up or keep stuff (or demons) sealed in. And that's before you remember that Cytorrak's death probably affects the Juggernaut in some way (probably some way that isn't good for bystanders).
So, you know. This is something to keep a Sorcerer Supreme busy.
Top comment: I disagree with Lance about the new export. It'll be aphrodisiacal supplies.
"Godwang! Getcher godwang right here! Fresh off the god!" –equinox216