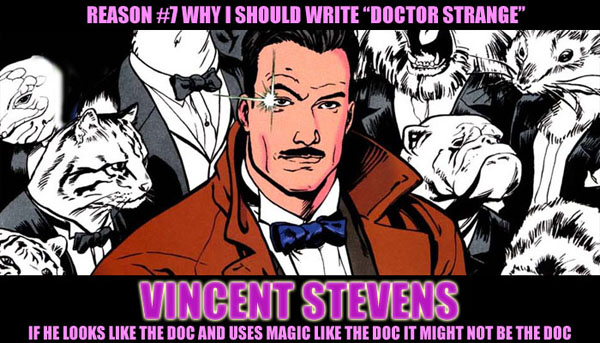 A brief history, for those who are not longtime Dr. Strange readers: Vincent Stephens was one of two magical avatars created by Dr. Strange a few years back when Strange needed to hide out and recuperate while preparing to defeat a particular enemy but couldn't leave Earthly affairs alone for that time. Along with the berserker mystic known only as Strange, Vincent discovered his true nature and attempted to forestall his inevitable fate – namely, reabsorption into Dr. Strange himself – by any means necessary. Eventually in a climactic battle, though, Vincent Stephens ultimately failed to possess Dr. Strange and dissipated back into the magical energy that was all he ever truly was, and that was the end of Vincent.
Go on, pull the other one!
Energy can't be created or destroyed – that applies to magical energy just as it does to regular old-fashioned energy. Vincent's energy has been disparate, true, but it's also been lurking in the background all this time. All it takes to collect it together is someone with some patience and an agenda. You know what just about anybody who wants to hurt Dr. Strange has? Patience and an agenda.
(I promise that it is not Dormammu, Nightmare, Umar, Baron Mordo, Dr. Doom, somebody brand new, or somebody so obscure that it essentially is somebody brand new. You will not fail to be surprised by the individual who brought back Vincent Stephens from the brink of nonexistence.)
When Vincent comes back, he's obviously pissed at Strange, but truth be told – now his energy form is stable. Vincent Stephens is a realist – if he goes after Strange, he'll get his ass kicked and he'll probably get banished or re-dissipated (or worse, reabsorbed into Strange's magical field). Vincent has absolutely no interest in going after his original creator. Which is of course why his Mysterious Benefactor demands that he do so, threatening to untie the magical knot that holds Vincent's form together.
So Vincent goes about doing the only thing he realistically can do – which is use his uncanny similarity to Stephen Strange to ruin the good doctor's reputation. Vincent knows some magic, after all – not much, but some – and he does have the ability to possess people. All of that can, in a pinch, mimic Stephen Strange fairly effectively. So one day, after a bit of a journey off the plane, Doc finds out that the Avengers are pissed at him and he has no idea why. The X-Men aren't returning his phone calls and the Fantastic Four are clearly not comfortable having him around.
And that's just stage one of Vincent's plan – stage two calls for full public outrage at Stephen Strange, and Vincent is just the magical being to make that happen…
Top comment: Stage two: One night only! Dr. Strange will be performing stage magic at the Laugh Factory in LA. Be sure to come early and enjoy the comedy stylings of his close personal friend Michael Richards. — Dan