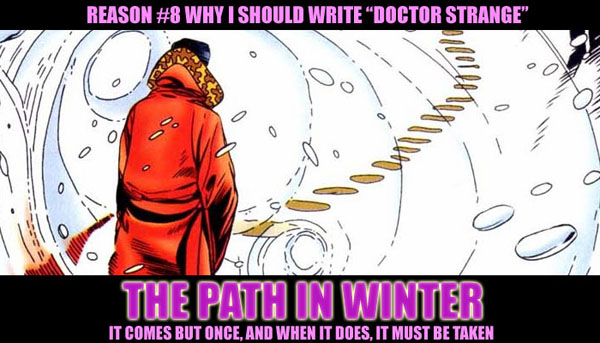 Once, shortly before his death, the Ancient One sat Stephen down and told him some things that he figured Stephen would eventually have to know.
Some of it was pretty straightforward. ("Wear socks. You ever go to the frozen dimension of S'tohr, you'll understand about the socks.") Some of it was not. ("I know you don't know the Insane Incantation of Ix, but if you ever learn it, only cast it backwards on a Tuesday while holding a strong cup of green tea. Also, wear socks. The socks are actually not related to the spell, but I want to emphasize their importance.") Some of it was borne of years of life experience. ("If you are ever offered the opportunity to switch genders, make sure there is a reversal easily available beforehand. Trust me on this. Also, remember that women wear different types of socks.") And some of it made no sense at all. ("Now, that ancient Etruscan phrase I just mentioned? Keep it to mind. You'll know when you need it.")
And he told Stephen about the Path In Winter.
Every Sorcerer Supreme sees the Path once. When they see the Path, it doesn't matter if they're in the middle of a fight for the cosmos, attending the birth of your firstborn child, or doing laundry: you have to start walking along it. Right then, right there. (Luckily, it only ever comes in wintertime for some reason, so at least Sorcerers Supreme can try to proactively schedule massive mystical undertakings for the summer.) Your very existence as a Sorcerer Supreme is dependent on walking the Path. And, since the Sorcerer Supreme is the mystical guardian of the entire universe, that means the universe itself depends on you walking the Path as well.
Once the Ancient One was certain that Stephen understood the importance of walking the Path, he promptly refused to discuss anything more about it and instead once again began talking about the importance of socks. "Every man walks his own Path, and it is different for each of us, so there wouldn't be any point in relating my experience to you, as yours will be entirely different. That's why we don't discuss it." (When Stephen quite reasonably pointed out that there was no way to tell if each sorcerer's Path was in fact different without comparing respective experiences, the Ancient One responded by smacking him lightly upside the head.)
The nature of the Path – left a mystery. An ages-old enchantment, built by the very first Sorcerer Supreme (you know, Agamotto) to serve as a guidepost for his successors? Maybe it's a discussion between the Sorcerer Supreme and the universe (which is not conscious per se, but a conversation between a sentient being and the universe has to be defined by the being's point of view). Possibly it could be the Sorcerer Supreme's subconscious using their magical utility to create an advisory moment on a subrealm. Or maybe it's Death, pulling a Pratchett and politely warning the Sorcerer Supreme that their time, while not yet up, is definitely running short.
Maybe it's any or all of those things; "each Sorcerer Supreme walks his own path" might not be poetic hyperbole.
But it's going to happen, and soon. And because this is a comic book – or maybe just because it's inherently a magical thing – it will happen at the most impossible time it possibly can. And when it happens, Doctor Strange will have to walk his Path just like every one of his predecessors did.
Top comment: TWIST: The Path In Winter appears right in the middle of Radical Steve's winning run at the world skateboard championships. With his Subway subs sponsorship on the line, will Steve follow the path or do an awesome inverted kickflip? — liquidben