I figured the swarm of "Dr. Strange can do anything and that's why he sucks" comments would be reaching critical mass about now, but instead it happened, oh, three or four days ago. But doing these things mostly in advance means just that, so if you got impatient about having a chance to really discuss this, well, tough, but here it is now.
Brian K. Vaughan's excellent Strange story, The Oath, posited that magic can't duplicate what science has already done. This is elegant, simple, and unfortunately doesn't work worth a damn if you think about it for more than five seconds. Dr. Strange can't produce light or fly? No, sorry, doesn't work. So let's come up with something that does.
(A sidenote: Brad Reed emailed me his ideas for how magic works in the Marvel Universe and his were remarkably similar to what I had come up with on my own, so occasionally I have borrowed a phrase or two from him for this post, as his explanations were often elegant, although of course not ENTIRELY right. Thanks, Brad.)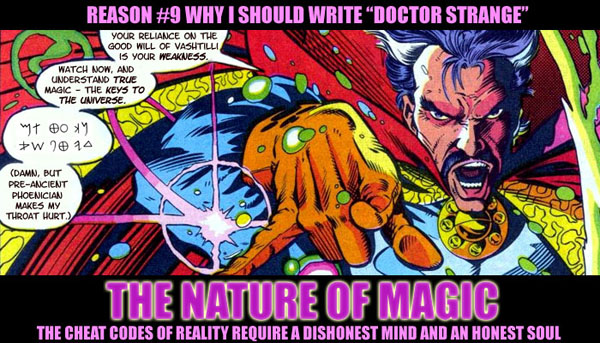 Okay. This is how magic works in the Marvel Universe. Pay attention. There will be a quiz on this later!
First rule: all magic has a cost. Yes, I know they do it that way in the DCU already, but so what? It fundamentally makes sense, and not just because it ties into our conceptualization of physics, but also because logically it makes sense. Any dimension where magic doesn't have a cost would eventually be ignited by surplus energy left over from all the excessive magic use; any dimension where it didn't would eventually become a lifeless void. That's why conservation of energy is fundamentally something universes need to survive, both on a scientific and magical praxis.
Second rule: magical energy in the Marvel Universe is generated constantly. (There's an old issue of Dr. Strange where they said it was generated by the stars – I prefer the totality of the universe, but, really, that's just semantics in a lot of ways unless you're writing a story where stars start going out, and if stars are going out then people will have bigger worries than "hey where's the magic going.") It's there to be used, but you have to know how to use it. (Most people cannot do this, because it turns out that using magical energy is really very difficult if you are not the Scarlet Witch or somebody.) If you don't know how to use it, boy are you in trouble if you want to cast a spell.
The easiest way to do magic is to transform the energy within your own body and use a bit of that (then rejuvenate it later by eating a large meal). This is good for small things that mostly affect the mind (because most of your body's bioelectricity is stored within the brain). Astral travel, for example, is really energy-low to do; ditto telepathy, Jedi mind tricks, et cetera. Most mental magic works off your own personal energy, just because that is simplest.1 This is why basic mind magic is some of the most common around.
Affecting anything else is, frankly, really goddamned hard to do. The cheat codes of the universe are always there, always accessible for your own personal use, but if you don't know the universe's version of the Konami Code then you don't get squat. How difficult are these cheat codes? A little on that in a bit.
Since most people don't have the time or patience to learn how to do magic directly, then you go to the second easy way to do magic: favour trading. Guys like the Vishanti, for example, or Watoomb, or Ikonn – all of them will cheerfully let you ask them for a spell. (Asking for a spell is just a long-distance telepathic communication, so you're effectively using the easy mind magic that anybody can do to get access to the tough stuff.) They grant you what effectively acts as a license to use the tricky stuff, and they're all specialized: Watoom, for example, is great for weather magic or transforming the very air itself, whereas Ikonn is the master of illusion magic, and so on.
EXAMPLE: Joe The Mage wants to cast the Shield of the Seraphim. He chants the special chant to invoke the Shield, but that chant is A) an interdimensional telepathic communication asking the Seraphim for help and B) an invocation to actually cast the Shield once the Seraphim grant it to him. And it is both of these things simultaneously. The Seraphim, who are a large collectively of insanely powerful magical beings specializing in defensive spells, can handle tons of such requests all at once – so it's no problem for them to grant the request instantaneously. And Joe gets his Shield.
Now, there's always a cost – and in this case, the cost to Joe is that he now owes the Seraphim a favour. These favours can be stored up by the allotting power (which, as Dr. Strange himself can inform you, is much like maxing out your credit card in order to increase the maximum balance so you can withdraw more money), or alternately in order to get the power permanently they might ask for a special one-time favour in advance.
Of course, you might be asking "well, why doesn't Joe just learn to cast the Shield of the Seraphim by himself so he doesn't need to bother them or owe them shit?" And the answer is "well, because Joe probably doesn't have four hundred years to learn how to do it." Like we said – doing magic is goddamned hard and takes a near-endless amount of study. Just learning how to do enough personal mind-magic in order to contact the major magical powers and begin favour-trading can take years or even decades – imagine how long it takes to learn how to cure cancer?2
Now let's go back to Stephen Strange, who is a lot more powerful than most sorcerers. This is partially because he's the Sorcerer Supreme, partially because he's a bit more gifted than average, partially because he's better at cheating the rules, and partially because he's had a lot of time.
Strange started out with personal magic and favour-trading, just like everybody else does. Then, when the Vishanti demanded his assistance in a magical war, he emancipated himself from all favours owed to every power – which offended quite a lot of them, because it's the magic equivalent of walking away from your foreclosed house except less polite. This sent his personal magical power level plummeting, which he addressed by carefully tricking the planet Earth into allowing him to access the entire bio-aura of his world to power his spells.
That in turn led to the Vishanti coming back and this time bargaining with Strange for his assistance in the war, and this time he accepted. He came back having completely exhausted his Gaian-magical powers (the Earth has limits), but, thanks to thousands of years of combat and study (which, as we reckon time, lasted only four months – and aged Strange less than a year), he now knew a lot more magic of the universe, most of it learned from the Vishanti.3 He still tends to invoke the Vishanti when he uses their magic, but that's mostly because he's polite enough to say "thank you" – and because it fools enemies into thinking he's still reliant on their assistance.
So, what can Strange do without asking for help? Well, the three provinces of the Vishanti are illumination (Agamotto), space (Oshtur) and time (Hoggoth).4 Here's the short list:
– telepathy/hypnosis (not on the level of a Charles Xavier, to be sure, but no slouch)
– astral travel/dreamwalking
– teleportation (himself, others, other things, warp gates, banishing demons, et cetera)
– telekinesis (flight, moving other things, et cetera)
– slowing and hastening of time
– time travel
– creation and dispelling of illusions
– and the manipulation of raw magical energy, mostly to create magical zappy bolts or magical energy shields
Now, that's pretty goddamned powerful, there's no question about that. With that powerset Doc can go just about anywhere he wants to, learn a lot about things, and be a very very tough opponent in a fight.
But here's a list of things he can't do:
– cure disease
– transmute matter or energy
– create things out of thin air
– affect emotions
– control sound
– directly control the elements (either scientific or magical)
– cure insanity
– stop someone from being evil
– control magical energy in very fine, adept ways
– overcome death5
For anything off that list, and plenty more besides? He needs to owe someone powerful a favour, or go on a quest to get whatever he needs (knowledge, a Magical Thingy, et cetera) to let him do it. What happens in The Oath is a great example: Doc wants to cure Wong's cancer, but he can't do that himself, so he researches something that might do it, and finds out he has to travel to a different dimension (which he can do) and zap the shit out of something (which he can do).
This is, I think, a pretty good set of rules for magic use in the Marvel universe – it's flexible enough that it doesn't impede storytelling or wussify Strange (he's still ridiculously powerful as superheroes go), but it sets pretty serious limits in a number of ways and generates stories rather than deus ex machinae. But your mileage may vary.
Top comment: I love monkey burgers. — Warren Ellis