Dormammu is a joke.
Seriously. He's a joke. His existence at this point is to be really powerful so that Dr. Strange can kick his ass to show how powerful Dr. Strange is. And given that Dr. Strange's existence at this point is essentially justified only to get his ass kicked so that other heroes can look good, that makes Dormammu the Duras to Strange's Lt. Worf. How sad is that? One of the most massively powerful evil entities in comics is a punchline.
NO MORE!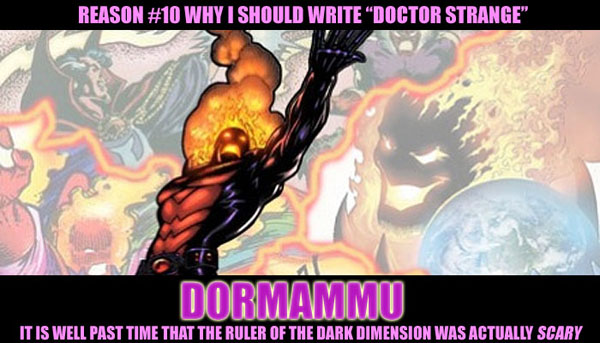 Here's the the most important thing about Dormammu that people need to remember: he is much, much more powerful than Dr. Strange. He is much older, much more practiced, has greater magical reserves to draw on, is just simply tougher than the Doc is. Dr. Strange's reaction to seeing Dormammu should never be "oh, bother, it's Dormammu again." It should be "ohshitohshitohshit Dormammu."
The reason Dr. Strange can beat Dormammu at all is simple: Dormammu's very powerful and very learned, but he's arrogant and not that quick-witted. Not dumb, mind you – you don't get to be ruler of the Dark Dimension by being stupid. But Dormammu tends to think directly and simply and emotionally.1 Dormammu wants to beat Dr. Strange and prove that Strange is his inferior, which is why he always loses; Strange doesn't care about proving a goddamn thing, he just wants to win. Preferably without getting killed. All of this adds up to Strange usually being able to outwit Dormammu, because Dormammu will give Strange time to lick his wounds or make a plan or do something to save the day. You can't defeat somebody without humiliating him.
But what if Dormammu finally lost his temper once and for all? What if instead of wanting to beat Strange, he finally snapped and just started wanting to kill him? No subtle invasions, no deals with lesser mages, none of that bullshit Dormammu always tries to pull. Dormammu's going to realize something: he didn't trick and stunt his way to the top of the Dark Dimension, he conquered the fucking place. He killed everybody who opposed him and a whole lot of other people besides then brutalized the corpses to instill a neverending reign of fear. And if he wants Earth, he has to kill the Sorcerer Supreme first. It's just that simple.
Imagine that Dormammu coming after Strange. He'd attack when Strange was absolutely exhausted, right after the Sorcerer Supreme had defeated some massive evil bent on destroying this entire universe. Just think about that, you're Doctor Strange, you've just beaten back Chthon, you've used up half a dozen favours owed to the Outer Gods and you need a steak and a shower and then a week of solid sleep. You teleport back to the Sanctum, and there's Dormammu waiting for you and he doesn't say a goddamn thing, he just launches a massive power-blast at you that you barely deflect, and then it is on.
He doesn't stop coming at you. He just follows you and keeps applying more and more mystical force at you, and bats away your attacks like they're nothing because to him that's pretty much what they are. He's willing to drain the lives of most of the population of his dimension to kill you. But you're Doctor Strange, and you're a good man, and you won't do that. And that's why you can't win this time.
You teleport away trying to buy time and he just comes right after you, tracking your magical trail; twenty seconds later he's attacking you on the isolated Pacific isle you popped yourself to, and at least now you've put enough space between yourself and the rest of humanity that you can open up, but even attacking back at full power it's only a matter of time, because Dormammu finally figured out that if he just keeps hitting you and never gives you a chance to try something, you're a dead man.
And that is why it was a very good idea for Stephen Strange to find himself a group of apprentices. While Strange and Dormammu have a knock-down drag-out magical brawl to make Jim Starlin cry tears of sheer joy, his apprentices can desperately search for a way to outwit Dormammu. Because Strange is too busy trying to not die to beat him.
An evil version of Mustrum Ridcully, if you like. [↩]