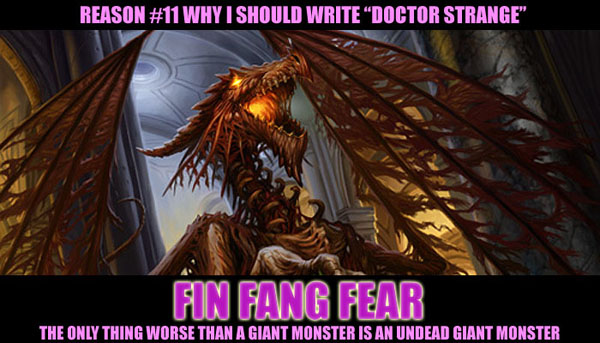 FIN FANG FEAR!
The ultimate ancestor of Fin Fang Foom! The First Giant Monster To Stride 'Pon The Earth! Each of his knucklebones is the size of a Buick! His rearmost left canine fang could be turned into a house, assuming you dislodged it from him, hollowed it out and didn't mind walls made of dragon-enamel!
FIN FANG FEAR!
He died one hundred thousand years ago, but promised his killers that he would live again – and punish the world for their insult! He is very sensitive! He hates it when people insult him! It is probably a result of his relationship with his father! Whom he killed, thus forever robbing him of the chance to find true, lasting closure! So he will find closure in conquest and annihilation!
FIN FANG FEAR!
Forget all that crap about closure! Fin Fang Fear needs no closure! He is closure! Closure incarnate!
FIN FANG FEAR!
His breath is hatred! His soul is poison! His eyes stare into one billion souls at once, and find every last one wanting! He has come to wreak havoc from beyond the grave! Fear him! FEAR HIM!
I just want to write a story where Dr. Strange fights a giant skeleton monster with magical zappy bolts and maybe team up with Fin Fang Foom and if that is wrong then I DO NOT WANT TO BE RIGHT.
Top comment: I want this to be a Max series so that someone gets to say "Fin Fang Fuck You."
Yes, I am a child. — Magic Love Hose