Dr. Strange, as previously noted, is the guardian of this entire universe from other dimensions and realities that would do it harm. Traditionally this ends up being things like Dormammu or somebody, because other dimensions are traditionally the source of most hostility towards Universe-616.
Of course, there are also parallel realities, and it's rather silly that, when forces in the Marvel Universe are aware of, say, the Marvel Zombies universe trying to launch a hostile incursion (as they did in Marvel Zombies 3), that they wouldn't at least consult with Strange, or that he would not be aware of it himself for that matter. (As for Zombie Strange – that is upcoming, somewhat.) The simple truth is that, although parallel universes aren't often going to attack your universe, when they do that is pretty much slam dunk in the Sorcerer Supreme job description.
For example…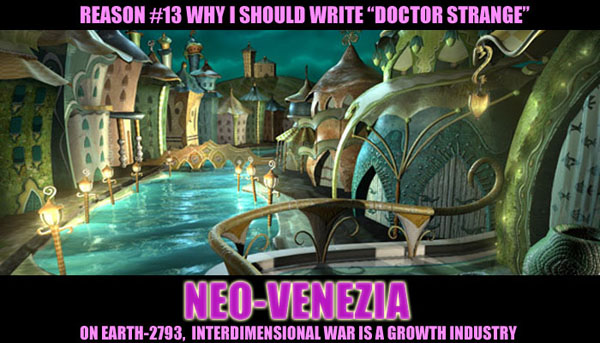 Earth-2793 differs dramatically from many Earths thanks to a series of Tunguska-level meteorite strikes which leveled England, France, Germany and most of northern Europe. As a result, the dominance of the Mediterranean cultures that began in the early Renaissance never ended; the Protestant revolutions never happened because Martin Luther's grandparents died in a hail of otherworldly rock.
In this world, Pope Alexander VI successfully managed to transfer the Papacy to his son, Cesare Borgia, thanks to the increased economic and political influence of the regions that supported the Borgia clan's desire for power.1 Pope Caesar I, like all of his foul kin a demonic sorcerer of darkest regard, began a reign of terror and corruption that cemented the Borgia in power to this very day, transforming the office of Pope into a hereditary title and killing or converting most of their enemies to their cause. Colonization programs began in the late 1500s and soon their power spread across the world.
However, certain areas held out successfully against the Borgia. Most notably, the city-states of Piedmont, Milan and Venice banded together. The Sforza dynasty was never driven from Milan in this universe (seeing as how Charles II of France never conquered it, what with not having existed and all), and thus Leonardo da Vinci worked for his entire remaining life in Milan instead of having to hunt and plead for patrons across Italy. The Vinci Academy arose as the great bastion of Western enlightenment, and soon new martial orders arose, such as the Sforzan Guard and the Participazians of Venice. Combined with the Jesuits (who met not in Paris in this reality, but in secret in the catacombs beneath Florence), who served as the forces of good's spies and secret agents, the Borgia's demonic reign was at least held somewhat in check if not ended.
For ending it was not within their power; demonic sorcery kept the Borgia in power, and the unchallenged might of Catholicism meant that the people wholly believed the Borgia Popes to be God's chosen. Not even the Northern Union (as the Italian city-states plus Switzerland eventually became to be known) could openly challenge the Pope. Thus, a shadow war was fought for centuries; the Participazians and Sforzans studied Kabbalistic magic and technomancy to keep on even footing with the dire rituals of the Borgia, made alliances with K'un L'un and Atlantis, and waited. For they knew full well that the Borgia's reign was predicated on relentless expansion, and once the feudal system that kept the Papacy in power could not expand, it would crumble.
Unfortunately, they did not account for the wiliness of the Borgia. Pope Caesar XVI, advised by the undying and soulless Cesare Borgia, commenced Crusades against parallel Earths. Earth-9107 (a peaceful, pastoral planet), Earth-21504 (conquered by the Aztecs and collapsed into disease and chaos soon after) and Earth-10773 (civilization of intelligent frog-people) fell in quick order. The Devil Papacy expanded into Earth after Earth, their demonic Condotierri matched only by the Union's magically-enhanced technology.
Back to 616. A fine day in New York: Strange is enjoying his morning cuppa when a magical sending reaches his mind. Antonio Starcacci, greatest technomancer of the Participazians, has sent Strange a warning: 616 is next on the Borgian Empire's hit-list. And what's worse, the Borgia have on their side the Sorcerer Supreme of their dimension – the dark magician known only as Stefanostromo…
Top comment: Crisis is love! Kick-splode across the multiverse! — Kyle W.
Fun fact: you know the standard picture of Jesus Christ you see today? The one where he's white? It was almost certainly modeled after Cesare Borgia. [↩]