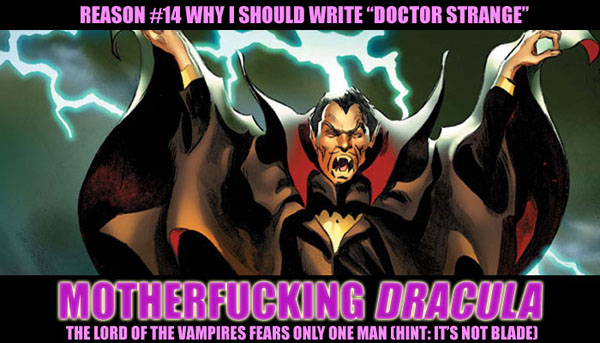 It's no surprise that Dracula, upon his return to the Marvel Universe, would immediately begin preparations to create a "home turf" with as many loyal vampire minions as humanly possible. This is because of one thing Dracula will never, ever admit:
Dracula is fucking stone-cold terrified of Stephen Strange.
Blade? Blade is a pussy. Blade's never really killed Dracula, except one time when Dracula was still under the influence of the Montesi Formula and somebody brought him back to distract Blade for a few minutes. That hardly counts. In a one-on-one straight up fight, Blade has never beaten Dracula and likely never will, because Dracula is really quite deadly, and if Blade hasn't managed to at least come up close to Dracula's level in the decades they've been fighting each other it's not going to happen any time soon. (Also. Dracula: Christopher Lee, Jack Palance, Bela Lugosi, Gary Oldman. Blade: Wesley Snipes. Advantage: Dracula.)
But Doctor Strange… oh, dear. Strange and Dracula have battled exactly twice. The first time, Dracula used every trick he had and even vampirized Strange, and what happened? Strange reversed it and called upon the holy power of God himself to destroy Dracula. The second time they fought, that apparently wasn't enough any more, and Strange destroyed all vampires everywhere, even though by that point Dracula had increased his mystical powers to unheard-of levels (specifically, although he would never admit this, because he wanted to be absolutely sure he could survive fighting Strange again).
Dracula's fear of Strange is entirely natural and reasonable: Strange is the guy Dracula knows he can't beat. Even when Dracula pulls out all the stops and goes to eleven on Strange, the good Doctor just brushes some lint off his shoulders and stares the Lord of All Vampires down and doesn't so much as flinch. (Yes, of course as omniscient readers we know that Dracula was indeed one of Strange's toughest challenges, but Dracula is not an omniscient reader, lucky for everybody else in the MU.)
Even now, as Dracula attacks all of England with vampire-rocket-warriors and plots alliance with Latveria, there is that tiny voice inside his head that he wishes he didn't hear, pretends he doesn't hear, but can't help but acknowledge. It's the tiny voice that says "the moment Stephen Strange decides you're too much of a bother, he is going to end you." Dracula has nightmares about Strange, who has powers vast and uncountable that Dracula can't begin to imagine, alliances with otherworldly beings Dracula can't even name. How do you beat somebody like that?
Dracula doesn't really know how to beat Strange – but he doesn't need to know how to beat Strange to hurt him, or hurt his friends and loved ones, or distract Strange's attention at a crucial moment. All it takes is Dracula getting scared enough that Strange's retribution is at hand, and suddenly he'll do what any good tactician does: he'll go on the offensive with an all-out vampire blitz attack on the Sanctum Sanctorum (or wherever he can attack that will hurt Strange the most). And Dracula might not be able to beat Strange one-on-one (or even twenty-on-one), but in a war of attrition, he can hurt him very badly. And at the worst possible time, that might be all he needs to do.
Top comment: Dracula is unique amongst Marvel villains for his universality. No other Marvel villain can be so readily plugged into any book for instant awesome. There is not a single title in Marvel's line that would benefit from an appearance by Dracula, and I'm including Kick-Ass, all those Soleil reprints and the Stephen King line.
Captain America? Sure, I'd pay to see Captain America fight Dracula. Hulk? Fantastic Four? Runaways? New Avengers? Damn straight, bring it on. Black Panther? Nova? Absolutely. The Punisher? You mean it hasn't been done already?!?
I'll be very disappointed if he doesn't show up in the next Power Pack miniseries. — Patrick C.