There have been a lot of Sorcerer Supremes, and not all of them have been glowingly wonderful people. Some of them have been venal. Some have been downright evil. Some were crazy. You don't have to be admirable or upstanding to protect all reality. You don't even have to be all there. Sometimes, this has consequences.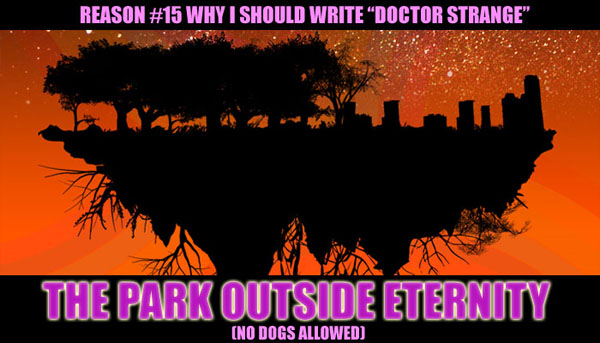 About seventeen thousand years ago, the Sorcerer Supreme of the time went mad with loss when an army destroyed the Edenic village where he grew up. He determined that he would recreate his home as best he could outside reality itself – creating a pocket dimension with its own small amount of mass, a pocket dimension that appeared, from the viewpoint of anyone in it, to float above the universe entire. Eventually that Sorcerer Supreme died, and that should have been the end of it.
Of course, this was not the case. The pocket dimension, a creation of magic, began to siphon magical energy out of the universe and collect it. Very slowly, of course – just a tiny drip in the side of a dam, metaphorically speaking. But it very, very slowly grew. What was originally the size of a small village common grew and grew; now, it is about the size of New York's Central Park. (And "park" is very appropriate – the energies tend to create an environment that reflects the viewer's preferences for an idyllic setting. It's really quite pretty.)
And with growth in size comes an increase in growth rate – it's getting bigger, faster, all the time. It's not at a crisis level yet, but left unchecked it will eventually go that route. What that one Sorcerer Supreme has created is, in effect, a magical equivalent of what the positive-matter universe is doing to the Negative Zone – gradually consuming it to form a new realm. Of course, this is all long-run stuff, millions of years ahead at the very least. But it's still a problem.
Practically nobody knows about it – until someone finally notices it. That's when word spreads, and fast.
But that's not the real issue. The real issue is this: magical energies, when left untended and to their own devices, have a jarring tendency to gain consciousness and sentience where previously there was none such. It takes a very long time and has to happen spontaneously, but given enough time, eventually it will happen. This is where many powerful magical entities are born. And in that sense, the Park isn't just a refuge – it's an egg, waiting to hatch a new cosmic/magic force. A force that could be molded by someone powerful and egocentric enough, and unfortunately the thing about magic is that there are a lot of powerful and egocentric individuals involved in its practice.
Things such as the Park are how magical wars begin. Doctor Strange cannot allow that to happen.
Top comment: I have this weird vision of you writing all of these different challenges for Strange concurrently, and by the end of your run as the writer he curses your name for making his life so outrageously difficult. — Quixim