There are certain individuals whose names have been adopted as shorthand in the fiction community. When you see their name, it usually means weird and/or wild shit is going to go down. There is no reason for a writer to throw in a reference to Nikolai Tesla, for example, unless they want to later have a death-ray or giant killer robot or just some sort of weird science in general. Similarly, if you see Aleister Crowley show up in a story, you know that there's going to be magic involved, or possibly cults. Or maybe orgies, because that is how Crowley rolled.
I say it is well past time that another name was added to that list.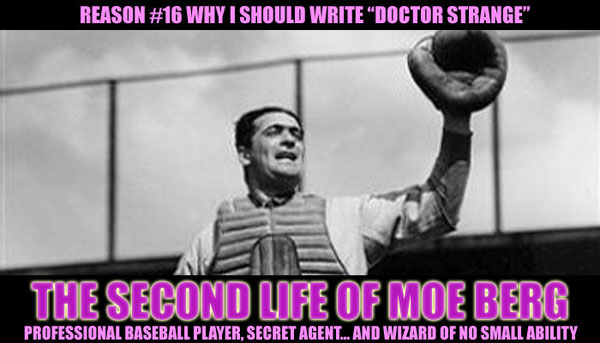 Moe Berg is the only recorded case in history of someone who was both a professional baseball player and a professional spy. He played for the White Sox and Red Sox primarily in his baseball career before World War II. While he played ball (he was a catcher), he taught himself Greek, Latin and Japanese, among other languages, and gained a reputation as the most intelligent, scholarly man in the game. But he was weird, too – Yogi Berra called him "the most peculiarest man in baseball." When World War II started, Berg joined the OSS, specifically the part which would eventually become the Special Activities Division, and promptly parachuted into Yugoslavia where he was largely responsible for the United States deciding to support Tito. (Which, in retrospect, is the sort of decision that sucks to make, but believe me, when your choice was Tito or eventual turncoat Draza Mihajlovic, you picked Tito.) He also participated in operations to kidnap Italian rocket scientists and was once sent to assess and possibly assassinate Werner Heisenberg. (He decided Heisenberg was no threat to the United States.) After the war, he essentially retired from everything, living with and bothering his relatives. He died leaving no children and barely any family to mention.
Of course, what doesn't get mentioned in the official history books is that he was a disciple of the Ancient One (back when the Ancient One was just kind of old, rather than ancient). He never wanted to be Sorcerer Supreme, but he mastered too many occult skills too quickly to be ignored, so when Berg made his first trip to Japan in 1932 to teach Japanese students how to play baseball, the Ancient One met him and taught him a few things, and they maintained a magical correspondence over the years. When the Ancient One needed help dealing with a matter of… import… a couple years later, Moe Berg somehow ended up on the American All-Stars team that went to Japan despite baseball stats and skills that were third-tier at most. (Funny how things can occasionally swing your way when you know a few tricks, isn't it?)
He traveled to Europe and fought Nazi blood-sorcerers, marauding were-Cossacks and Fascist witch-hunters. He teleported all over Europe, handling the missions given to him both by the United States government and the Ancient One with equal skill. He didn't wear a costume, preferring instead the anonymity of a rumpled suit, but nonetheless he saved Captain America's ass on at least two occasions (one of which Bucky Barnes might well remember) and did relentless work for the forces of justice and mercy. And if once or twice a few SS commandants were found, with their bodies contorted in ways that men were not meant to bend – well, he was only human.
After the war, he wanted to keep working for the government, but J. Edgar Hoover had his claws sunk deep into every nook and cranny of American intelligence and Hoover – unlike most – knew about the hidden magical world, and believed in the necessity of American magical superiority. And Moe Berg wasn't gonna let no anti-Semitic fat fuck like J. Edgar Hoover take over the reins of magical America. Hoover and Berg fought a thirty-year battle behind the scenes of American public life, Berg keeping up the facade of an eccentric crank as Hoover's occult power waxed and waned. When Hoover died in 1972, it wasn't high blood pressure – it was Moe Berg's final master strike, prepared for years and played out just as Hoover's ascension to the dark, forever-empty throne of America was about to commence.
Moe Berg died less than a month after Hoover – his work finally finished – but he left behind a series of extremely etoseric journals. The journals contain the keys to American magical power – the methods by which the occult fixtures surrounding and hidden within America's public structures can be accessed, a lifetime's work of cataloguing. Norman Osborn or Henry Peter Gyrich would kill to have them if they knew they existed. Those journals, and other things he left behind, are a letter of sorts to the Sorcerer Supremes who would follow the Ancient One, an "in case of fire break glass" kind of letter. The time for Stephen Strange to read that letter is fast approaching.
Top comment: A baseball-playing, Nazi-fighting, intellectual Jewish spywizard? At first I was thinking you took the collected works of Michael Chabon and put them in a centrifuge to separate out all the genderqueering. Then you threw in J. Edgar Hoover. — Chris Russell