Not an "intern" this time, but something else that needs to be addressed – namely, the need to fill out the magical world of Earth-616, which is dreadfully undermanned at present.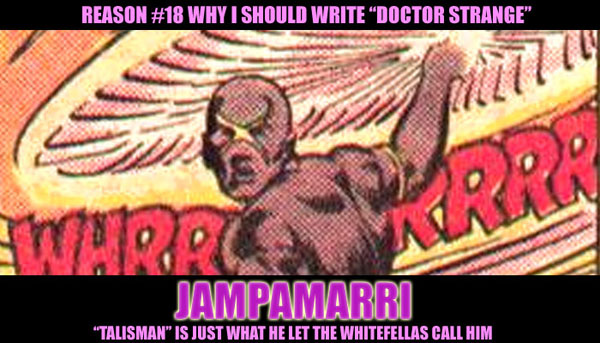 In the old time Baiame the Sky Hero, the first wise man, made the world and all people and taught the Aborigines the magic of the Dream. In the old time Bunjil the Eagle made the world and men (and possibly women, although some credit his wife Bat for the idea) and taught them all the skills they would need to know. In the old time the Rainbow Serpent made the mountains and the waterholes and fought the Sun to create the rain.
All of these stories are true, and resolving the contradictions (well, not actually resolving, but…) of the hundreds and hundreds of Aboriginal creation myths and magic stories – all of which are simultaneously true thanks to the heart of the Dream – is the source of deep, old magic, as old as the Earth itself. Magic that old invites many a person to come along and misuse it – be they white, black, brown, yellow or any other colour (including cyan – it's a long story). More troubling yet are those who come to exploit Uluru, which is the universe's Bridge to the World of Waking Dream.
(Some whitefellas call it "the Nexus of all Unrealities," but that's only because they called the place in Florida something like that and like names to sound like other names. The two spots really don't have much to do with one another at all. Well, except when they do, but that's not often.)
The shamans of the Dreaming People are powerful, but not inclined to combat such things. But there are always a few sorts who aren't going to be shamans or wizards, and are too clever and observant in the ways of the wider world to be wasted as mere hunters. These men (and very occasionally women) become the hunters-of-sorcerers – those who can travel and manipulate the Dream itself. It's not magic. Calling it magic is like calling a duck magic because it swims. It's just something they can do.
Jampamarri is the title of the current man filling this role, a half-Warlpiri in his early thirties. (Or at least he appears to be that old, because that's how many years ago he was born as we count them. He doesn't age on his trips into the Dream unless he wants to.) Unlike most of his predecessors, he has a bit of a reputation within the wider world. Well, practically nobody knows him outside of Australia, but at least the non-indigenous peoples know him. He stopped a very bad man one time from doing unpleasant things to a young girl that man had kidnapped, and all Australia called him a superhero (they were very pleased to finally have one), and thanks to a newspaper interviewer not really understanding much of anything he became known as "Talisman," which didn't make much sense but he decided it was easier just to let them call him that.
And that's how it goes for him. He knows the realms of the spirits (like everyone else to do his job, he loves to explore the unreal worlds) like the back of his hand, and knows most of the important political developments in those worlds as well – who's angry at who, who's made peace with who, who's planning to invade Earth, that sort of thing. When Doctor Strange needs advice about traveling into the wider pandimensional realm – the bleeding realms of thought alone which mankind can barely conceive, let alone survive – Jampamarri is always his first stop. And when he needs advice about a foretelling-dream he just had, well, maybe he'll stop by and ask Jampamarri about that as well.
Because working relationships? Are good things to have.
Top comment: Sorry Blackmage, but my personal canon explanation for why Australia has few superheroes goes like this: Animals with deadly poison. — HittheTargets