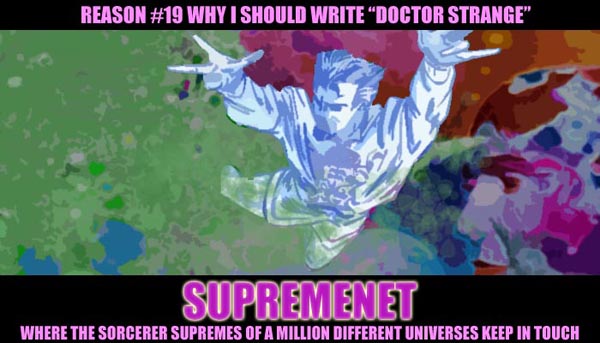 There are Sorcerers Supreme in every parallel universe. Sooner or later, one of them would eventually decide that contacting other universes for advice or information would prove useful. That's what the Supremenet is for.
Of course, calling it the "Supremenet" conjures up the expectations that come with all things internetty, which is why most Sorcerers Supreme – including the 616 version of Doctor Strange – will strongly try to discourage anybody from calling it that. This isn't email or instant-messaging or a chatroom. Magic doesn't quite work that way, especially when it's trying to bridge dimensional barriers. The closest analogue is the "party line" back in the early days of the telephone, when all the ladies in town would share a single phone line and gossip, but sometimes your connection to that line would be shaky or staticky and sometimes you'd get connected somewhere else. Combine that with difficulties of magical communication that are Olympian in scale and – well, it's not Google.
The Supremenet rituals were created by a Stephen Strange – not ours, but the Stephen Strange of universe-82432, the universe that was utterly destroyed by that reality's Korvac. That Stephen Strange, along with his reality's Silver Surfer and Jean Grey, were exiled from it by Korvac before he condemned everything else in that universe to oblivion, and that Strange determined that this could not be allowed to happen again. He maintains the Supremenet with the assistance of Jean's telepathic abilities (her connection to the Phoenix Force lost forever with the death of her reality) and the Surfer's Power Cosmic. That it works at all is testament to their skill.
Unfortunately, he can't monitor how the various Sorcerers Supreme use it. This is problematic, because as noted previously, not all Sorcerers Supreme are good guys. Some are bastards. Some are dimensional pirates. Some fancy themselves multiversal conquerors. And of course there's the problem of the Marvel Zombies zombie virus, which isn't transmissible through the Supremenet, but you never know if the Sorcerer Supreme on the other end is one of the handful of Sorcerers Supreme who have been infected. (Thankfully, most outbreaks of the Zombie virus tend to be resolved quickly, if brutally. Earth-2149 is one of the rare exceptions where the perfect storm of unlikely, horrible events took place. And undead Sorcerers Supreme really aren't Supreme any more – but they can still be wily.)
But even when the other party isn't maliciously plotting your downfall, there's always the question of whether or not they'll give the right advice and whether the listener can accept it. It's hard enough to take advice from Croctor Strange (of Earth-8311, aka "Earth-Spider-Ham"), but consider Stephen Strange trying to not read into the suggestions of Karl Mordo of Earth-9091 or Cyrus Black of Earth-22238. Issues such as these, combined with all the others, are why Supremenet is primarily useful for warning Sorcerers Supreme about interdimensional incursions (such as the expansion of the Devil Papacy of Earth-2793) – and as a desperate last attempt when every other source of a potential solution has come up dry.
Of course, Sorcerers Supreme get desperate more often than you would think.
Top comment: It sounds exactly like trying to get community support for Linux. — NCallahan