Something that has been cropping up in the comments every so often is the observation that most of these posts are, thus far, "dude-centric," and there are no female characters being mentioned and so on and so forth. And the thing of it is that when I think about how to write Doctor Strange, this is far from the case.1 It's just that once again the pre-arranged nature of these posts means that sometimes I'm not anticipating potential reader needs (even as regards what's essentially just a series of loosely constructed, unfinished pitches) as well as I would like.
But rest assured that out of all the ideas I've put forward so far, this is my favorite – the last of Strange's three "interns," and I personally think it's the strongest. Sir Humphrey and Creaky are entertaining and interesting, and that's valuable for supporting cast members, but I think this has more meat on the bone, so to speak.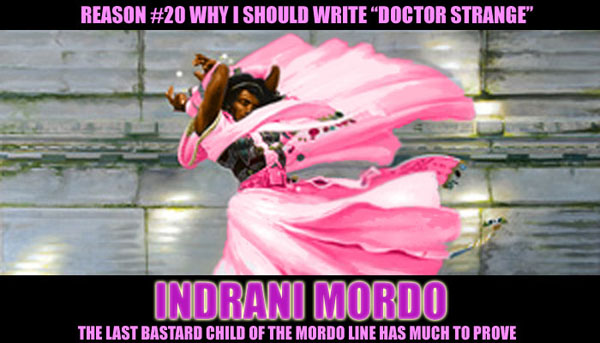 First off, before we go any further: Baron Karl Amadeus Mordo is dead. He is dead. Conslusively so. After a long, mostly bad life, he died trying to atone for his sins, both in the general sense and specifically those he committed against Stephen Strange, a man who once his great friend. Astrid Mordo, his daughter, is also (very probably) dead. And Astrid, who was crazy as sin and evil as the Devil, killed everybody else on the planet with Mordo blood in their veins, so determined was she to become the sole remaining Mordo in the world.
Well. Almost everybody.
See, Karl Mordo had many personal failings, and one of them was a tendency to dog the ladies as much as possible. Luckily, out of all the potential bastard offspring he ever could have had, in the end he sired only two – Astrid, and Indrani, his daughter by a Dalit prostitute in Chennai. From a very early age, Indrani knew two things: she was in a very bad position, lifewise, and that she could do real magic. The Brahmin sorcerer-circles in India – steeped in tradition and privilege – frowned upon the lower castes doing magic, to say the least, so she could not find a teacher. Not that this was her primary worry at the time, for her mother died when she was six, stabbed by one of her clients, and Indrani found herself on the streets – and young girls usually don't last long on the streets.
But Indrani survived, partially because of her nascent magical abilities and partially because she was in many ways the human personification of "no, fuck you," and she taught herself whatever she could whenever she could. She stole money and food, learned English and eventually went abroad, where she found out that every other mage on the planet was just as unwilling to deal with her as the mystics in India were. Of course, this had nothing to do with caste; it had everything to do with her being a Mordo.
Karl spent a lifetime ruining his reputation in Earth's mystical community, and Astrid's short but utterly psychotic career destroyed whatever remaining goodwill might have existed towards the name in the first place. (Most of the other Mordos Astrid killed weren't really prizewinners either. Karl Mordo did not come from a particularly humane or idealistic family, which explains a lot about him.) And Indrani's noteworthy temper didn't help her overcome that reputation, to say the least. Nobody was willing to risk teaching "another goddamned Mordo" one single thing about magic.
Nobody, that is, except for Stephen Strange.
Stephen looked at Indrani and saw the raw talent, of course, and he saw the driving ambition and fierce pride that were both hallmarks of Karl Mordo's personality. But he also saw Indrani's capability for compassion, the sort that a lifetime of hardship can provide like little else. He wanted to preserve that, to nurture it. And there's something else, not that he'd ever admit it or even realize it.
See, Stephen Strange is a man who found himself comparatively late in life, thanks primarily to the Ancient One knocking a lot of sense into him. He grew into adulthood believing that children were a bother, that he didn't want children, that he didn't want to be a father – and of course part of this was his firm belief that he would make a poor parent, a facet of his deep self-loathing. It comes as a bit of a shock, then, in your late forties when you're pretty much a confirmed bachelor, to suddenly realize that you would have liked to be a father. And by that point it was too late – not just because it's a bit late in the game to start thinking about a family, but by then he knew he was on track to become Earth's next mystic defender, and having children would be a callously irresponsible act given the threats to their safety and the possibility – no, make that likelihood – that he might orphan them.
So he mostly put that idle wish of how things could have been aside and forgot about it. And that was fine. But along comes this walking bottle of spit and vinegar, the daughter of a man he once called brother. (Good heavens, she's practically his niece!) It would be irresponsible not to make sure she learned what she needed to know – and after grasping her mystic potential, that becomes all the more important, because Indrani's native ability is definitely on the high end of the scals (much like her father's – and Stephen's, for that matter). So it's clearly necessary.
Right?
Top comment: If I complain that there aren't enough kittens in your ideas, will that get me a kitten story? Because you are completely (and chauvinistically? eh? eh?) lacking a kitten point of view here, buddy. — Cookie McCool
My not wanting to use Nico Minoru in the book, incidentally, isn't because she isn't awesome. It's because I think using her would be the final admission that Runaways, as a franchise, is being put out to pasture. [↩]