Science tells us that the earth is six billion years old, formed from a clump of dust which coalesced into a solid planetoid where water eventually formed and amino acids and electricity created the spark of life. An old shaman will tell you that the world was created when Turtle pushed some dirt onto his back to cool down, then splashed some water on it by accident. And the Sorcerer Supreme will tell you that the key to understanding magic is that these two stories are both true, despite their obvious contradictory nature.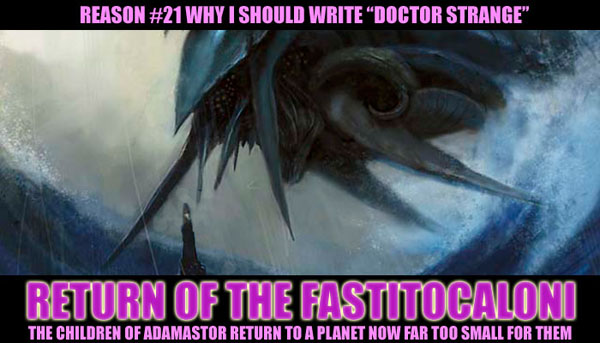 They had names for them in the old days: "leviathan," "aspidochelone," "tarrasque," jasconius," "turisas," "yacomama," the Rainbow Fish, the Jormungandr and the Hydra. There were of course other monsters who had those names, but the fastitocoloni were mistaken for all of them at one point or another. When the great beasts of the sea had back-itches, they would rub up against undersea cliffs and push them upwards, creating hills and mountains where there was previously only flat land. When they played with one another in the ocean, they created tsunami. One time, when a lunatic human successfully hunted one of them, the corpse floated out to a part of the ocean that was empty, and it eventually became Greenland.
Eventually they all disappeared and life grew a little duller. People invented interesting things that made the world a smaller place – tall ships, telegraphs, digital watches, the Internet, that sort of thing. The hidden corners of the world grew fewer and fewer, and certainly there were no places remaining where the legendary sea monsters might still lurk.
Which is why it's awfully surprising when a group of five fastitocoloni surface near Okinawa for a few minutes – causing a tidal wave that causes billions of dollars in damages to a good chunk of the Pacific Rim. They're even larger than they were in olden times – the smallest one is the size of Manhattan Island! – and when it becomes clear that they're real everybody starts to panic. Especially when it becomes clear they're headed for major fish populations, and it looks like these big boys' idea of a light snack would probably drive more than a few major species of fish to extinction. The world's gotten too small for the leviathans.
Killing them is difficult enough (as many armed forces soon discover), but would Doctor Strange want to kill them if he could herd them offworld instead? After all, they're not trying to hurt anybody. Really, they're quite peaceful as giant sea monsters go. Surely if they left Earth once, they could do it again, right?
Of course, that in turn begs the question: where did they go? And where did they come back from? Was it the same place? And how did they get here? And was it just a fluke, an accident, or did somebody do this on purpose? And how do you get them to leave?
Top comment: Well, from the art you used on this entry, I say Dr. Strange taps one blue for an Unsummon spell. — malakim2099