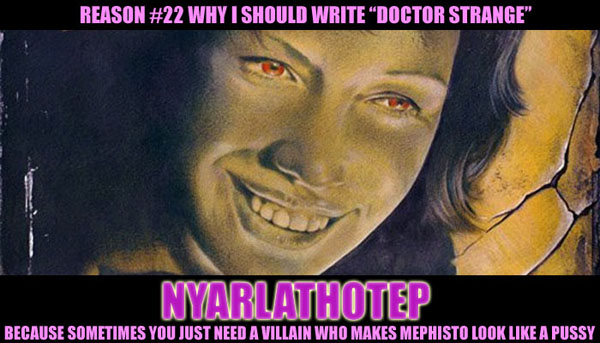 At his essence, Dr. Strange is a reactive hero. There is nothing wrong with this. Sometimes comic writers get tired of "reactive" and want to write heroes who proactively take on super-evil and what have you, and it can work for a little while if you set it up properly (Abnett and Lanning are doing a good job with the premise in Guardians of the Galaxy by having the heroes' "proactiveness" actually be an extended mission in disguise). But reactivity is generally to the good because our system of justice is ultimately reactive as well. Reactively, we maintain order. Strange preserves order in this sense.
Dr. Strange's major villains, though, aren't really opposite forces of order, not in that sense. Dormammu and Nightmare want to conquer, but they would remove our system of order and replace it with their own version (which might not be nice, but it's still generally orderly). Mephisto wants to use our system to feed his own ends. Baron Mordo just wanted to become powerful and important. All of these guys fundamentally weren't villains who were trying to tear things down.
Which brings me to Nyarlathotep1 and his opposition to Strange. Nyarlathotep isn't like Dormmamu or Nightmare; he doesn't want to conquer. (He might occasionally conquer a place, but he doesn't really care.) He's not like Mephisto; he doesn't want greater power. (He has plenty.) Nyarlathotep is just a sadist, pure and simple: he gets his pleasure from driving people mad and causing pain and suffering (preferably emotional pain and suffering). He's a psychopathic god who doesn't get cocky and make mistakes, except when he wants to make mistakes. After all, what fun is it if you can't at least offer Strange the opportunity to stop you?
Nyarlathotep is much like a gambler in this respect; he gets his kicks from the thrill ride, from the chance that maybe his schemes won't work. (It's no fun going fishing if the fish just jump into the boat, after all. You want them to fight you on the line.) And the Sorcerers Supreme of Earth have very frequently proven tough enough opposition that Nyarlathotep has been forced to up his game significantly, which means he just has to go out and do the psychopathic god-equivalent of buying a really good fishing pole. He plans his schemes out years in advance now, and when it's about to drop everything into the crapper, that's when he knocks on Stephen Strange's door, grins his youthful grin that any unknowing onlooker would call "full of zest for life," and sits back to watch.
Of course, Nyarlathotep's downfall is that he has a bit of an ego. He never really considers that the Sorcerers Supreme started predicting his manipulations centuries ago, or that they've gotten better at doing it over time. And he's never really considered that just maybe, one of their long-term projects has been figuring out how to destroy him…
Top comment: That looks exactly like my high school yearbook photo.
Creepy. — Rian Fike
Yes, he's public domain. [↩]