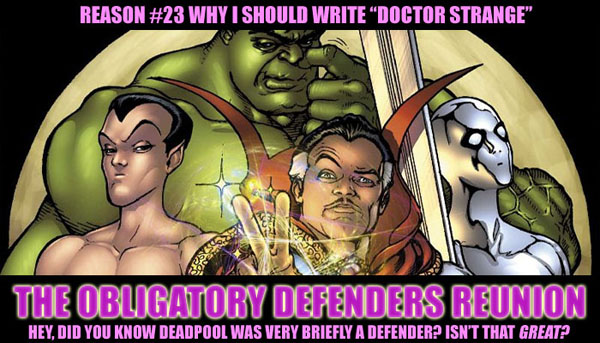 The setup is simple: Something Bad Happens. Something that is so bad, Dr. Strange heeds an impulse he normally ignores: to call in backup.
Now, his instincts say "call in the Defenders." The Hulk, the Silver Surfer and the Sub-Mariner aren't his friends, not really. And they're barely even a team. So he heeds his better judgement as well, and relies upon the visions provided to him by Hoary Hoggoth himself to pierce the mists of time. Time is, after all, only an illusion sentient beings create in order to keep from experiencing everything at once, and possibly exploding in the process. Magic is quite useful at navigating time. At least to a certain extent.
Unfortunately, Dr. Strange is a bit rushed in his casting of the spell, because, you know, Something Bad Is Happening (Right Now). So he doesn't try to determine specific outcomes, because that would take multiple castings of a very complex temporal rite and he doesn't have that kind of time. (Plus casting the spell needs a tincture of Skryian chmrr-venom, and he doesn't have a lot of that lying around.) All he really has time to ask is one question:
"Which of the Defenders will I need assisting me in order to prevent this devastation?"
Of course, he asks the question because he wants to make sure that calling in the Defenders is the right thing to do – and yes, he probably should have considered asking about the Avengers or the X-Men or the Initiative or the Guardians of the Galaxy or whoever while he was at it, but come on, he's not perfect and sometimes when you're in a hurry you get a tiny bit sloppy. And in fairness, he at least knows now that calling in the Defenders will work. Somehow, there is the potential for it to work.
But here's the thing. There have been a lot of Defenders. And although he was probably thinking of the Hulk, Namor and Surfer…
…maybe he gets Deadpool, Gargoyle, Sleepwalker and Tagak the Leopard Lord.
…maybe he gets Deadpool, Blazing Skull, Charlie-27 and Captain Ultra.
…maybe he gets all villains, from the shortlived villainous incarnation of the Defenders: Batroc, Blob, Whirlwind and Electro. (And Deadpool.)
…maybe he gets Devil-Slayer and Daimon Hellstrom, who immediately try to kill each other while Deadpool provides commentary.
…maybe he gets a team that's entirely dead: Thunderstrike, Porcupine, Torpedo and Jack of Hearts. And I mean "dead," not "reanimated to come save the world." He casts the spell and finds out everybody he needs to save the world is deader than Elvis. Also he gets Deadpool, who is not dead, although after about ten minutes Dr. Strange will probably wish Deadpool was dead.
…maybe he gets Luke Cage, Spider-Man, Iron Fist and Hawkeye (Clint Barton, not Bullseye), and has to explain what he's actually doing when he's not supposed to be the Sorcerer Supreme any more. Which is harder than it looks when you've got Deadpool hanging around asking all sorts of inappropriate questions.
…maybe he gets Daredevil, Hellcat, Paladin and Nighthawk (and Deadpool), and has to figure out how a bunch of people who don't have any powers are going to help him save the world. Well, sure, you can shoot Deadpool a lot and he'll live, but that's not exactly proactive, you know?
Really, it could be anybody. The only certainty is you know that Deadpool will be involved somehow, because that's just too good a chance to pass up. And maybe, just possibly, at some point the Hulk, Namor and Silver Surfer will show up anyway. ("Seriously, Strange. What possessed you to go fetch Joe the Gorilla but ignore the Avenging Son? Not that I don't appreciate you respecting my privacy, but surely you must have gone insane at some – SOMEBODY SILENCE THIS NATTERING IDIOT IN THE BODY-STOCKING!")
Top comment: A bunch of awesome-but-underused characters join forces to kick ass while their conflicting personalities provide humorous dialog? THIS IS SUCH A NOVEL IDEA! — NCallahan