(NOTE: Brad Reed originally submitted this idea to me a couple weeks back, and I liked it so much that I removed one of mine to make room for it, because it's nifty. I tweaked it a bit, but this is still mostly Brad's.)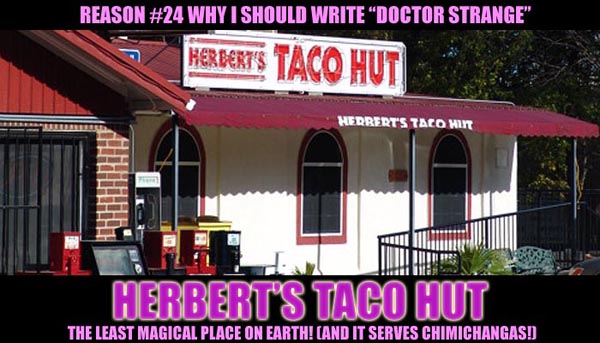 The reasoning is simple: you all know about ley lines, right? And how in popular fiction where there is magic, there are inevitably places where lots of these ley lines meet up, and that's where magic becomes more powerful and spells have more oomph and faeries still walk the Earth and occasionally go to McDonald's (redcaps love Big Macs for some reason) and children born in the area become Mystic Defenders or the like?
Well, it follows that if there are supermagical places where the ley lines converge, then there must also be submagical places where the ley lines are way the hell off on the horizon. These are the Boring Places, where magic is mostly absent. Children born here grow up to become accountants, chiefs of human resources and the boring kind of scientist who sniffs at MythBusters because they make jokes and such. In these areas, magic is especially hard to do. Not impossible – but difficult, because you're martialling the energy of the universe at a distance. It's like you're used to broadband and suddenly you're back using 24K dialup.
The most boring of all places – the single least magical place on Earth – is a small town in New Jersey, twenty minutes from of Newark. And the least magical place within that town is Herbert's Taco Hut, which if it were not for its location would be your standard "Mexican restaurant run by white people who have never seen a chili pepper in their lives" joint. It should have had the lifespan of any other mediocre restaurant in the middle of nowhere (IE, short). But Herbert's does very good business indeed, for one simple reason:
It's where sorcerers and mages come to do business. Because it's safe. Herbert's is the magical equivalent of an old Wild West township, where you have to check your six-guns with the sheriff when you enter. Most sorcerers can muster a simple teleportation spell for a quick escape from it if necessary (and those that can't can prepare something similar in advance) but not much else. SHIELD and HYDRA and everybody else all know about it, but nobody ever tries to fuck with Herbert's because having a neutral ground (which happens to serve mediocre burritos) is inherently a useful thing to have at one's disposition.
And because of this, it's not only a place to do business, but a place to network, to chat, to simply unwind and shoot the shit with one's fellow magical practitioners. After all, the food isn't that bad, and they let you bring your own booze for a small surcharge (and you'll want to, because their beer selection is terrible), and how is anybody going to know that you just stole the fabled Red Ruby of Un'nx if you don't have someplace to show it off? Plus, it offers the best grounds on the planet for picking up within the profession. (There is no guarantee that the person you take home won't try to sacrifice you to a demon prince – but come on, you think magicians are going to give up sex?)
And yes, Stephen Strange goes there occasionally. Because he has to make appearances, keep tabs on goings-on, keep his ear to the ground – and because it's nice, every once in a while, to take off the mantle of "world's most powerful sorcerer" for an hour or two and just tuck into some nachos.
Top comment: While we're mentioning ley lines, can we get a story where Dr. Strange investigates Disney World to see if it truly is 'the most magical place on Earth'?
I'm partly interested to see the mysterious origin of Walt Disney's occult practices, but I mostly just wanna see Dr. Strange ride the tea cups. — RobotKeaton