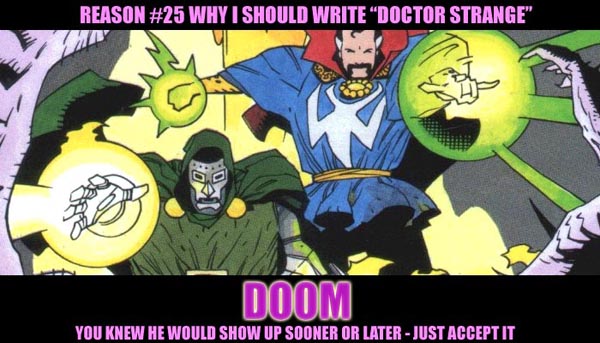 Doctor Doom plays a different role in any potential Doctor Strange comic than he does just about anywhere else.
In an issue of Fantastic Four, if Doom shows up, he is inevitably the antagonist. In an issue of Spider-Man, he is almost always the antagonist. In Avengers, antagonist. If he ever shows up in an X-Men comic – antagonist. When he's not the antagonist, his presence is just about always a MacGuffin instead. And this is fine and good. Doom is a bad guy. He should be the antagonist.
But in Doctor Strange's world, Doom isn't necessarily the antagonist. He can be, but the thing about Doctor Strange is that, when it comes down to magic, he's inevitably superior to Doom. Doom's not bad by any means – really, he's impressively powerful in a magical sense – but his desire to master both science and magic means that his magic will always be weaker than Strange's. (But it doesn't necessarily mean that his science will always be weaker than Reed Richards' science. This is one of the ways magic is slightly different from science.) Doom's entire character makes him often unsuited to be an antagonist for Strange, because in a battle between the two, Doom is almost always attacking at a disadvantage, and Doctor Doom doesn't do that when it's possible.
Plus, Doom doesn't really have any reason to be an antagonist for Strange. Most of the time, anyway. Certainly Doom's ever-present power lust is always going to be cause for potential strife. But he doesn't dislike Stephen Strange particularly, not like he hates the Fantastic Four or doesn't understand the motivations of Captain America. Stephen Strange makes perfect sense to Doom: a man who sought mystical power and got it, and who protects his home turf from outward threats. Of course, there's more to Strange than that, but it doesn't matter because what Doom sees, Doom understands. Everything else is just window dressing.
This means that Doom is a relative rarity in Doctor Strange stories; he's a true wild card. Not like Baron Mordo, who on their rare team-up occasions inevitably would turn on Stephen the moment it seemed convenient. If Doom throws in with Strange, he will (mostly) throw in with Strange for real. But there's no guarantee that he will throw in with Strange, because it's entirely possible that Strange's goals will stand in sharp relief to Doom's.
Which means that when Doctor Doom shows up in a Stephen Strange story, you get a novel experience not normally associated with Doctor Doom: you don't necessarily know why he's there or what he's going to do. And that's valuable.
Top comment: Just looking at the artwork MGK chose for this post makes me wonder: When did Doctor Strange sport a "Meathead" mustache, and why isn't Doom mocking him for it? — ps238principal