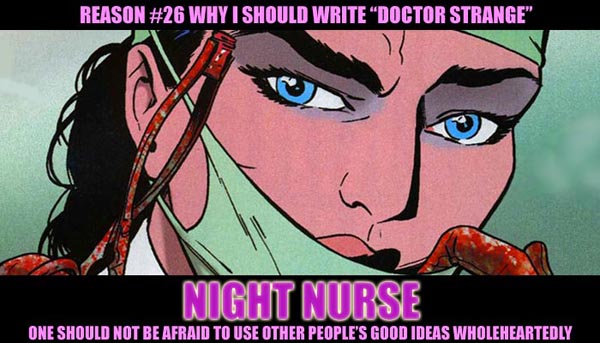 A while back, somebody asked when I was going to talk about Clea. And my response was "they're over." Because Clea, although she is most certainly Stephen Strange's most notable and notorious love affair, belongs in Strange's past (at least romantically – she's still a powerful sorceress and good friend). They were good for one another at the time, but there's too much water under the bridge now to get back together, regardless of how sexy a platinum blonde she might be. The "bring back Clea" crowd is one motivated by little more than nostalgia, and I think by now people know what I think about nostalgia for nostalgia's sake. (HINT: I am not fond of it.)
However, there's no reason Strange shouldn't have a lady friend. He's an urbane, dapper sort of fellow, the sort who in times past would be called a "real gent." Men like that (when they are straight) can do quite well with a certain sort of woman who likes her men smart and talented (in more ways than one). And luckily, Brian K. Vaughan was good enough to kickstart a relationship between Dr. Strange and Night Nurse (who, as we all know, should properly be called "Night General Practitioner And Surgeon" but that was too long and didn't fit on the business cards).
And it works. Night Nurse is tough and intelligent, and definitely older than the average Marvel Comics Girlfriend ™ and she can use a bobby pin to pick a lock and cut a bullet out of someone's shoulder and all of this is just great. She is a class act who fits Strange well – they've both been around the block a bit and are both ready for that easier, simpler sort of relationship one only gets in one's forties or later, the type where nobody has any patience for drama so nobody wants to create some.
Similarly, from a storytelling perspective, Night Nurse is a great fit because she is a classic explanatory/exposition target. If a writer needs to explain why magic can't do something Strange needs to do, Night Nurse is right there – she's smart but unlike most people in Strange's world she's not familiar with all the rules. And apart from being a storytelling tool, it can also be a plot hook –
– because sometimes, in the right situation, ignorance of the kind that Night Nurse has is actually the greatest protection you can have against the Eldritch Horrors From Wherever. Not being privy to the secrets of the occult world means that the secrets of the occult world will tend to overlook you. Not having to pay attention to the ebbs and flows of magical tides means that you get the chance to pay attention to that strange man in the nondescript Honda parked down the block who's been staring at your friends for twenty minutes.
(And yes, most of this also applies to Wong – but come on, was there ever more natural a teamup than Wong and Night Nurse? I think not.)
Top comment: Someone should follow Matt Murdock around saying to every woman he meets "Do not date this man. You will end up insane or, more likely, end up in a pine box." — Lister Sage