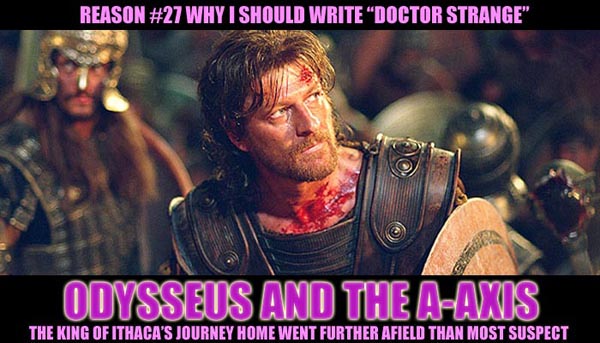 Homer made up a lot of stuff, mostly because he worked from unreliable sources.
Odysseus' journey home, from the smoking ruins of Troy to Ithaca, did indeed last ten years. Or seventeen, depending on how you count it. See, if you just count from the time he left Troy to the time he arrived in Ithaca, it was ten years. But if you count the time as Odysseus experienced it, it's seventeen years, because what Homer doesn't mention is that Poseidon wasn't the only god Odysseus managed to piss off.
Odysseus counselled the Argives to slaughter Hector's young son, so that the child could not grow up to avenge his father and his city. This greatly angered Khronos, the god of time and destiny, who had written out the life of that young boy in advance and who greatly resented Odysseus for using free will to avert what would have become known as the Second Trojan War. Khronos was extremely irritated, but decided not to intervene on the course of Odysseus' life.
When Odysseus set out from Troy, after he met up with the Lotus Eaters and the one-eyed giant Polyphemus, he stayed briefly with Aeolus, the man gifted with the power to control the winds, and left with a bag of wind that would blow him anywhere except home. Poseidon would not stop complaining about how this annoying mortal was thwarting all the challenges put before him, and Khronos explained to his fellow god that – if Poseidon owed him a favour – he might be able to help. Odysseus was destined to return home, ten years after the end of the Trojan War, and Khronos wanted to be sure that happened…
And so, Odysseus told the poets and storytellers that his crew stole the bag and blew his fleet off course. But that never happened. What happened was this: Khronos transported Odysseus' entire fleet to a watery planet of carnivorous aliens called the Laestri. Odysseus immediately understood that they were in a different sea (by the stars, you see), and his crews insisted on putting in at port as soon as possible. He ordered his crew to hang back, which was a good idea because the Laestri weren't particularly picky about what they ate and they devoured the rest of the fleet pretty quickly, seeing as how they were a starfaring race with all the technological prowess that implies.
But this wasn't any regular old boat captain marooned on an alien world – this was Odysseus, one of the most cunning and wily men to ever live in any time period. He snuck aboard land, hid in ventilation ducts, and taught himself Laestrian over about three weeks. He didn't understand all the technical specifics, of course, but he found out where the Laestrians kept their theoretical physics experiment installation was easily enough when he figured out the words for "time" and "travel." (It never occurred to him that he wasn't on Earth; he figured it was a far future where the Lamia had conquered the world.) As he sailed his remaining ship to that point, Khronos appeared and transported it to another strange sea on another world.
And so it went; whenever Odysseus got to a point where it seemed likely that he would thwart Khronos' wiles, the God of Time would send him elsewhere. And it was always possible that Odysseus could get home from where he was, because Khronos has his own set of rules, and one of them is that he likes things to go a Certain Way. It just never happened, because Khronos wanted to punish Odysseus for his insolence – and, ultimately, for possessing free will. Khronos was determined to make sure that Odysseus would only arrive at Ithaca when he wanted Odysseus to arrive there. Odysseus' crew are all long since dead; he sails his ship alone, with a thousand stolen technologies he only partially understands (but partially is enough).
But Khronos made one mistake. One time, to really, really get under Odysseus' skin, he transported Odysseus to Ithaca – thirty years after he made it there, so that Odysseus could arrive to visit Penelope's grave. And Odysseus saw it, and Khronos gloated at his captive's pain, then turned his attentions elsewhere –
– and Odysseus was waiting for just that moment. Not the Odysseus weeping before his wife's grave. The other Odysseus, the one who had already made it home after all the torments of a seventeen year journey, the one who had lived with his beloved Penelope another twenty-seven years before her passing. The older Odysseus had been waiting decades for this (and lying to anybody who would listen about Circe and Calypso and the Sirens and all the other hot women he totally could have bagged if he wanted to, but he didn't because he loved his lady), because he already knew it would happen – and he told his younger self how to get home.
And now – a couple of dozen or hundred pit-stops later – Odysseus arrives in the modern day. (Somewhere off Cape Horn, actually.) He knows exactly what to do. He makes a beeline for New York City, where the Sorcerer Supreme makes his abode. Because only Dr. Strange can end his journey, and send him back to Ancient Greece where he belongs, for once and for all. He needs the really good magic to get home.
Top comment: I like the idea that Odysseus is still pulling the Trojan Horse bit. Like, he's been to countless exotic worlds but they've pretty much all bought it so he thinks it's like the be-all end-all infiltration tactic.
Especially if he has time to go on a couple adventures with Strange before he leaves.
"How shall we effect entry into Doom's castle? It's magically warded and patrolled by robots with killsaws for hands and murderguns for eyes!"
"Let's build a giant wooden -"
"No."
Double points when Strange realizes that Doom would absolutely not turn down a giant wooden statue of himself. — Five Eyes