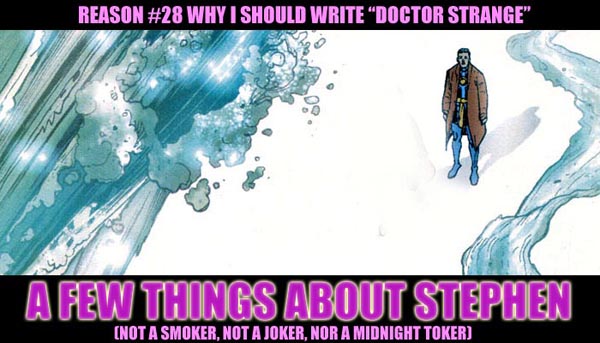 THINGS YOU SHOULD KNOW ABOUT DOCTOR STRANGE.
1.) He is polite. Not just because he routinely deals with impossibly powerful forces whom he does not want to offend (although that is certainly part of it); Stephen Strange is polite because at his core he is a man who has been humbled. He was an arrogant misanthrope who realized exactly what he was and decided he didn't like that, and did his best to change. Someone like that is polite because not being polite is exactly the opposite of the person they want to be.
2.) But he's still a doctor. He tends to think he knows best. This is because usually (although not always, not by any stretch) he does know best, and he gets irritated when people don't do as he tells them to do (which is often). Because he's polite, he tries not to get angry about it. Usually he succeeds. But none of this changes the fact that he decides courses of action based on knowledge and observation first and foremost, and he doesn't like being contradicted or shown up, and he's really, really quick to issue orders whenever he needs something done. He might apologize later, but he'll issue them.
3.) He likes people. He didn't always, but nowadays meeting somebody new is always a pleasant experience for him, especially when they are not trying to blow up his face with magic. He genuinely enjoys the experience of a new personality, because people are the only things in this universe that are still capable of surprising him on a regular basis, and because Sorcerer Supremes, for all that they are guardians of stability and order, like to be surprised. It makes the job a lot more bearable.
4.) But he's not really comfortable with them. How could he be? He can stop somebody's heart just by thinking hard, for crissake; he's a step above most of humanity (or, really, a few flights of stairs above) and he knows it. He's not comfortable with that fact, not in the least; he doesn't like the idea that he's not just a normal man, especially after the Ancient One only really got him to start learning by forcing him to accept that he was precisely that very thing. His power is vast enough that he's on par with most demigods; it's hard to look people in the eye when you realize that fact and aren't quite happy with it.
5.) He's urbane and blase. Not in the way of a jaded hipster, but – not a whole lot surprises or shocks him. He's been exposed to so many alien cultures (dimensionally alien, spatially alien, or any other sort of alien) that dealing with a species of incestuous cannibals wouldn't faze him in the least. (Or, if you prefer: everybody is a bastard in their own way.) Tack on the combat with otherworldly horrors, and you have a very cool customer. When other superheroes wince or gag at a brutal murder, Doc is looking over it calmly and utterly unfazed. He's what writers wish Wolverine actually was, except Doc has to deal with the actual alienating consequences of being that sort of person.
6.) He's a bit eccentric. He puts peanut butter on his spaghetti because that's how they do it on Earth-2991 and when he visited he got used to it. He prefers to read crosslegged sitting on the ceiling because "you don't get that glare you get sitting on the floor in the sun, I hate that." He asks seemingly rhetorical questions without answering them (something that annoys the hell out of Wong, not that Wong would ever complain). He enjoys listening to reggae as performed on the harpsichord. The downside of thinking as everything as "usual" is that everything else you might like is likely not that usual.
7.) He looks at the bigger picture. Sure, he doesn't want Earth to be conquered by Skrulls, but if it's a choice between Skrulls and Dormammu – Skrulls. If it's a choice between Skrulls and Nightmare – Skrulls. He knows it's important to keep humanity alive and healthy for a number of very important reasons, but "alive and healthy" doesn't mean "dominant civilization on the planet." Most other superheroes get angry over this. That's fine – most other superheroes only have to fight idiots wearing tights who rob the occasional bank, as opposed to, say, an organ-eating Prince of the Frankensteins from an alternate Earth seeking to conquer under the guise of a trading mission. Strange's enemies are, on the whole, a lot more competent and a lot more dangerous than average. So he has to consider his duties from that standpoint first.
Top comment: At first I winced at Peanut-Butter spaghetti but upon thinking, if it was a peanut sauce then it wouldn't be *too* far from Thai peanut sauce, which all the universe loves, and it's an easy step to grill chicken in it and then put it over cooked noodles, which would be very tasty.
I think MGK just created a new fusion dish. — The Whelk