(People just kept mentioning them and mentioning them over and over again, and I kept thinking, "man when I get to #29 they are going to accuse me of pandering or plagiarism or something like that.")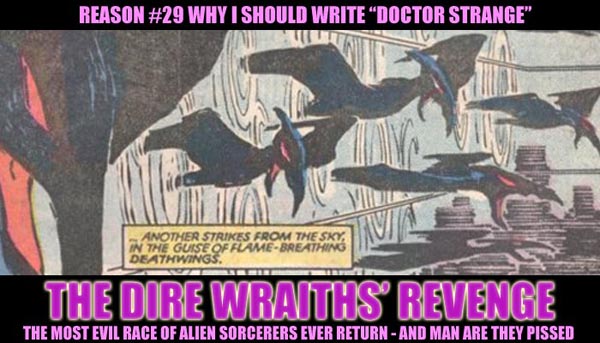 The Dire Wraiths hate you. It's not personal. They hate everybody. But it also is personal because if they knew you, they'd hate you just because you're you. The Dire Wraiths are not very nice people.
But they don't hate you blindly. They have reasons for hating you. You're a human, and humans – along with ROM – are of course the reason the Dire Wraiths went from being one of the most feared races in the galaxy to a collection of suicidal prisoners in Limbo. Most of the Dire Wraith population is dead because of humans (and ROM). The Dire Wraiths don't want to conquer the humans; they want to exterminate them and make them suffer. And they want to do it before they go to Galador, because the Dire Wraiths want to keep enough humans alive as hostages that the Galadorians won't try to pre-emptively annihilate them.
And here's the thing: the Dire Wraiths are much, much smarter than their Skrull cousins. They know how to pull off an actual secret invasion. They've done it before, you see. And unlike the Skrulls they don't need to take out and replace superhumans. The Dire Wraiths know that messing with superheroes in any amount just tips them off. The Dire Wraiths are once again just doing what they do best – they've infiltrated a small town in middle America that's nothing special – except for a few key elements it happens to be near. Chief among these are a high-tech research facility specializing in solar energy transformation technologies and a weatherbeaten steppe with inherent mystical properties…
…because the Dire Wraiths, this time, are led by a prodigy Dire Wraith, verily the Dr. Doom of Dire Wraiths in that, unlike the rest of his species, she possessed both incredible skill with Dire Wraith super-science and Dire Wraith sorcery.
"But wait," some continuity nerd out there says, "the Dire Wraiths lost their magic abilities when ROM transported Wraithworld into Limbo." And this is true. However, this fugitive Dire Wraith, one of the scant few dozen to escape ROM's massive neutralizer attack on Wraithworld and only a child at the time, applied her scientific mind to the Wraiths' lack of magical power source and came up with a very simple solution: hire out.
Someone – something – has given the Dire Wraiths magic again. And frankly, it's more powerful by far than the podunk, pedestrian sorcery they worked before; now, Dire Wraith sorcery is powerful enough that when they use it, someone like Dr. Strange notices. (It is, after all, his job.) And they've got a direct line to whomever's providing them with mojo; the magics they wield are so powerful that they are literally burning out their own bodies when they use them. But they've got enough magic now that they can pull Wraiths out of Limbo, and more Wraiths join their numbers every day, and they don't care how many of them die –
– because if they can convert Earth's sun into the new dark sun of the Wraiths, with science and sorcery, they win. Even if every Dire Wraith was immediately afterwards killed (which would be entirely possible because nobody likes the Dire Wraiths), they would forever have left their mark once more on the universe.
All of this begs two major questions. Firstly – who's powering the Wraiths? For my money, I'd guess that it's someone who somehow gains power from their magic-fueled deaths, which means it's probably someone really bad. Cthon? Mephisto? Satannish? (You just know that whatever the answer is, it's not going to be good.)
And second – given that Marvel Comics can't show ROM in his armor, how is ROM going to get involved in this, anyway? Because you totally know he will.
Top comment: Like Naked Snake and Naked Jehuty before him, Naked Rom shall be a powerful, yet wholly unstable force to be reckoned with. — Doctor Hal