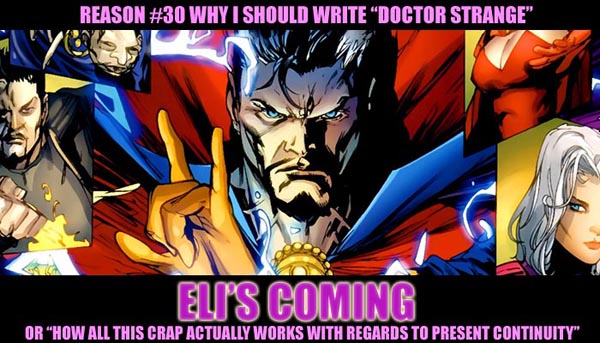 Pretty much from the start, emails and comments have appeared to the tune of "well this is all well and good but Dr. Strange isn't the Sorcerer Supreme any more so everything you're doing is meaningless." And, as amusing as it is that people's chief reason for dubbing this "meaningless" is that it does not necessarily follow current canon rather than the more pressing issue of it being unlikely that I will get paid moneys to write the comic any time soon, it's still wrong. I mean, people, come on. You know I'm a continuity dork by now. I only mock Geoff Johns because he is so very like me in that he likes everything to fit when it's possible to make things fit. And in this case the fix is really quite easy.
Pretty much from the first one of these things, I have been trying to gradually instill the idea that the chief plot point of the series is "majorly bad shit is coming down the pike." And when I say bad shit, I mean seriously baaaaaaad shit, man. Shit that is bad enough that it scares Stephen Strange, who is very pointedly somebody who doesn't get scared and doesn't panic about much of anything.
(Additionally: I can sum up the reason for said bad shit coming down the pike in exactly three words.)
And when Strange saw what was coming, he knew what he had to do. He needs to work unfettered, without the constraints and day-to-day issues of the mortal world distracting him, but more importantly even than that, he needs to make sure said bad shit isn't coming at him. The nice thing about being the Sorcerer Supreme is that you're always the Sorcerer Supreme, until you're not – but most people don't understand that the job is attained in such a holistic manner. They think it's a title of rank, or a privilege. They think it's about having the Eye of Agamotto, the Cloak of Levitation and all the other trappings. (Which are nice, sure, but they don't make you the Sorcerer Supreme.)
And he's been preparing this for a long time, making sure that it was believable to any superhero who might think about investigating. ("Not being able" to use his magic to do simple things like save the New Avengers from a lousy crashing plane, for example.) He started downplaying his abilities more and more, making it seem more and more difficult – because the New Avengers, decent and brave as they might be, would be cannon fodder in what was coming, and he needed to make sure when it did in fact arrive that they were nowhere near the scene of the real fight.
And then he crowned all of this with his masterstroke – choosing a "new" Sorcerer Supreme.
Which actually worked something like this: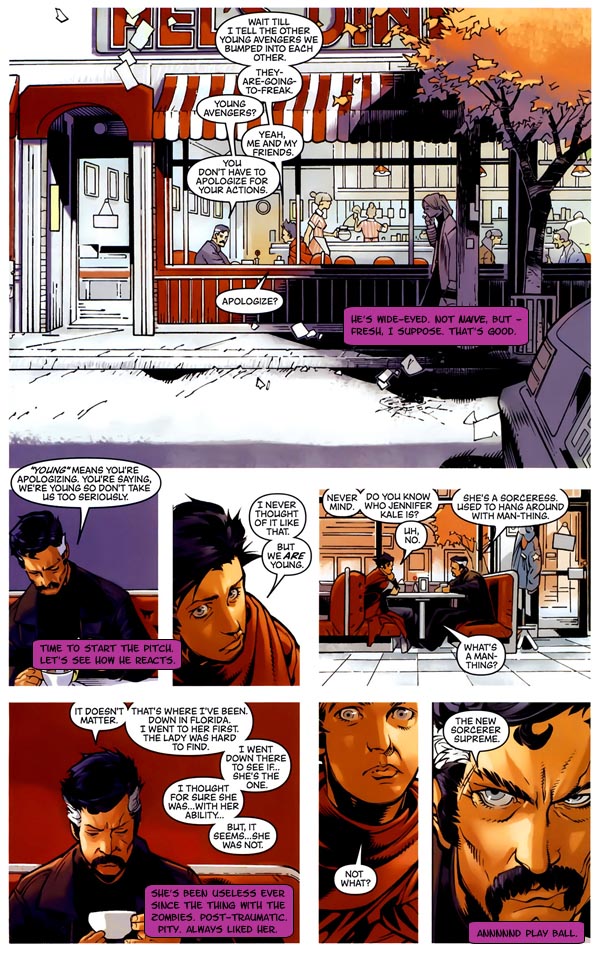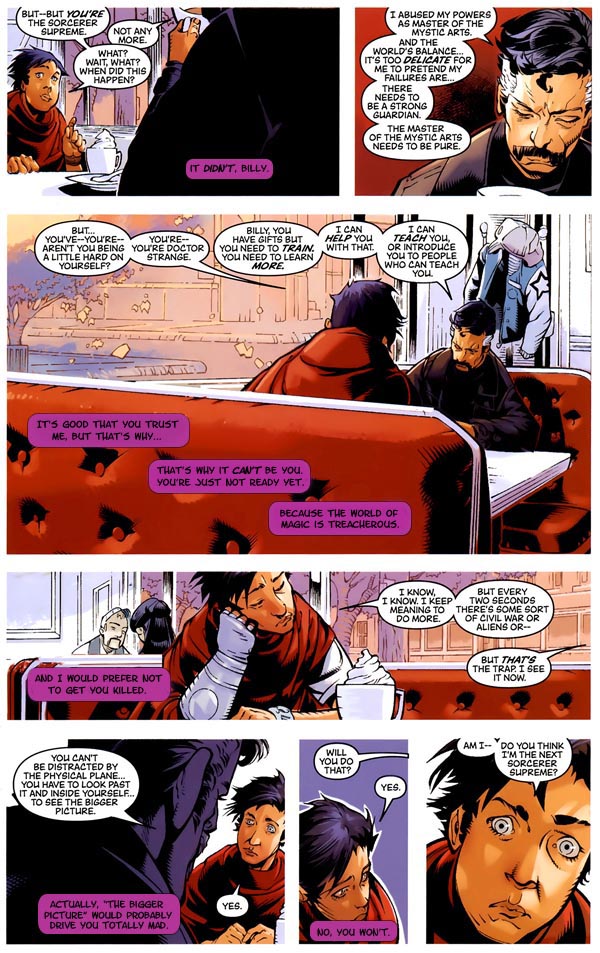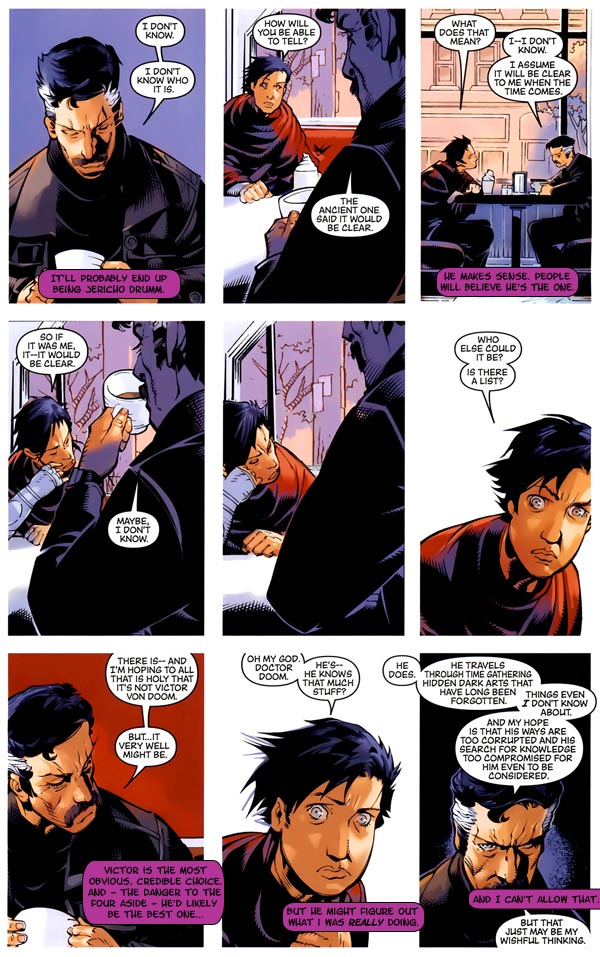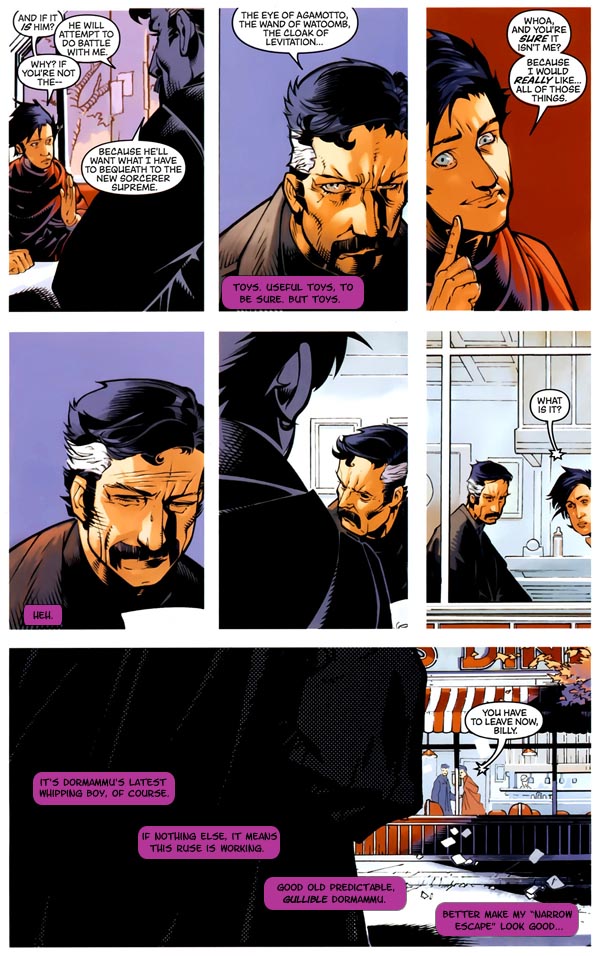 …and that's it for this round. Join us next April, when I'll delve into, I dunno, Brother Power: The Geek or something.
Top comment: I'd love it if those words were "Delicious, delicious sandwiches" or "Howard the Duck"…
"Shuma Gorath pregnant?"
"Tribunal's face uncovered?"
"Hitler: Sorcerer Supreme"?
"Inverted kick flip"?
"Galactus ate magic"?
"Magic-Technological singularity"?
"Deadpool: Sorcerer Supreme"? –Ben